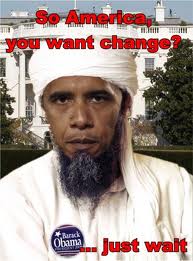 "We are going to take England — the Muslims are coming."  So said a Muslim preacher, Anjem Choudary, secretly recorded. (http://www.telegraph.co.uk/news/9875954/Muslim-preacher-urges-followers-to-claim-Jihad-Seekers-Allowance.html)
And that's exactly what the Muslims have been doing, albeit without the overt proclamation. Breed more parasites, take more welfare from the host nation, become the majority, infect the government, and collapse the system.
Hmmm? Sound familiar? Saul Alinsky, Obama-linsky and Allah-insky … it's all the same. And THAT, my friends, is the "fundamental change" of America that the O-hole fantasizes about every single day.