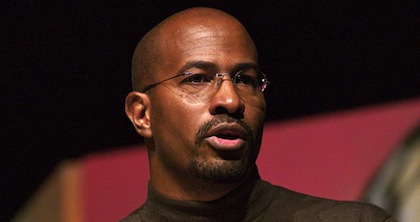 Van Jones, Communist, cop-killer supporter, who was forced to resign as Obama's Green Czar when his REAL scandals of Marxist activism caught up with him, is now just one of many front men for a radical, green group, 350.org.
350.org's mission states:
To preserve our planet, scientists tell us we must reduce the amount of CO2 in the atmosphere from its current levels of 400 parts per million to below 350 ppm.

We want to be a laboratory for the best ways to strengthen the climate movement and catalyze transformation around the world. We believe that if a global grassroots movement holds our leaders accountable to realities of science and principles of justice, we can realize the solutions that will ensure a better future for all.
To preserve the planet? Catalyze transformation? Is that like change? Or more specifically "hope and change"? Are these words straight from the New Alinsky Radical Dictionary?
But here's the rub: 350.org hosted a posh, sailing "anti-Coal" party aboard a big-carbon-footprint yacht in Portland which was attended by the "less than 1%" wealthy — including billionaire heiress, Sophia Shoen, of the multi-billion dollar U-Haul corporation.
So while the 350.org billionaires and millionaires were living the high life partying on the yacht, the green group fronted a bunch of hippie-types shoreside to be the "face of" the radical environmental organization.
The yacht-going fete was catered with only the best, but the public saw the grungy greenies on shore working and eating PB&J's.
Now THAT'S phony.
Dan Sandini, Oregon citizen journalist and film contributor to Andrew Breitbart's Occupy Unmasked, investigated, filmed and wrote up the outrageously deceptive and troubling anti-Coal yacht bash:
The former Green Czar to the Obama Administration, Van Jones, has been identified as a top advisor to the organization that put together an anti-Coal event in the Portland area that continues to evolve into a public relations nightmare.  

Van Jones is identified on the 350.ORG website as the group's top member of the "US Advisory Council."   350.ORG portrayed the event "Summer Heat Northwest" as a "grass roots" effort when in fact the event was put on by an organization that has received millions of dollars from the Rockefeller foundation.

The event also included Billionaire Heiresses hidden below deck of the catered yacht which was estimated  to have cost thousands of dollars to rent for the event.
[Above] Van Jones is listed at the top of the "U.S. Advisory Council" page on the 350.ORG web site.  350.ORG organized the event and is funded by Millions from the Rockefeller Foundation.