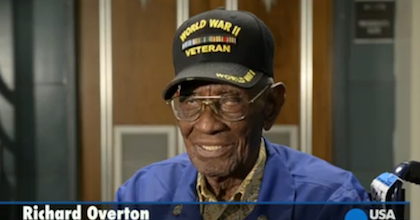 Texan Richard Overton, aged 107, is believed to be the oldest American, WWII Veteran.
Overton volunteered for duty in 1942, and saw action in the South Pacific with an all-black unit during World War II.
Monday Mr. Overton was scheduled for a breakfast with President Obama then ceremonies at Arlington National Cemetery.
Celeste Brown at WLTX.com writes:
Richard Overton is not just any veteran. At 107, he's believed to be the oldest known American veteran of World War II.

A member of the Army's 188th Aviation Engineer Battalion, Overton was in his 30s when he volunteered for service in 1942 and saw combat while "island hopping" in the Pacific with an all-black unit, says Allen Bergeron, chairman of Honor Flight Austin, the Texas group that brings local veterans to Washington to tour the monuments. It was Bergeron's group that arranged for Overton's return trip to Washington.

Still living in the house he built when he returned from the war, Overton has been a widower for the past 22 years.
When asked what he might say to the President Overton replied:
"I'll talk to him if he talks to me. I'll just keep my mouth shut – I wouldn't know what to tell him. I've never thought of that.

For one thing, I'd talk about (how) we're proud to have him. I wish him good luck all the way through. We have to pray for him. We have to pray for him and help him because we all need help."
America owes Richard Overton and all of our Vets a debt of gratitude.
May God bless Richard Overton. And may God bless our Vets and keep our Troops safe: they are our treasure.