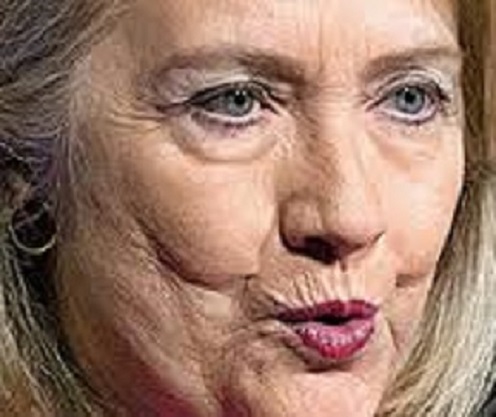 It was a good run, but Hillary's run for president is all but over. You just have to learn how to read the tea leaves.
You see, the Clintons finally revealed that Hillary Clinton is on blood thinners. Was that so tough? Nope. And that's why I smell a rat.
I have chronicled this, and will continue to discuss it, until Hillary finally admits, (1) she is too sick to run, (2) she is too old to run, and (3) as a Liberal, she is too deranged to run.
My first clue, after Karl Rove put Hillary on "front street," was when Bill Clinton did all he could to let us know that Hillary is as healthy as a horse. If that's true, I'd like Bill Clinton to name a healthy horse taking blood thinners.
Hillary Clinton said she now has to take blood thinners after doctors found a blood clot between her brain and skull in 2012 following a concussion. She revealed to People magazine,
"I did have a concussion and some effects in the aftermath of it, mostly dizziness, double vision…Those all dissipated. Blood thinners are my continuing treatment for the blood clot."
Keep in mind that all this began in December of 2012 after Clinton fainted from what she said was a stomach virus. The faint led to her hitting her head, which of course caused the concussion.
Clinton wants us to believe that is was the blood clots (and subsequent treatment) that left her unable to fulfill all of her goals as Secretary of State, the job she left the job in 2013.
Hillary Clinton is even using the blood clot as cover for her Benghazi testimony:
"But I was determined to do as much as I could, and that included testifying before Congress,"
So let me get this straight. Clinton left the job of Secretary of State, because she couldn't fulfill the task due to her condition. She now wants to be president, though she suffers from the same condition.
Here is what Clinton told ABC news in a recent interview:
"I just want to kind of get through this year, travel around the country, sign books, help in the midterm elections in the fall, and then take a deep breath and kind of go through my pluses and minuses about what I will — and will not — be thinking about as I make the decision," she said. 
By the time the election rolls around, Hillary Clinton will be old news. Her health will be worse, and America will be right to question her competency. She has accomplished nothing when her brain was supposedly working fine, so what can we expect from her certified defective one?
I know the bar has been lowered for president under Barack Obama, and of course with Joe Biden one accident from the button. But America needs a smart president, and not another Wizard of Oz scarecrow.
"If I only had a brain!"