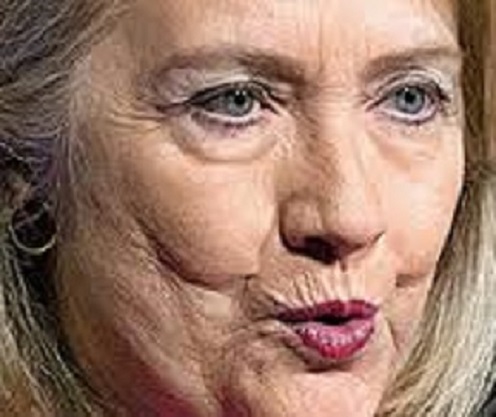 Let's face it; the Republicans have nobody close to Reagan. We would need to pull a Dr. Frankenstein to get anybody close, piecing together to chudzpah of Christy, the intellect of Ben Carson, and the will of Ted Cruz.
But if you think the Republicans are in a quandary, just look at what the Left has to offer! DAYUM!
Even Biden tipped things towards the Republicans recently with his comments:
HILLARY RODHAM CLINTON
Hillary Clinton may feel no ways tired, but she sure looks it. And it won't get any better for her.
Still considered the leading contender, some say Clinton will announce a campaign in the coming months. She has maintained a low profile since mid-December. She has been meeting with advisers to plan for a potential campaign and has limited the number of upcoming public appearances; her next scheduled address is this month in California.
The reason for limiting appearances is Clinton is a terrible campaigner and more gaff-prone than Joe Biden. Things will only get worse for the Democrats' top contender, and I predict she will wash out early, that's if she even decides to try it. There will be much more glory in "let's not and say we did" for Hillary.
Say hello to Brian Williams on the way out Hill. You two can swap "war stories."
JOE BIDEN
The vice president has supposedly said he will make a decision later in the spring or summer. That means, he's done. Biden couldn't win school board in his hometown, much less president. Consider that Obama's hand-picked #2 has as much chance at president, as the next cab driver you meet.
JIM WEBB
Jim Who? Exactly. At least he is pictured with his hand out, so that alone qualifies him as a good Democrat!
Web did make waves recently, as he made a David Dukesque statement that Democrats need to focus more on
"white, working people."
Not exactly the way to win the hearts and minds of the "tolerant" left. The former Virginia senator and Navy secretary announced an exploratory committee last year, but has done little publicly in recent weeks as he recovers from knee replacement surgery. He expects to make a decision in the spring.
MARTIN O'MALLEY
Another Breck Girl, pretty boy O'Malley certainly has Democrat written all over him.
He is rumored to have had an affair with a reporter and fathered a black child. I'd say that's Democrat presidential material, if ever there was some.
It should be said that these are unsubstantiated rumors, which means: they are likely true.
Anyway, the former Maryland governor has said he will need "a couple of months" to get his family settled after a move to a new home in Baltimore before deciding on a bid. Once people look at the state the state of Baltimore is in, O'Malley won't be much of a threat.
BERNIE SANDERS
Let's all say it together:
Old white guy!
If this is the face of the Democrat Party, then they need to see Pelosi's plastic surgeon. Another septuagenarian on the Democrat ticket. Like Hillary, this old white fart has had long enough to fleece the public. It's time to retire.
Yet, the Independent senator from Vermont is ramping up his activities as he decides whether to pursue a campaign.
ELIZABETH WARREN
Tonto…jump on it!
Why not have a publicly vetted, bona fide fraud on the ticket?
The Left has been positioning Elizabeth Warren for months, fast-tracking her credentials. By election time, Warren will have been a black woman, with a Chinese father, who adopted a tribe of Aztec aboriginals.
The Massachusetts senator remains the subject of a draft movement by liberal activists but has repeatedly declined interest in running for president. Warren knows that her radical nature, and dubious past will create a cavity search with an elephant's…I think you get the picture.
That's it for now folks. I'm sure there will be one or two more "lookey-lous" vying for attention, but they will be even less likely. Democrats are sweating this line-up, like a Chihuahua pooping a peach pit; as they should.