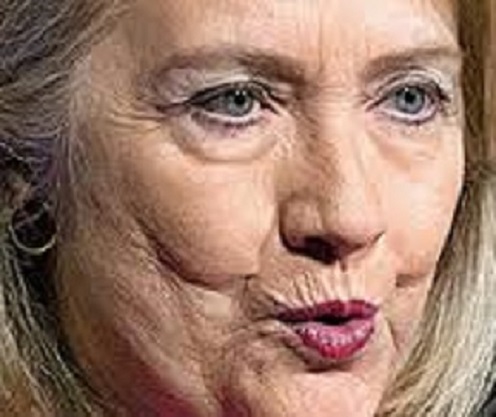 Secular Liberal Jews HATE their own people. The closest thing to it is the hatred of black Liberals for other blacks.
And it's these self-loathing types that Democrats love so much. It is the Democrats' ability to get people to hate one another that is the hallmark of their party.
Hillary Clinton hates blacks and Jews. She uses both, as they are willing lambs to the slaughter.
In the State Department's New Year's Eve release of over 5,000 pages of former secretary of state and current Democratic presidential front-runner Hillary Clinton's emails from her private server, we learned that Hillary Clinton promoted her hatred of the Jews in correspondence with one-time adviser Sidney Blumenthal regarding Israel. Blumenthal cites the work of his son, writer Max Blumenthal.
Young Max Blumenthal, author of the book Goliath, is a fervent critic of Israeli policies and a self-described anti-Zionist. When Sydney sent young Max's work to Hillary Clinton, on at least one occasion Clinton asked that one of the younger Blumenthal's articles be printed out in multiple copies for distribution.
As we continue to get more and more information about the Clinton-Blumenthal correspondence, one has to wonder who was really running the State Department. Many of the disastrous policy decisions supposedly made by Clinton certainly seem to be guided by Blumenthal.
take our poll - story continues below
Did SCOTUS make the right decision on medical mandates for large businesses?
Completing this poll grants you access to The Black Sphere updates free of charge. You may opt out at anytime. You also agree to this site's Privacy Policy and Terms of Use.
Why do I say this? As reported in The Times of Israel,
Clinton instructed a staffer to print out five copies of the articles, though "without the heading from Sid." It was not clear from the email which articles from the email were supposed to be printed — the original article, which was featured in Foreign Policy; the Blumenthal piece; or both.

Blumenthal also sent Clinton a piece by leftist Israeli Uri Avnery, who also analyzed the Pentagon briefing by leveling a damning critique against Netanyahu. Clinton asked Blumenthal, in response, how she should use this material in an upcoming talk she was supposed to have with the American Israel Public Affairs Committee (AIPAC).
Electing Hillary Clinton is tantamount to electing Sydney Blumenthal, I'd say.