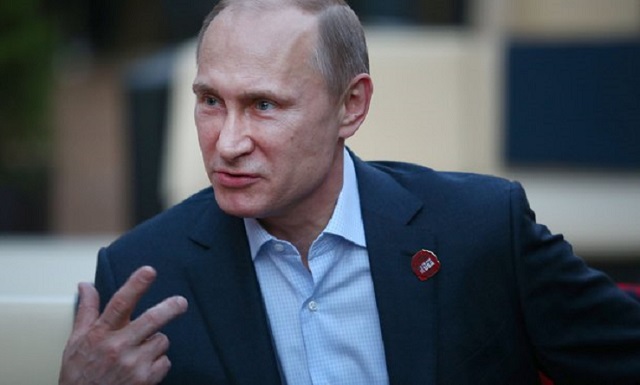 Russian leader Vladimir Putin has responded directly to the American pansies known as Democrats.
Putin openly hacks Democrats, when he say that they need to grow up.
As the Washington Post reports,
Russia's President Vladi­mir Putin has a message for the White House and Democratic leaders who accuse him of stealing their victory: Don't be sore losers.

That was how Putin answered a question Friday about whether Russia interfered in the U.S. presidential election in favor of Donald Trump at the Russian leader's nationally televised annual news conference

"Democrats are losing on every front and looking for people to blame everywhere," Putin said in answer to a Russian TV host, one of 1,400 journalists accredited to the marathon session. "They need to learn to lose with dignity."
For Democrats to lose with dignity requires they know the meaning of the word.
Keep in mind that Democrats were content in 2008 to run a guy with absolutely no talent, except the subterfuge. Yet Democrats decreed, "History will be made!" It was.
And if that wasn't bad enough, these mindless morons re-elected him again in 2012, after witnessing his carnage.
Fast-forward to 2016, and the Democrats ran a certified crook and bona fide scoundrel. Moreover, the idea around Hillary Clinton's (hopeful) election reminded us again that, "History will be made!"
History was made, little Princesses!
As Putin alludes, Democrats are scurrilous, and have no dignity. They say they care, and they do: about their own well-being.
Putin addressed the Russian interference scandal, thusly:
The Kremlin leader pointed out Republicans had won the House and Senate, remarking "Did we do that, too?"
While we are blaming the Russians, let's ask if they caused Hillary Clinton for her coughing fits? Did they, then almost faint getting into her SUV, custom fitted for her big fat white ass?
Did the Russians cause Hillary Clinton's supposed dehydration, that suddenly developed into the flu?
Then, did the Russians plant the "bimbos" for Hillary Clinton's not-so-secret weapon Bill Clinton to molest and rape?
And what of Benghazi?
I'm guessing the Russians created the video that sparked the 9-11 attack that killed Ambassador Chris Stevens, two Navy SEALs and one attache?
Further, I fondly recall Putin calling Trump supporters "deplorables." He later added unredeemable to our description.
Next, Putin called people who vote for Trump "less educated," as opposed to those who supported crooked Hillary Clinton.
I get it. The Russians did it all!
And then there was what the Russians did to the media in their disinformation campaign.
We all know the KGB wrote all the fake news stories surrounding Hillary Clinton's poll numbers.
Further, the Russians conspired with the Norwegians who enlisted the Mexicans, by way of the Norwegians to work with the media morons.
So poll after Russian-influenced poll had Clinton winning, when we now know that wasn't the case. Or was it?
The final straw came with Putin ordered Hillary Clinton to pull her campaign teams out of key battleground states.
Putin really punked the Democrats, as he is one shrewd dude.