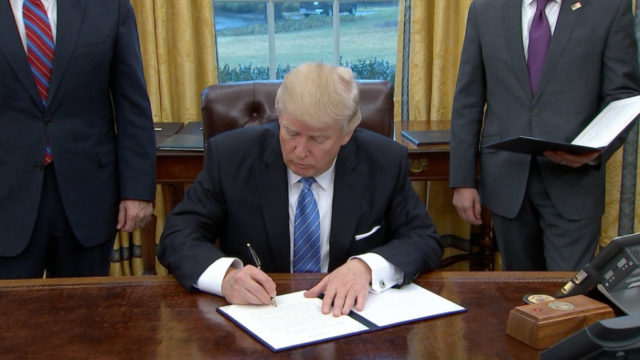 As if bringing 1.3 million jobs back to the US Market wasn't enough, now Trump is honoring another campaign promise.
It's his first full day on the job and Trump is pulling us out of the controversial Pacific Rim trade deal.
At the White House, Trump called it a "great thing for the American worker — what we just did."
"We can't let countries like China write the rules of the global economy. We should write those rules." Obama himself said those words, but he went on to advocate for the trade deal, known as the Trans-Pacific Partnership. Ultimately the TPP was just another deal to slash American jobs and send them overseas.

Of course Trump updated us via Twitter: "Busy week planned with a heavy focus on jobs and national security," he wrote early this morning. "Top executives coming in at 9:00 A.M. to talk manufacturing in America."
He's got quite a lot planned for his first day on the job, including the meeting with business leaders, another one with union leaders and then a reception with congressional leaders from both parties. This man isn't resting on his laurels.
He'll also hold his first meeting as president with the speaker of the House, Paul Ryan.
True to his campaign promises, Trump told business leaders he intends to impose a "substantial border tax" on companies taking jobs overseas. He also said there will be definite advantages to the companies who keep their manufacturing here. He made it simple. "All you have to do is stay!"
Trump's got the big hitters on his team. Trump assembled a who's who of the business world: Tesla CEO Elon Musk, Marillyn Hewson of Lockheed Martin, Mark Fields of Ford Motor Company, Michael Dell of Dell Technologies, Jeff Fettig of Whirlpool, Andrew Liveris of Dow Chemical and Kevin Plank of Under Armour just to name a few.  That's like bringing in Jeff Bagwell to coach your son in Little League. These people are key players in reshaping our economy.
It looks like NAFTA is next on his agenda. He's already set up some meetings with Canadian Prime Minister Justin Trudeau and Mexican President Enrique Pena Nieto. Trump vowed to create free and fair trade, and one by one he's clicking away at those promises.
In a speech to his staff Sunday, Trump seemed poised to put the election behind him and start tackling the job ahead.
"This is not about party, this is not about ideology. This is about country, our country. It's about serving the American people," he said.
Speaking of jobs, did we mention he's already saved 1.3 million of those?