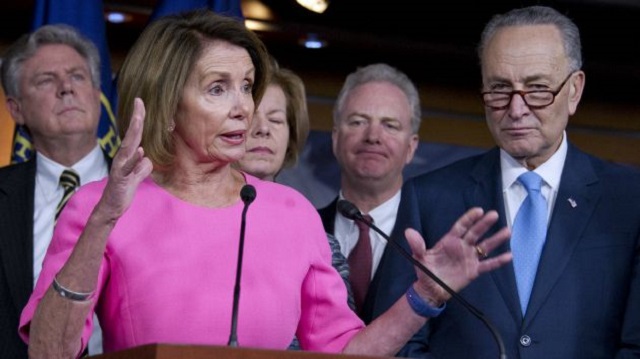 Congressional Crybabies Snub President: Will Refuse to Shake Hands
Winners make policy; losers go home and sulk. Democrats protest Trump on live television.
Toddler Alert: In a competition for the most immature elected officials in American history, Democrats will boycott President Trump in a unique way tonight. Still pissed about Hillary's election loss, liberal crybabies refuse to shake the president's hand.
New Congressional Tradition: Trump Snub
The ranking Democrat on the House Foreign Affairs Committee, Rep. Eliot Engel (D-NY), vows not to shake President Donald Trump's hand tonight.  In a long-held tradition, presidents greet congressional representatives as they approach the podium to address Congress.  Tonight, those greetings will be historically partisan.
"Unfortunately, since January 20th, the new administration has shown no interest in working with the Congress on both sides to tackle problems, including Russia's unlawful interference in last year's election.  That's why I've decided not to stand on the aisle of the House chamber to shake the president's hand during this joint session of Congress, as I have done in the past."
Following a deep, months-long investigation, the Federal Bureau of Investigation determined that Trump had no ties to the Russian government.  But apparently, that's not good enough for Engel.  He wants a bipartisan investigation.
This is blatant liberal hypocrisy at its worst.  Dems stalled the confirmation process for dozens of Trump's cabinet picks.  More than half of the new president's cabinet has yet to be confirmed by the Senate due to liberal delay tactics.  And now they want bipartisan cooperation, when they lost?  It's the worst case of sore loser syndrome from Democrats since Gore protested Bush's electoral victory in 2000.  Hanging chads, anyone?
You Can't Make Me
Dozens of Democrats skipped President Trump's inauguration to protest the threat he represents to their anti-American policies.
But this is the first time in 29 years as a congressman that Engel will not sit on the aisle to shake a president's hand.  He won't be alone.  Engel is one of several "aisle hogs" who consistently camp out to secure aisle seats.  This is an opportunity for nationally exposure, as well as a chance to briefly embrace the president.
Other liberal child impersonators giving the president their cold shoulder tonight include Rep. Sheila Jackson Lee (D-TX).  She reportedly won't shake Trump's hand, either.  Likewise, baby boy Rep. Bill Pascrell (D-NJ) won't sit on the aisle or offer the president a handshake.  Comparing Obama to Trump, Pascrell stated:
"We had a good relationship.  And who knows? Maybe in a few years I'll have that kind of relationship with the sitting president," he said, adding, "I doubt it."
Has any other American president faced this much animosity at the beginning of his first term?  Other Democrats invited "dreamers" and refugees as their guests, as a subtle protest against Trump's policy agenda.  Knowing President Trump's penchant for calling out his enemies on live television, tonight's speech promises to be must-see T.V.