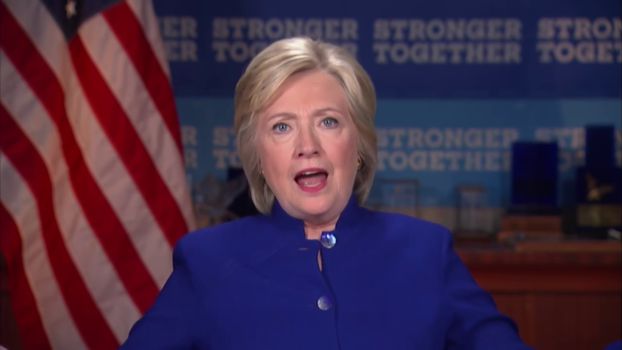 From Her RAT HOLE Hillary Clinton Offers Message to DNC
Seeking relevance after her brutal political beating, Hillary Clinton hails protesters as future American leaders.
Hillary Clinton is back. In a video recorded for the DNC gathering in Atlanta tomorrow, the election loser preached unity to Democrats about to select their new party chair.

With an upbeat tone, Clinton asked Democrats to unite for the success of the party. Leftists were encouraged to stand "united, energized, and ready to … win the battles ahead."  Yet her severely divided party couldn't get Clinton elected.
"I was inspired to see women and men … coming together on behalf of our shared values.   …  Ideas we championed are now inspiring leaders and activists across our country.
Praising protesters for their "work," that has so far included violence against conservatives, obstructing traffic, property destruction, and anarchy, Hillary raved:
"Nearly 66 million voters are fueling grassroots energy and activism.  And everywhere, people are marching, protesting, tweeting, speaking out, and working for an America that's hopeful, inclusive, and big-hearted."
What planet is this woman on? Take away paid protesters and these marches would look like a Hillary Clinton campaign rally.
And when candidate Trump had massive rallies, the Democrats did all they could to make them violent. Exactly what is inclusive or big-hearted about violence?
Left-wing protests shut down the free speech rights of conservatives across the nation. That is the goal of Leftism; one lunatic voice.
Encouraging Division
Hillary lauded protesters, arguing that these entitlement-minded, criminal thugs are America's future.
"From the women's march, to airports, where communities are welcoming immigrants, refugees, and people of every faith, to town hall meetings where people are speaking up for healthcare, the environment, good jobs, and all the other issues that deserve our passionate support. Among those millions making their voices heard, are future [leaders]."
They have no power in Washington, so Hillary told liberals to continue protesting the election winners. Instead of "working across the aisle" as she promised, Hillary fosters further division in America.
"Now, more than ever, we need to stay engaged … with everyone who wants a better, stronger, and fairer America.  We as Democrats must move forward with courage, confidence, and optimism, and stay focused on the elections we must win."
Democrats cannot win elections when they refuse to listen to the American people. Rather than supporting protests, Dems should encourage dialogue. Liberals who refuse even to meet with the Trump administration, are sowing strife to their detriment.
Simple Math for Progressives
Clinton closed by exhorting Democrats to continue standing against President Trump in protest.
"Let resistance plus persistence equal progress for our party and our country.  As long as we stand together, and work together, with respect for our differences, strength in our convictions, and love for our country, our best days are still ahead.  So keep fighting and keep the faith.  And I'll be right there with you every step of the way."
If Clinton is there every step of the way, she will need a couple of people to help keep her standing.