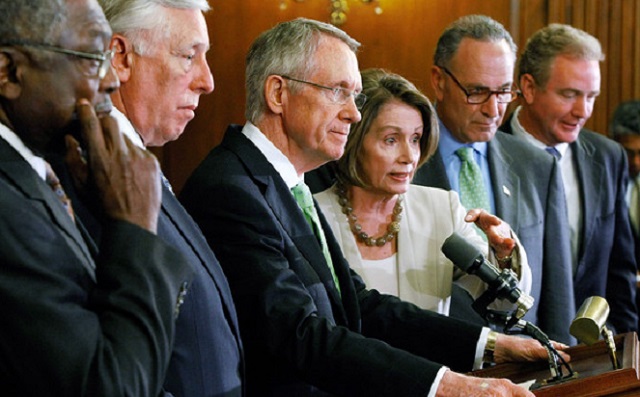 SYMBOLIC WINS: Democrats' HYSTERICAL RATIONALIZATIONS of Losses to Trump
The Democrats have redefined winning. Apparently the "symbolic win" is now equivalent to winning.
When Hillary Clinton lost, leftists explained to America that Republicans would lose in the long run. They claimed America lost.
Then somebody better tell the STOCK MARKET!
Then tell Assad, Kim Jong-un, Vladimir Putin, the economy, unemployment rate, Carrier, Ford, IBM, Historically Black Colleges and Universities, and CONSERVATIVES!
The Left had to get their solace somewhere, so they basked in the temporary "loss" in Trump's repeal of ObamaCare. For the Left this is considered a win. They know the "loss" is merely a temporary reprieve, as President Trump will repeal Obamacare. But, for now, a "win" is a win.
However, they continue to look for black clouds inside the silver linings of the Trump smackdown of crooked Hillary and the establishment.
Democrats hoped that win would come in the Kansas special election. Democrats poured money into a hopeless (for them) Congressional race in order to "not lose as big."
The media accommodated by downplaying the Republican win.
https://twitter.com/realDonaldTrump/status/853771244579282944?ref_src=twsrc%5Etfw
President Trump was referring to the victory of Republican Ron Estes over Democrat James Thompson.
Here I thought a win by even one vote was a win, but apparently not. The The New York Times' Nate Cohn's gives the "symbolic win" for Democrats analysis:
The small and imperfect lesson of Tuesday's special election in Kansas is that the Republicans might be in quite a bit of trouble. Mr. Estes's seven-point victory is extremely poor for this district, whether under politically neutral circumstances or an environment deeply unfavorable to the president's party. Even with Mr. Trump's approval rating around 40 percent, Mr. Estes should still have been considered a 20-plus-point favorite in the district.
Rinse and repeat for Democrats.
Announcer: Trump is so unpopular…
Audience: "How unpopular is he?!"
So now we get the next "symbolic loss." As One America News reports,
SANDY SPRINGS, Ga. (Reuters) – For U.S. President Donald Trump, an off-year congressional election on Tuesday in the reliably Republican northern suburbs of Atlanta could spell trouble if Democratic upstart Jon Ossoff pulls off a surprise victory.

A 30-year-old political novice, Ossoff is running as the lone Democrat against a field of 17 Republicans for a seat in the U.S. House of Representatives vacated when Trump named Tom Price as his health secretary.

An Ossoff win would not tip the balance of power in the Republican-controlled House but could weaken Trump's already shaky hold on his party there by encouraging those in competitive districts to distance themselves from him.

Ossoff faces formidable odds. Georgia's 6th District has elected Republicans to the House since the late 1970s. Trump won the Southern state by about 5 percentage points in November's election.

Still, opinion polls show Ossoff leading his many rivals. With the slogan "Make Trump Furious," he aims to galvanize opposition to a president struggling with low approval ratings.
The Left believe the hype. While the Clintons are known for their hissy fits, Donald Trump epitomizes stability.
When put on the world stage with Syria and North Korea, Trump showed amazing cool. Yet, the Left believes Trump has been abandoned by his base, and isn't winning any new friends.
"We have an amazing chance here, an extraordinary moment for Georgia," Ossoff told campaign volunteers as they headed out for a final round of door-knocking on Monday afternoon.

Ossoff raised a stunning $8.3 million in the first quarter, forcing Republicans to spend heavily against him. Those in the race are split among Trump supporters and candidates trying to hold the president at arm's length.
As with the Clinton campaign, the Left attempts to buy an election. It won't work, and they will again have to settle for their "symbolic win."