The Leftist History of President Trump Beheadings [VIDEO]
Believe it or not, Kathy Griffin was not the first Hollyweirdo to behead Donald Trump.
From Robespierre's use of the guillotine during the French Revolution, through the Imperial Japanese war crimes during World War II, to the modern ISIS propaganda videos; the use of decapitation has been a form of punishment used by evil to inflict pain, terror, and ultimate finality upon their adversaries.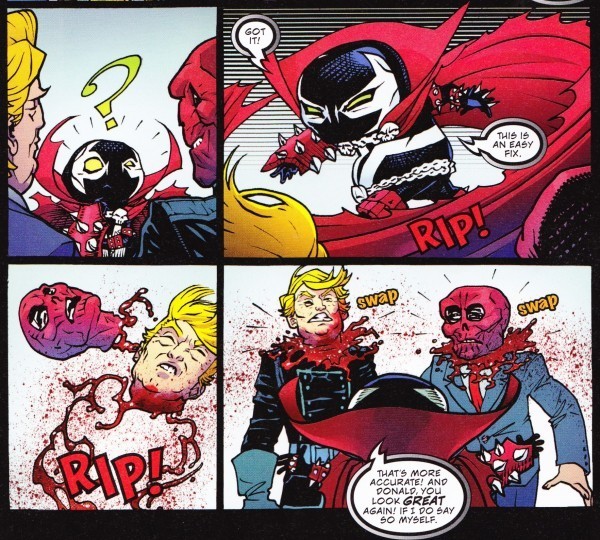 It's of little surprise that the 'tolerant' modern Progressive Left would develop an affinity for one of the more horrific forms of capital punishment.
Breitbart reports Donald Trump gets beheaded alongside arch-villain Red Skull in the comic book issue, "Spawn Kills Everyone!"
The comic strip sees Trump standing next to character Red Skull in a stand-off with Spawn, a chain-wielding anti-hero waging a war against Satan. Spawn beheads both Trump and the Nazi villain, then he swaps their heads, putting one on top of the other's body.
And then where was George Lopez:
Ironic how nothing was ever said about the antics of no-longer-funny comedian George Lopez.
In case you missed it, Lopez tweeted a picture of El Chapo holding up a decapitated head of President Trump. It looks like Lopez had to get someone else to do his dirty work.
— George Lopez (@georgelopez) February 28, 2016
This wasn't Lopez's first rodeo when making veiled threats against the president!
As previously reported , he and comedian Eddie Griffin called for the assassination of President Trump during a show in Dallas:
What (Eddie) Griffin said was well beyond free speech according to (radio host Ben) Ferguson. The so-called comedian came out and called for the assassination of Donald Trump in all seriousness.

Dallas, he pleaded, do your historic duty. You guys assassinated JFK. Next time he comes to Dallas, stick him in a convertible, drive him by the grassy knoll, get the rednecks out to the grassy knoll. He then acted out killing Donald Trump. He told them to do their job and kill him. This went on for about two minutes.

Ya'll took out one president, you need to take out another," he railed.

"Ya'll need to put Trump into a convertible and take him out, or better yet, the driver should take him out," he continued.

He acted like a sniper while doing this and suggested the driver turn around and shoot him, Ferguson said.
Academia has also been obsessed with impugning the president through various forms of decapitation since his November 8 victory.
CNN was on-hand last November to observe:
Hundred of mostly young Latino protesters marched on Los Angeles City Hall Wednesday night. As the protest grew throughout the night, protesters set on fire a piñata depicting the head of President-elect.

They chanted "I will not live in fear," "Fight back, stand up" and "¡Si se puede!" (Spanish for "Yes we can!").

Several protesters said they feared that family or friends might be deported once Donald Trump is sworn into office.
In February the Chicago Tribune reported:
Protesters gathered to voice outrage with the speaking appearance of Corey Lewandowski, Donald Trump's former campaign manager, on Feb. 15, 2017, at the Quadrangle Club on the University of Chicago campus in Hyde Park.
Curiously, what the Tribune did not report (nor did virtually any of the American media) was that protesters hung a Trump piñata for children to attack. While the mainstream media was muted on this, pictures and videos of the incident flooded the internet:
In the painting, Captain America holds a decapitated head of the president. 
Despite minimal objections, the university refused to take the painting down. As KTUU-TV examined:
A painting on display at a University of Alaska Anchorage art gallery which depicts the severed head of President Donald Trump, is sparking debate about free speech rights and whether the image is appropriate for display at a public institution.

The artwork, created by Assistant Professor of Painting Thomas Chung, is part of a faculty art exhibition at the UAA Fine Arts building.

In describing his painting, Chung said, "It's an image of the actor who plays Captain America, and two eagles are sort of screaming into his ears, and he's holding the severed head of Trump, and there's a young Hillary Clinton clinging to his leg. I was reminded of those 80's rock posters, where there's a woman in tattered clothes clinging to a strong male hero's leg."

Chung says the motivation for the painting was his dismay over the results of the presidential election.

Steven Godfrey, chairman of the Fine Arts Department at UAA, said, "I guess the people are upset about the work that's being shown. If they were taking a class at the university and made art that was considered controversial, no matter what their political or religious bent is, we would do our best to protect them and protect their rights to make that kind of work in the institution, whether it would be a student or faculty."
We allowed it to get to this point!
From protesting snowflakes rioting on college campuses, to Members of Congress digging up every morsel of controversy imaginable, we allowed this. In the absence of opposing voices, the loudest among us will be the ones most clearly heard.
Further, the mainstream news media provided the ammunition and allowed other leftists to belittle, undermine, and weaken the president.
This is not not close to being over!  Bigger clashes lay ahead on the horizon.
Kathy Griffin isn't done by a long shot.
Once she has served out her punishment she will be welcomed back into the liberal fold of Hollywood, as a 'hero.' 
Remember all of Alec Baldwin's past antics? He now serves up continual low-brow impersonations and anti-Trump antics on SNL.
Sarah Silverman warms up for her own upcoming TV-special. Perennial Trump-bashers Samantha Bee and Trevor Noah continue their disrespect disguised as comedy.
There was a time when most Hollyweirdos actually liked Donald Trump.