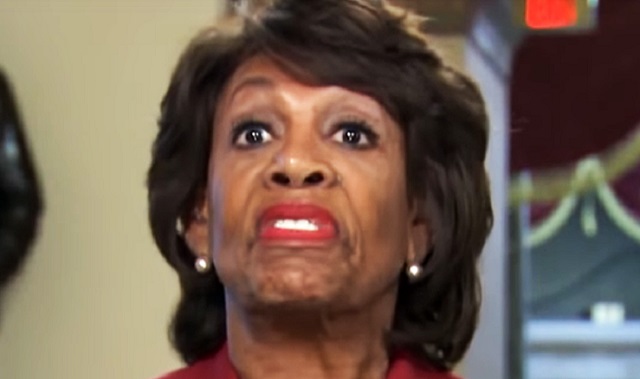 Maxine Waters Meltdown: Repeats Same Sentence 14 Times
Maxine Waters is a swamp snake, who happens to look like James Brown.
And in this interchange between her and Mnuchin, one can easily envision the Godfather of Soul's next record if he were alive.
Listen as Waters repeats herself 14 times.

It appears the Democrats don't like when Republican appointees don't jump right in and answer questions.
What has become the norm during most of these hearings is the person under question stalls by saying lots of glowing things. Since Mnuchin has nothing to hide, one has to believe he stalled just to aggravate Maxine Waters.
As The Hill reported it,
An exchange between Rep. Maxine Waters (D-Calif.) and Treasury Secretary Steven Mnuchin got testy on Thursday, further highlighting Democratic frustrations with the Trump administration.

Waters, who is quickly becoming President Trump's harshest congressional critic, prodded Mnuchin during a House Financial Services Committee hearing over why she hadn't received a response to a May letter she sent him about Trump's financial connections to Russia.

Instead of immediately answering, Mnuchin started complimenting the ranking member.

"First of all, let me thank you for your service to California, being a resident of California I appreciate everything that you've done," he said.

But Waters stopped him mid-sentence to reclaim her time — lawmakers usually get about five minutes to question witnesses — and they spent the next few seconds talking over each other.

"Thank you very much, I don't want to take up my time," Waters told Mnuchin.
Waters want to feel powerful, especially over rich white men.
You can bet she used her Tourettes-like outburst as a fundraiser.
Here is a partial transcript of the video:
Chairman: "The time belongs to the gentlelady from California," he told Mnuchin.

Waters: "Let me just say to you, thank you for your compliments on how great I am, but I don't want to waste my time on me," she said.

The panel's top Democrat circled back to the May 23 letter that requested records from the Financial Crimes Enforcement Network regarding Trump's financial ties to Russia.

But Mnuchin insisted he was trying to respond to the panel's top Democrat.

Mnuchin: "I was going to answer that," Mnuchin said about responding to the letter.

"Mr. Chairman, I thought when you read the rules you acknowledged that I shouldn't be interrupted and that I would have [time]," he said looking at Hensarling.
Waters interrupted again, as she wanted no context. She only wanted Mnuchin to hang himself.
Waters: "What [Hensarling] failed to tell you was you're on my time," Waters said. "I can reclaim it. He left that out, so I'm reclaiming my time."

But the exchange continued to heat up.

Mnuchin: "I was going to tell you my response."

Waters: "Just tell me."

Mnuchin: "Perhaps Mr. Chairman I don't understand the rules because I thought I was allowed to answer questions," Mnuchin said over Waters's repeating that she was "reclaiming my time."

You know Mnuchin wanted to say to Waters.
"Bitch, you're the reason I love the private sector. A swamp rat like you wouldn't last a week in the real world. That's why you hide in public service, as you service nobody.

If your constituents knew exactly what you have done, which is nothing for them, they would rip that James Brown wig off your head.

I'm out! ** mic drop **