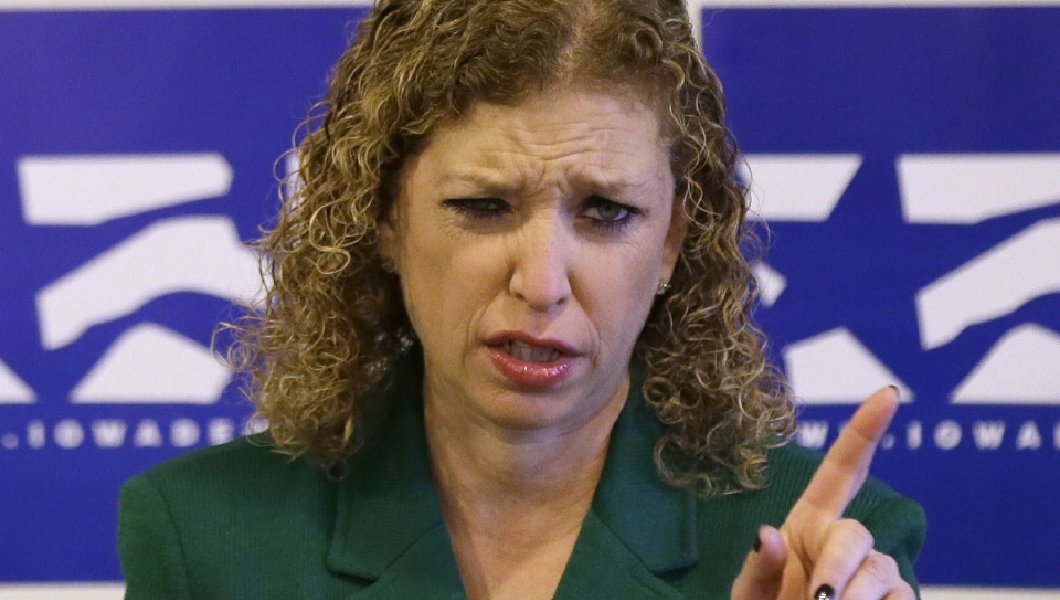 Wasserman Schultz HIDING AFFAIR with the Awan Brothers
Where we last left off, one of the Awan brothers has struck a deal to return to the U.S. from Pakistan.
This can't be good for Little Debbie. It appears that one of the brothers left a package for the FBI.
According to The Daily Caller,
A laptop that Rep. Debbie Wasserman Schultz has frantically fought to keep prosecutors from examining may have been planted for police to find by her since-indicted staffer, Imran Awan, along with a letter to the U.S. Attorney.

U.S. Capitol Police found the laptop after midnight April 6, 2017, in a tiny room that formerly served as a phone booth in the Rayburn House Office Building, according to a Capitol Police report reviewed by The Daily Caller News Foundation's Investigative Group. Alongside the laptop were a Pakistani ID card, copies of Awan's driver's license and congressional ID badge, and letters to the U.S. attorney. Police also found notes in a composition notebook marked "attorney-client privilege."

The laptop had the username "RepDWS," even though the Florida Democrat and former Democratic National Committee chairman previously said it was Awan's computer and that she had never even seen it.
Let's play CNN and speculate on what really happened between Awan and Wasserman Schultz
I believe Debbie Wasserman-Schultz was getting "schtupped" by at least one of the Awan brothers. 
Consider that even under heavy scrutiny, Debbie Wasserman Schultz fought like a mama grizzly to keep these men on the job within the government. Why would she do this for a regular IT guy on the payroll.
As The Daily Caller continues,
Awan was banned Feb. 2, 2017, from the congressional computer network because he is a suspect in a cybersecurity investigation, but he still had access to House facilities because Wasserman Schultz continued to employ him.
Outside of a couple of Congressional Black Caucus holdouts, every other Congressman fired Awan when they found out he was under investigation. The CBC fired the later. Then the day after the crap really hit the fan, Wasserman Schultz finally fired Awan.
Talk about "penis-whipped"! Be honest, that's what you were thinking.
I suggest Mueller (or a real investigator) look into Wasserman Schultz' marriage.
DC engenders strange bedfellows. So don't act like Wasserman Schultz getting the high, hard one from a few Pakistani men tests your sensibilities.
Why did Awan flee the U.S.?
He was likely more embarrassed admitting to screwing Wasserman Schultz than admitting he was a spy for the Muslim Brotherhood.
Why was the laptop found in the Rayburn building, when Wasserman Schultz's office and every other Congressman for whom Awan worked office in the Longworth building?
Remember when Wasserman Schultz used a televised May 18, 2017 congressional hearing on the Capitol Police budget to threaten "consequences" if Chief Matthew Verderosa did not give her the laptop.
"If a member loses equipment," it should be given back, she said.
Wasserman Schultz' might have had another "member" on her mind. She actually threatened a Capitol Hill police officer, even after being told that the laptop was tied to a suspect in a criminal investigation.
She tried the "executive immunity" argument that "If I'm not under investigation, then you can't take away my SIDE PIECE!".
A couple month's later, Wasserman Schultz tried a different approach. Now she claimed to protect the rights of Awan and the taxpayers. 
"This was not my laptop," she said
If these political criminals were in the real world, this case would be over. But they work in the world of politics where things are murky. Who knows what Wasserman Schultz has on somebody else, who knows something about two other people. Thus, America gets the run-around.
Politicians fight to protect each other. Because they know if America knew how dirty most of the were, we'd disband government entirely.
As for Wasserman Schultz, hopefully the return of the mack, Awan sheds light on her dealings with him. Moreover, let's hope this investigation uncovers what most Americans suspect of the Democrats. We know in our hearts they are corrupt beyond belief. So let's prove it. Again.