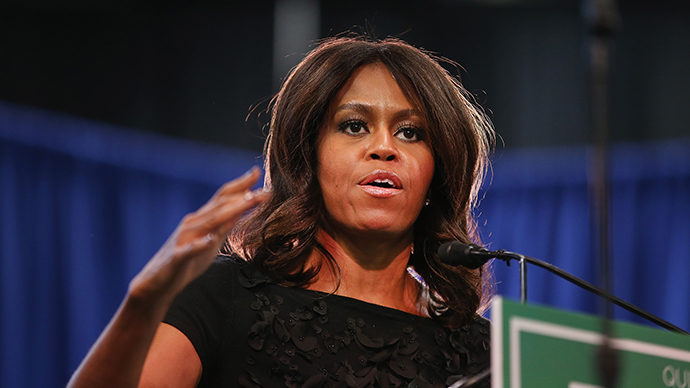 Michelle Obama: Spokesperson for the Lying Left
Race-baiter Michelle Obama returns to tell America just how racist the Republican Party. She says the Republicans made people "not trust" politics.
At the Pennsylvania Conference for Women, Michelle Obama said when she attended the State of the Union address she got uncomfortable as she noticed on the Republican side of the room there was "all white men."
"At the State of the Union address … when you are in the room what you can see is this real dichotomy. It's a feeling of color almost. On one side of the room is literally gray and white. Literally, that is the color palette on one side of the room. On the other side of the room, there are yellows and blues and whites and greens. Physically, there's a difference in color, in the tone, because on one side all men, all white, on the other side some woman, some people of color."

She continued, "I look at that, and I go, no wonder. No wonder we struggle, no wonder people don't trust politics. We're not even noticing what these rooms look like."
Hard to believe how "sensitive" Michelle Obama can be.
Exactly what have white men done to Michelle Obama? She lived in a black-centric world. And if any men took advantage of her, you can bet they weren't white. Yet, she appears to have a psychosis for white men.
One would think her fear of white men would have dwindled, given the number of white men it took to get her husband elected? What of those "white men"?
And what of Michelle Obama obsession with the color and gender of people in the room? What about policy?
First, the white men she references are the duly elected representatives of their areas? Secondly and perhaps more importantly, what did Michelle Obama miss in her glance across the aisle?
The Republican Party is more diverse than the Left. I won't point out the blacks and other minorities, or the women Michelle Obama happened to miss when she glanced over to the other aisle. But they are there. Obama refuses to see them. She's proud of the so-called diversity of the Democratic Party, a party united in only one thing: hate for America.
Every special interest group on the Left concerns itself with one thing–it's own interest. La Raza (The Race) cares about the Mexican race. The Congressional Black Caucus cares about blacks. And the list of malcontents goes on.
What Michelle Obama missed in her criticism of the Right is the notion that at the very least they want what's best for ALL.
Let's talk "Trust"
We know very little about Michelle Obama's husband. Look at what the Obamas hide to this day:
Obama's kindergarten records

-So far, no records have been released by the school. Noelani Elementary School officials have not responded to WND's request for comment.

Punahou School records
Occidental College records

-Gary Kreep of the U.S. Justice Foundation, demanded these school documents be released but was shut down every step of the way.

"Obama's attorneys bent over backward to block us," Kreep told WND. "Obama doesn't want anyone to see those records. He's trying to hide them."

Columbia University records

-Obama claimed to be a part of the Black Student Organization and anti-apartheid activities at Columbia but according to the New York Times, several well-known student leaders did not recall his involvement. When the newspaper inquired, the Obama campaign did not offer an explanation for why the transcript had not been released.

Columbia thesis "Soviet Nuclear Disarmament"

-Before applying to Harvard, Obama supposedly penned a major thesis in his senior year. It remains sealed.
One would think "the smartest president ever" would at least want to release his Harvard records. After all, he was the first black president of Law Review.
The list of unknowns continues:
Harvard Law School records

-According to Politico, Obama's name does not appear on any legal scholarships during his time at Harvard. His campaign reportedly said his Harvard education was a product of hard work and student loans.

Harvard Law Review articles
University of Chicago scholarly articles
Passport

 –a key witness who had been cooperating with federal investigators in researching Obama's passport was later found fatally shot in front of a Washington, D.C., church. A police officer found the body of Lt. Quarles Harris Jr., 24, slumped dead inside his car.

-Barack Obama, a relatively young candidate who was said to have been in "excellent health," refused to release medical records. Instead, he simply provided a six-paragraph note from his physician briefly summarizing 21 years of doctor visits and health information.
Other sealed documents include:
Complete files and schedules of his years as an Illinois state senator from 1997 to 2004

Obama's client list from during his time in private practice with the Chicago law firm of Davis, Miner, Barnhill and Gallard

Illinois State Bar Association records

Baptism records

Obama/Dunham marriage license

Obama/Dunham divorce documents

Soetoro/Dunham marriage license

Adoption records
In short, Obama remains a stranger to America.
And he acted like it. In his final days as president, Obama lauded his administration for being, "scandal free". Americans scoffed at the idea, as the list of scandal in America is as long as Obama's list of unknowns.
So if anybody has destroyed trust in America, it's the Obamas.