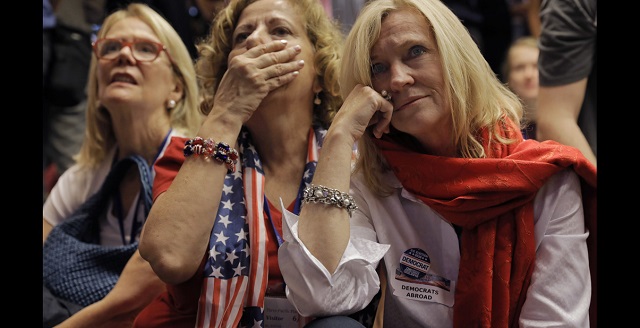 20 YEARS LATER: Guess Who Leftists NOW Call Out
For decades the Left have defended their behaviors. And when they couldn't, they simply blamed others.
Look at the latest revelations of Harvey Weinstein. Hollywood knew he sexually harrassed women for decades, yet said nothing. The same is true of DC.
We've learned that Congress has a taxpayer-funded slush fund for wayward Congressmen. And we've spent $15.2 million in payout to victims of sexual harassment by politicians.
It didn't begin with Bill Clinton, but he made sexual harassment mainstream…and cool!
Bill Clinton managed to maintain rock star status even as allegations of womanizing escalated to rape. With the help of his wife, Bill bullied his victims into submission for a second time.
When the subject resurfaced during Hillary Clinton's ill-fated second run for the presidency, the Clintons brushed the facts off like lint on a collar.
Perhaps America had enough dirt on Hillary Clinton, and thus ignored the sexual predator stories about Bill. But with Weinstein, Bill Clinton finds himself back in the mainstream.
Even MSNBC anchor Chris Hayes chimed in with a recent tweet:
As gross and cynical and hypocrtical as the right's "what about Bill Clinton" stuff is, it's also true that Democrats and the center left are overdue for a real reckoning with the allegations against him.

— Chris Hayes (@chrislhayes) November 10, 2017
It only took a few minutes for Leftist outlets to jump on the bandwagon. And now they ask themselves the question: How did this predator stay in office for two terms, and launch one of the most lucrative post-presidential speaking careers in modern times?
Remember Juanita Broaddrick?
One of Clinton's many victims is now 73 years old. The retired nurse never full recovered from her Clinton ordeal, although she tried.
Imagine the constant reminders, as Hillary Clinton launched her second campaign, and even now won't go away. And in typical Leftist fashion, Hillary Clinton tries to appear sympathetic to the victims of sexual predators.
In September, Clinton tweeted that every sexual assault survivor had "the right to be believed." In November, she reiterated that "every survivor of sexual assault deserves to be heard, believed, and supported." The following month, she was asked at a campaign event whether the handful of women who've accused her husband, former President Bill Clinton, of sexual harassment and assault — Juanita Broaddrick included — deserved to be "believed" as well.

"Well, I would say that everybody should be believed at first until they are disbelieved based on evidence," Clinton replied with a smile that was just one awkward beat too slow.

Broaddrick oozes genuine, sweet-as-sweet-tea Southern hospitality, but she went "ballistic" when she heard Clinton's statements on sexual assault, she recently told me. It had been years since Broaddrick had spoken publicly about the Clintons. Sitting at home, alone and fuming, Broaddrick thought to herself, What can I say to make this believable to people, that this really happened to me? She signed back in to her dormant Twitter and started typing. In January, one tweet went viral: "I was 35 years old when Bill Clinton, Ark. Attorney General raped me and Hillary tried to silence me. I am now 73….it never goes away."
Clinton never faced any consequences for the rape.
Bill Clinton faced impeachment for his behavior with Monica Lewinsky, but he talked his way off the cliff. And he never faced separate charges for raping Broaddrick.
For many year's Broaddrick stopped speaking out. However, she remains a thorn in the left's side. Perhaps that is why liberals try to brush Jaunita off as a politically motivated conservative, despite the fact that she once donated $1,000 to Obama. Broaddrick's move to the right came from her disappointment with the left. Obviously, the disappointment was magnified by the left's coddling of the Clintons.
Of course, Broaddick and Lewinsky are only two of Clinton's victims. Others include Paula Jones, who sued Clinton for sexual harassment, and Kathleen Willey, who says Clinton rubbed up against her in the Oval Office. However, statistics suggest that only a small percentage of women victimized ever step forward, so there are theoretically hundreds of more victims out there.
Vast Right Wing Conspiracies
For years, Hillary called the accounts by these victims "vast right wing conspiracies", insinuating the women were all political pawns. Even Gloria Steinem defended Clinton, proving once again feminists are the real enemy of women's rights.
Howard Kurtz points to this 1998 New York Times op-ed by feminist leader Gloria Steinem.
If the allegations were true, Steinem wrote, "President Clinton may be a candidate for sex addiction therapy. But feminists will still have been right to resist pressure by the right wing and the media to call for his resignation or impeachment."

On Kathleen Willey's tale of Oval Office groping, Steinem said: "Even if the allegations are true, the president is not guilty of sexual harassment. He is accused of having made a gross, dumb, and reckless pass at a supporter during a low point in her life. She pushed him away, she said, and it never happened again. In other words, President Clinton took 'no' for an answer."

In the case of Paula Jones, "Mr. Clinton seems to have made a clumsy sexual pass, then accepted rejection." His relationship with Lewinsky, despite the "power imbalance," was not coerced.
And he should stay in office, writes Steinem, because he was "vital" to "reproductive freedom."
Anybody think Steinem is embarrassed by her words two decades later, particularly now that sex scandals simultaneously rock Hollywood and D.C?
I don't expect to hear much from Steinem.
And perhaps with the renewed interest in Bill Clinton, Hillary Clinton might just crawl back down the rat hole to the Clinton home…and stay.