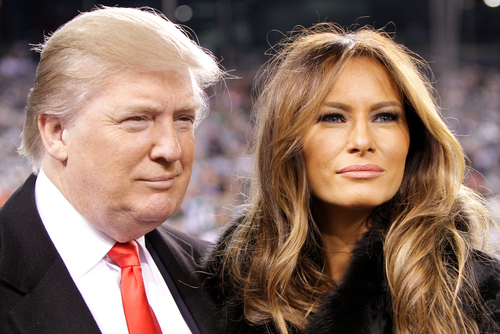 Will Melania Trump Get Away With What Hillary Clinton Has?
Imagine the outcry if Melania Trump used her power and authority to sign off on $500,000 speeches for her husband? And not just one or two speeches here and there. But a total of 215 speaking engagements all over the world.
Next, what if those "speeches" were a prelude to billions of dollars going to the "Trump Foundation"?
Well, that's what new uncovered documents have discovered about Bill and Hillary Clinton during her time at the state department.
Judicial Watch reports:
"A joint investigation by the Washington Examiner and the nonprofit watchdog group Judicial Watch found that former President Clinton gave 215 speeches and earned $48 million while his wife presided over U.S. foreign policy.

According to documents obtained by Judicial Watch and released Wednesday in an ongoing Freedom of Information Act case, State Department officials charged with reviewing Bill Clinton's proposed speeches did not object to a single one.

Some of the speeches were delivered in global hotspots and were paid for by entities with business or policy interests in the U.S.

In the inspection by the Examiner and Judicial Watch of donations to the Clinton Foundation, Hillary Clinton's personal financial disclosure forms, and the State Department conflict-of-interest reviews shows that at least $48 million flowed to the Clintons' personal coffers from many entities that clearly had interests in influencing the Obama administration — and perhaps currying favor with a future president as well."
If the Left seeks to find out who's been colluding with foreign governments for political gain we need look no further than the Clintons.
Pay for Play
Recent FBI documents confirmed that Bill Clinton received a whopping $500,000 for a speech he gave in Russia. Bill Clinton spoke in Russia around the same time Hillary Clinton authorized the selling of our country's Uranium.
TBS recently documented:
 As a Russian state nuclear corporation sought a majority share of Uranium One, a leading Uranium producer with mining rights in the U.S., former President Clinton was invited to Moscow to give a speech to Renaissance Capital.

 Renaissance Capital is an investment bank, "with ties to the Kremlin" according to the NY Times. Clinton was paid $500,000 for the one-hour speech.
But apparently the amount Bill was paid more than what was previously reported.
According to these new documents by Judicial Watch Bill Clinton was paid $625,000 for his Russian speeches.
"In Russia, Bill Clinton gave two speeches for $625,000. One was to the Russian investment bank, Renaissance Capital, at a 2010 event titled "Russian and the Commonwealth of Independent States: Going Global."

The State Department background memo described the bank as "focused on the emerging markets of Russia, Ukraine, Kazakhstan, and Sub-Saharan Africa."

The Russian Standard Bank also donated to the foundation."
Along with Russia, the Clintons had a lot of interests in China.
From 2001-2007 Bill Clinton gave 7 speeches earning in China, and received $7 million for his "work". Not surprisingly, at the same time, Secretary of State Hillary Clinton championed the United States' "pivot" toward Asia.
Afterwards, Bill Clinton gave an additional four speeches in China or to Chinese-sponsored entities in the U.S., earning $1.7 million.
Next comes the Saudi's.
Cash rolled in for decades from the Saudi Government to the Clinton Foundation.
"Saudi Arabia, was a key Clinton benefactor. The oil-producing giant has had a relationship with the Clintons dating back to Bill Clinton's time as governor of Arkansas.

In 1992, while running for president, then-Gov. Clinton secured a $3.5 million Saudi donation for a Middle East studies program at the University of Arkansas.

A few weeks after Clinton was inaugurated president, the Saudis kicked in another $20 million.

Overall, the Clinton Foundation has received staggering sums from Saudi benefactors — between $18 million and $50 million. (The foundation's donations are reported in ranges, not specific numbers.)

While Hillary Clinton served as secretary of state, Bill Clinton gave two speeches in Saudi Arabia, earning a total of $600,000.

In January 2011, for example, Bill Clinton spoke at a global business forum in Riyadh founded by the Saudi Investment Authority and sponsored by the Dabbagh Group, a commercial colossus with close ties to the Saudi royal family.

His fee for the speech: $300,000."
There is a lot of coincidence between speeches, donations to the Clinton campaign, and shift of U.S. policy by Secretary of State Hillary Clinton.
These pay for play schemes by the Clintons have been going on since the 90's. And every political move that the Clintons have made has not been in the interest of the American people. Instead, the Clintons chose to line their own pockets.
Replace Donald and Melania Trump in any of these scenarios. Then and ask yourself how the media and other Leftists would see these "coincidences".