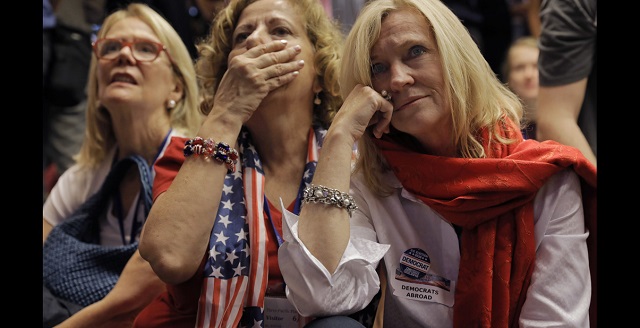 Another Democrat Resigns Amid Sexual Misconduct Scandal
Democrats are falling like flies, and with good reason. They are lying scoundrels.
Take Andrea Ramsey for example. She thought she had the election against GOP Rep. Kevin Yoder in the bag. Then, the allegations of sexual misconduct surfaced. 
I know what you're thinking and no…Andrea Ramsey is NOT a transgender man-turned-women. Ramsey is ALL woman, estimates around 93.7 percent.
And boy does this story have some ironies.
Like, Ramsey is angry over the allegations. In fact, she's accusing white men of being sexist.
As we often say around The Black Sphere, Holy Mother of Roy Moore, because according to Ramsey, people are using the lawsuit against her for political gain. Now where have we Conservatives heard that before.
Evidently, Ramsey searches for ways to justify her actions. However, she won't be able to call herself "Congresswoman" while sorting this out. Because she dropped out of the race.
What We Know
The Kansas City Star uncovered accusations against Ramsey from 2005.
Ramsey was accused of making sexual advances towards a former employee of LabOne, a company where she worked in human resources. The complaint filed against LabOne claimed that Ramsey made "unwelcome sexual advances as well as unwelcome, unwanted and offensive sexual comments and innuendos during his employment" and that Ramsey moved the employee's desk, criticized him and eventually fired him after he declined the advances.

The lawsuit was dismissed in 2006. Multiple sources told the Kansas City Star that the employee received a settlement. Ramsey denied the allegations in a lengthy statement published Friday that explained her decision to drop out of the race, saying that the allegation is "a lie" and she didn't "have any opportunity to participate in its resolution" because she was not named in the lawsuit. LabOne, Ramsey's employer, was named as the defendant in the lawsuit.
Of course, Gary Funkhouser, the accuser remembers things quite differently.
While Ramsey says the lawsuit was dismissed, the truth is the lawsuit was settled. Funkhouser was compensated for his suffering.
Zero Tolerance
Liberals were counting on Ramsey to pick up the Kansas seat for the Democrats. In fact, Emily's List called Ramsey the most qualified candidate. However, it's not uncommon for feminists to live by double-standards. Ramsey thought she could skirt the issue (pardon the pun). But the current changes in our culture left her at the short end of a "zero-tolerance" policy.
As Politico writes:
Ramsey was also running for office with support from the Democratic Congressional Campaign Committee, but she lashed out at the committee in her statement, saying that it is in a "rush to claim the high ground in our roiling national conversation about harassment."

"The Democratic Party has implemented a zero tolerance standard," Ramsey said in the statement. "For me, that means a vindictive, terminated employee's false allegations are enough for the Democratic Congressional Campaign Committee (DCCC) to decide not to support our promising campaign. We are in a national moment where rough justice stands in place of careful analysis, nuance and due process."
Now, Ramsey wishes the DCCC could go back on their word. But it's too late to save Ramsey.
"If anyone is guilty of sexual harassment or sexual assault, that person should not hold public office," a DCCC spokesperson told The Star. And that includes feminists like Ramsey.
Both Sides Now
Recently, both Democrats such as Al Franken and Republicans like Trent Franks had allegations of misconduct. Moreover, Congress is under fire for paying out countless settlements to victims instead of holding offenders accountable.
We recently explained how Congress gets away with raping and harassing people through the Office of Compliance.
Complainants begin the dispute resolution process with a mandatory (yes, really) course of counseling that can last up to 30 days. Only after completing the compulsory counseling may a complainant pursue mediation. That, too, can last up to 30 days. If mediation fails to resolve the issue to the complainant's satisfaction, she or he can then go to an administrative hearing, or file a federal lawsuit.

Here's the kicker: If the dispute is resolved in favor of the complainant (read: victim), funds for the settlement don't come out of the offender's personal bank account, or his or her campaign account. Instead, they come out of a secret account maintained by the Office of Compliance. It is so secret, in fact, that taxpayers don't even know they are funding it.

That's right, Congress can sexually harass, rape or otherwise brutalize people, and the American taxpayers fund their behavior. Worse yet, we don't even get to see what we paid for.
Congress has been allowed to literally screw us over for years. Luckily, Ramsey won't be able to use the system to her advantage. Understand we will see more of this, as men too recall their suppressed memories.