'Prince of San Francisco' Gavin Newsom: Womanizing Past Could Jeopardize His Gubernatorial Dreams

Gavin Newsom has been equally famous for galivanting around the Bay Area with beautiful women as well as for his gradual rise in California politics.  
The fourth-generation San Franciscan, is the son of a retired state appeals court justice who also worked as an attorney for Getty Oil. Newsom's aunt was married to Ron Pelosi, the brother-in-law of House Minority Leader Nancy Pelosi.
Getting his political start as a Willie Brown appointee, he would go to get elected as San Francisco County Supervisor, San Francisco Mayor, and is currently California's Lieutenant Governor. Mr. Newsom remains on the cusp of achieving his next significant goal: The Governorship of California.  A September San Jose Mercury News poll shows the current Lt Governor beginning to widen his lead over the rest of the gubernatorial field:
But that all could come to a screeching halt.
In the late 1990s thru the 2000s Newsom was the 21st century poster child for the metrosexual playboy, with an equally notorious wandering eye as this undated photo demonstrates:
Remember while as Mayor, Newsom was once married to former-San Francisco Deputy District Attorney (and Fox News host) Kimberly Gilfoyle.  As the San Francisco Chronicle informs:
"Unfortunately, the demands of our respective careers have made it too difficult for us to continue as a married couple," the pair said in the statement. "Over the past 10 years, we have developed a tremendous bond of love and respect for each other.  That will never change.

"We will remain close friends," they said. "We ask for your understanding and consideration during this difficult time."

In the year since Newsom took office, he and his wife had become a media glamour couple — one magazine profile went so far as to dub them "the new Kennedys." But even as the mayor became a national figure by sanctioning same-sex marriages in the city, and Guilfoyle Newsom showed up on national TV daily during the Scott Peterson trial, signs of strain were becoming apparent.

Several friends of the couple, who would speak only on condition of anonymity for fear of alienating them, said the split came as little surprise.

So, that was all that happened? Of course not.
As Newsweek exposes, Newsom cheated on Guilfoyle.
Since his 2005 divorce from Fox News commentator Kimberly Guilfoyle, he had become something of a man about town, spotted at all the fashionable places with various beautiful women on his arm.

But the chatter over Newsom's dating life took a sharp turn away from mere amusement last Thursday, when the mayor admitted he'd had an affair with a female staffer who happened to be married to one of his closest friends.

The San Francisco Chronicle, which broke the story, reported that the brief affair took place in 2005, when Newsom was in the midst of his divorce. His paramour worked as the mayor's appointments secretary. Her husband, one of Newsom's top advisers, worked down the hall. On Wednesday, according to the Chronicle, the betrayed husband, Alex Tourk, quit his job as manager of Newsom's re-election campaign after his wife, Ruby Rippey-Tourk, confessed to her dalliance, apparently as part of the therapy she was undergoing for substance abuse. A day later the mayor made a surprisingly blunt admission.

"I want to make it clear that everything you've heard and read is true," Newsom said at a packed press conference at city hall. "I am deeply sorry and am accountable for what has occurred and now have begun the process of reconciling it."
The Mayor stabs his own Deputy Chief of Staff/Campaign Manager in the back. And he does this in the midst of a reelection and a high-profile divorce. That's gall of Democratic proportions!
Wait…'She's How Old'? This story ain't over yet!
Then there was the time 40-year-old Mayor Newsom was dating a 19-year-old college Lacrosse athlete.  No, this is not an episode of 'Friends', but real San Francisco City politics.
When the news first broke that San Francisco's popular 39-year-old mayor Gavin Newsom was dating a 19-year-old model and restaurant hostess (she's since turned 20), the city buzzed with gossip — and more than a little scuttlebutt — about the City by the Bay's newest power couple.

First, the San Francisco Chronicle reported that Brittanie Mountz, who played lacrosse for Sonoma State University, had suddenly changed her age on her MySpace page from 19 to 26. Then, the paper's political columnists scooped that Mountz, who is under the legal drinking age in California, was pictured holding a glass of wine at a recent gala that Newsom attended. The mayor's spokesman quickly responded that Newsom has never provided Mountz with alcohol, adding, "If she was drinking, the mayor didn't notice."

But is the city bothered by the mayor's May-October relationship? Not exactly.
But Newsom also had an eye for attractive celebrities.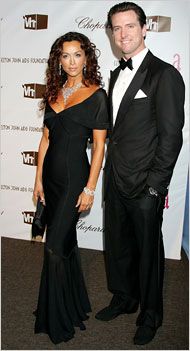 Newsom went on to have relationships with TV actress/Scientologist Sofia Milos.
Then he was seen attending the opera with former reality-TV star Erin Brodie, and do not forget the time Paris Hilton's cellphone went missing with Newsom's personal number in it.
That said, since 2008 it has appeared he has put his swinging bachelor ways behind him:
With the announcement of his engagement to actress Jennifer Siebel, San Francisco's philandering Mayor Gavin Newsom is officially off the market. But that doesn't mean the fun has to stop, does it?

Newsom is renowned for picking the live-wire types: upbeat, never dull, and only on occasion in possession any pesky moral hang ups. In other words, chicks like him.

So it may surprise some to meet flaxen-haired actress Jennifer Siebel, a former downhill ski racer and soccer player once recruited by Stanford (Kappa Kappa Gamma!), who includes pilates among her many dances.
But This Is Now.
Newsom's behavior was tolerated in a post-Clinton era American political society. However, those days have ended. 
In an era of Weinstein, Spacey, Franken, and Conyers; millennial voters, too young to remember the Clinton impeachment fiasco, have openly shown their total disdain for this kind of cavalier behavior; that was once the fodder of gossip magazines and late-night comedians. It does not matter if the infractions occurred 40 years ago, or before the offender ever assumed public office, current public blood-thirst is swift and absolute.
And as the Orange County Register observes, Newsom's transgressions could be coming back to haunt him:
Newsom took the early lead in the run for governor, becoming the first to declare his candidacy, raising millions of early dollars and running far ahead of everyone else in the first polls.

Newsom hoped to make his move to the governor's office seem as inevitable as Harris' accession from San Francisco district attorney to state attorney general to the Senate. Essentially, he hoped to scare away most serious competition just as Harris did.

But now several others have. They are out gathering both money and support — apparently at least in part at Newsom's expense. In fact, anytime he looks back these days, Newsom sees someone gaining on him.

Most prominent is former Los Angeles Mayor Antonio Villaraigosa. Like Newsom, Villaraigosa must overcome a history of womanizing, but with previous candidates like President Trump and ex-Gov. Arnold Schwarzenegger winning office despite their own similar peccadillos, this may not prove as big a problem as it might have in previous eras.

In this year's first version of the UC Berkeley Institute of Governmental Studies poll, successor to the usually reliable Field Poll, Newsom ran 11 points ahead of Villaraigosa, with 28 percent support to Villaraigosa's second-place 11. Just two months later, in May, Villaraigosa had closed that gap to a mere five points, with Newsom still leading, but by only 22 percent to 17.

It's far too early to call Newsom's scare-them-off strategy a bust. But so far, no one looks intimidated.
In other words, there' s blood in the water and the other Democrats taste it.
The San Mateo Daily Journal lays it out in simple speak:
For lack of a better term, Newsom is simply a "player."

We celebrate "players" in our society but not usually in the political arena.

We expect our politicians to be "as clean as a whistle; sharp as a tack" as presidential candidate Joseph Biden describes fellow candidate Barack Obama.

Newsom comes off as sharp, right down to his Pat Riley hairdo, but he isn't looking too clean right now.

Newsom seems less like the mayor of one of the most touristed cities in the world and more like the leader of a college frat house.

He exhibits behavior of a young man who hasn't quite realized you can't sleep with all the girls.

A picture even surfaced with Newsom and Mountz standing alongside Ruby Rippey-Tourk at a social event.

The guy is definitely a "player" and I'll say it now just to be clear — he is also definitely "stupid."

As Forrest Gump once said, "stupid is as stupid does."
It Could Not Have Been Said Any Better!