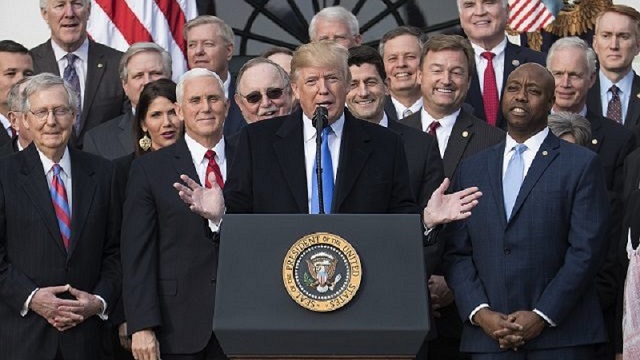 SHOCKING: Trump's Approval Versus Other World Leaders
Recently President Trump's poll numbers matched those of Obama at the end of his first year, and Leftists lost their minds.
They cited other polls–Leftist polls of course–showing President Trump at lows. Ironically, their polls still have Trump losing the election.
Nevertheless, perhaps the best indicator of President Trump's performance lies in not what the polls say about him, but instead what polls say about other world leaders.
Take Mexico's President Pena Nieto for example. Pew has him at 28%.
President Enrique Peña Nieto's popularity has continued to plunge since Pew Research Center began asking about him in 2011. Today, 28% of Mexicans express a favorable opinion of the Mexican president, less than half the share that supported him in 2011 (61%). The current favorability rating marks a 16- percentage-point drop since 2015 and a 28-point drop since the Center's 2012 poll, conducted just months before he was elected president.
And that's a dramatic improvement from March of 2017.
December 2012, when Enrique Peña Nieto took office as Mexico's president, his approval rating was 54%. It was a modest but respectable showing, considering he'd been elected from a four-candidate field with about 38% of the vote.

The central concerns in the country at that time were violence — measured in homicides, extortions and abductions often linked to drug cartels — and the economy. Peña Nieto, who was the reform candidate of the notoriously corrupt Institutional Revolutionary Party, or PRI, promised to address these concerns and promised that his government would be transparent and accountable to the people.

Now, with Peña Nieto two-thirds of the way into his six-year term, many Mexicans believe he has failed on all fronts and been incapable of meeting the new challenge from President Trump.
And yes, that wall will be built. Next, Mexico will pay for it!
UK Prime Minister Theresa May polls at 26%.
And as the Independent UK wrote:
Theresa May's crisis has deepened today with a new poll showing Labour surging ahead of the Conservatives, while the public now also has a clear preference for Jeremy Corbyn as Prime Minister.

The exclusive survey for The Independent by BMG Research now has Labour five points ahead of the Tories, who are still reeling from a coup launched by ex-ministers to overthrow Ms May.

Mr Corbyn, fresh from a conference at which he cemented his position, has a two point lead over Ms May in terms of who the public would prefer to be running the country.

The numbers represent a stunning reversal in fortune for both the Tories and Labour, and the poll heaps yet more problems on top of Theresa May, whose authority had already been undermined by Boris Johnson even before her catastrophic conference speech.
May should heed the policies of President Trump, and Make Britain Great Again!
What of France's Macron?
His poll numbers show 28% approval. Back in September Macron saw his numbers begin to drop, at least according to Reuters:
The poll, conducted by Ifop for newspaper Le Journal du Dimanche (JDD), showed Macron's "dissatisfaction rating" declining to 53 percent in September, from 57 percent in August.

Some 45 percent expressed satisfaction with the centrist leader – up from 40 percent in August.

The poll of 1,989 people was carried out on Sept. 15-23.

Macron's approval ratings have dropped sharply in opinion polls since his election in May, dragged down by labor reforms and planned budget cuts, including a decrease in housing aid for students.
Apparently things haven't gotten any better for Macron. And in fact, things are far worse.
Canada's Justin Trudeau experiences similar polling problems, his number around 37.9%
CBC Canada wrote of Trudeau's problems.
Depending on the poll you're reading about, the Liberals are either holding a comfortable lead over the Conservatives or locked in a tight race, hobbled by the attacks of new Conservative Leader Andrew Scheer over the government's proposed tax changes.

Either narrative could very well be true — or reality could fit somewhere in between, as it often does. But individual polls considered in isolation only tell a small part of the story.

On the whole, the data suggests the popularity of Justin Trudeau's Liberals has taken a hit. They now sit at 37.6 per cent in the CBC's Poll Tracker, an aggregation of all publicly available polling data. That is a recent low for the party.

The party's lead over the Conservatives is now estimated to be 4.8 points, with the Tories averaging 32.8 per cent. The New Democrats, based solely on polls conducted before Jagmeet Singh became their new leader, sit at 15.8 per cent.
Trudeau reminds me of Obama. He relishes the spotlight, but is little more than an empty suit. Unfortunately for Trudeau, he doesn't have the American taxpayers to back up his lunacy.
Finally, Germany's Angela Merkel: 29%
She may have taken the most brutal beating, given her stance on Muslim refugees. Recall Merkel's very bad New Year's last year, when Muslim refugees sexually assaulted thousands of German women. Things haven't improved, as Merkel's poll numbers indicate.
As the UK Express writes:
The survey, carried out in the coalition talks breakdown, makes worrying reading for Angela Merkel.
While Mrs Merkel said yesterday she wanted to stand again in any new snap election the German people appear to be turned off by the prospect.

Of those polled, 54 per cent said she should not run for office, according to the polling institute Civey for t-online.de.

Only 38.5 percent of Germans would welcome a renewed candidacy of the chancellor.
Given this report was from late November, it appear Merkel's slide continues.
What do all these leaders have in common?
They are all avowed socialists. And while Donald Trump's numbers improve–even with fake news polls–these leaders find their poll numbers dismal, with a crappy chaser.
Anybody thinks it's luck that President Trump is the only of these world leaders who's poll numbers have risen?