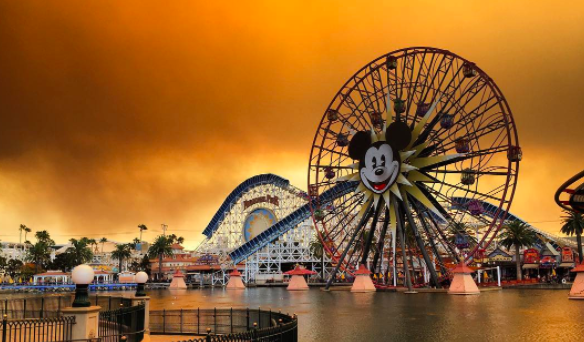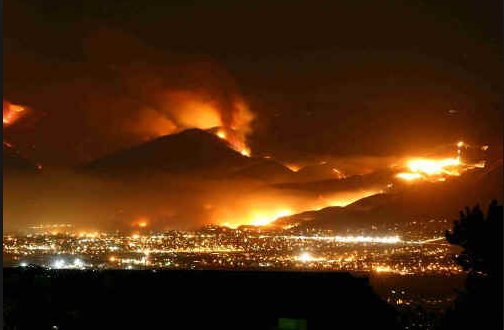 California Burning: Jerry Brown's Real Legacy of Destruction
As Jerry 'Moonbeam' Brown finishes his 'second' two-term service at the helm of California. Yet again he has turned the once Golden State into a literal hell hole, that is burning like the pit of Gehenna.
The downfall of this once great state did not happen overnight.  Years of radical Liberal activism, in conjunction with deranged Leftist policies, and compounded with anemic conservative opposition over the decades have allowed the state to become a raging inferno.
The apparent culprit of October's deadly Northern California wildfires were downed power lines. The East Bay Times reported at the time:
Sonoma County dispatchers sent out fire crews to at least 10 different locations across the county over a 90-minute period starting at 9:22 pm to respond to 911 calls and other reports of sparking wires and problems with the county's electrical system amid high winds.

State fire officials said Tuesday that they are still investigating the cause of the blazes, which as of late Tuesday had killed 17 people and destroyed more than 2,000 homes in Sonoma, Napa and other Northern California counties.

But the reports of the power equipment failures began to turn the spotlight on PG&E, the giant San Francisco-based utility, raising questions about how well it maintained its equipment in the area and whether it adequately cut back trees from power lines to reduce fire risk — as required by state law.

PG&E officials issued a statement Tuesday evening, acknowledging the equipment troubles even as a company spokesman called the questions about maintenance "highly speculative."
Ironically, this is the same PG&E that in January of this year was found guilty for the massive San Bruno explosion that killed eight people and injured dozens in 2010.
Subsequently, PG&E in turn unexpectedly raised its utility rates on its customers in February 2017.  Then in another unsurprising move, PG&E has raised their rates on customers again this past November, to cover the costs of the Northern California wildfires.
But get this: PG&E blocked legislation that could have prevented the fires. Both houses of California's Legislature unanimously passed legislation to prevent this, yet Governor Brown vetoed it.
The San Jose Mercury News uncovered the story:
A year ago, a bipartisan bill aimed at reducing the risk of wildfires from overhead electrical lines went to Gov. Jerry Brown's desk.

The author of the measure — passed unanimously by both houses of the Legislature — now says the governor missed out on a chance to tackle one of his state's longstanding vulnerabilities: massive wildfires endangering residential communities. But the governor's office and the California Public Utilities Commission say the bill duplicated efforts already underway among the CPUC, Cal Fire and utilities like PG&E.

Now, as a series of deadly fires rages in Wine Country, serious questions are once again being asked about the safety of overhead electrical wires in a state prone to drought and fierce winds.

On Wednesday, Cal Fire said that investigators have started looking into whether toppled power wires and exploding transformers Sunday night may have ignited the simultaneous string of blazes.

(…)

PG&E has paid millions of dollars in fines and settlements over the years for its failure to properly maintain vegetation clearance around its electrical lines when it led to massive fires.

In April, the state Public Utilities Commission fined PG&E $8.3 million for failing to maintain a power line that sparked the Butte fire in Amador County in September 2015. That fire burned for 22 days, killing two people, destroying 549 homes and charring 70,868 acres.
And what of LA?
Whereas Los Angeles resembled a scene from a Hollywood disaster movie for nearly a month.  And LA is expected to continue burning for at least another month. 

NBC-4 Los Angeles explains the situation:
CAL FIRE reported four active large wildfires — 300 acres or more — burning across California as of early December. The worst wildfires have been in Northern California, where the death toll from several fires that tore through communities stands at 41. More than 5,700 structures have been destroyed.

Through Dec. 3, more than 6,762 fires burned 505,391 acres this year. During that same period last year, 4,742 fires burned 244,297 acres. The five-year statewide average for that period is 4,749 acres and 202,696 acres.

The state is coming off one of its wettest winters in years, which left hillsides covered in grass and other vegetation. That grass dried out during summer and turned into tinder, providing fuel for rapidly spreading fires often pushed by strong winds.

An increase in the number of dead and dying trees also can exacerbate the wildfire threat, Cal Fire officials said. An estimated 102 million trees have died in California due to the state's five-year dry spell and bark beetle infestation.
The media barely glanced over a report of a homeless encampment campfire as the leading perpetrator.
However, the mainstream media provided their 'usual suspects': the California drought, climate change, and even President Donald Trump:
While, once again, Governor Brown deflects blame and responsibility.
The thinning and removal of dead and sick trees in California's forests has long been restricted. Years of inaction against the bark beetle infestation only exacerbated the impending crisis. 
Last year the Los Angeles Times warned:
The number of dead trees in California's drought-stricken forests has risen dramatically to more than 102 million in what officials described as an unparalleled ecological disaster that heightens the danger of massive wildfires and damaging erosion.

Officials said they were alarmed by the increase in dead trees, which they estimated to have risen by 36 million since the government's last survey in May. The U.S. Forest Service, which performs such surveys of forest land, said Friday that 62 million trees have died this year alone.

(…)

When a lot of dead fuel remains on the ground, fires burn hotter and damage the soil, experts said. Whenever rain eventually arrives, the water cannot filter through the soil as easily, so it moves the top layer, creating the potential for mudslides and destroying root systems.

"Like a sheet of glass," said Scott McLean, a battalion chief with the California Department of Forestry and Fire Protection. "Where's that water going to go? Quickly downhill."

Once fires burn through the fuel on the ground, they can climb up a "ladder" of dry branches and timber until they get into the crown of the tree, McLean said. And once a fire gets to the top of a tree, it can spread quickly — hopping from tree to tree rather than winding more slowly across the ground.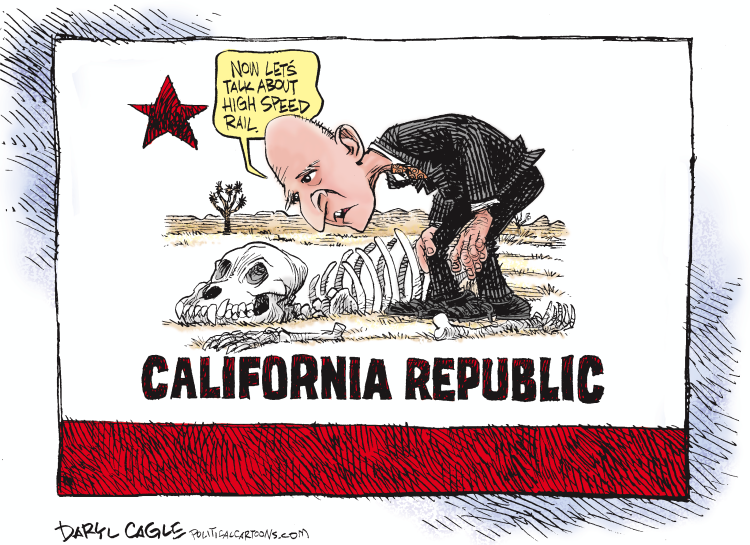 Leftists Standard Operating Procedure:
Monetary bottom line comes before the people…period.
And money over citizens prevails as the modus operandi of any Leftist bureaucracy.  Such was the case when four firefighters died in 2001, because the nearest water source was home to endangered fish.
But it's always the taxpayers that are the ones left paying the bill for the government's ineptitude. And where was Jerry Brown while California continued to burn and homeowners were losing their homes/properties?
When he wasn't pardoning convicted felons, he was in Paris advocating Climate Change!