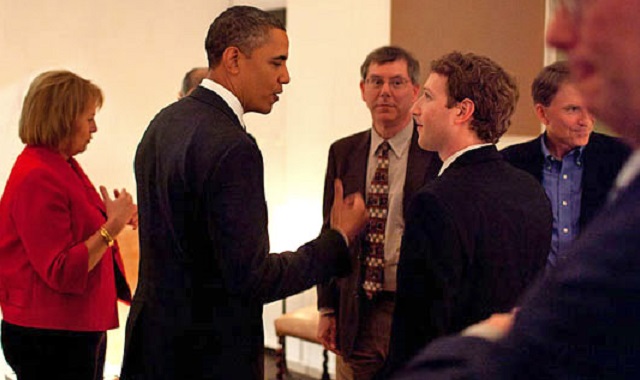 Criminal Tech Industry Bias Against Conservatives Exposed
It's no secret that the modern-day robber barons of Seattle and Silicon Valley lean hard Left politically.
The strong ties between the Democrat Party and liberal-progressives of the tech industry has been well documented over the years.  
Pioneers like Mark Zuckerberg and the late Steve Jobs have enjoyed the privilege of been at the top of many Democrat VIP lists.  Likewise, Google Executives donate massive amounts of campaign contributions to numerous Democrat candidates in races throughout the country.
Only Hollywood comes close in rivaling the onesidedness of tech industry as a political monetary juggernaut for Democrats. Yet the media still dares calls Republicans "the party of the rich"?
Guest list: Left, from President Obama, Apple chairman and CEO Steve Jobs, Westly group founder Steve Westly, host's wife Ann Doerr, Google CEO Eric Schmidt, Genentech chairman Art Levinson, Cisco Systems CEO John Chambers, venture capitalist John Doerr (host) Oracle CEO Larry Ellison, Netflix CEO Reed Hastings, Stanford University president John Hennessy, Yahoo president Carol Bartz, Twitter CEO Dick Costolo, unknown, Facebook founder, president and CEO Mark Zuckerberg.
But unlike Hollywood where audiences can turn off the TV channel or refuse to attend a movie, modern day social-media is different. And the tech industry knows this.
The Daily Caller first broke the story this week that Google filters the news and its search engine results show bias against Conservatives. Ergo, Google favors Leftists:
When searching for a media outlet that leans right, like The Daily Caller (TheDC), Google gives users details on the sidebar, including what topics the site typically writes about, as well as a section titled "Reviewed Claims."

Vox, and other left-wing outlets and blogs like Gizmodo, are not given the same fact-check treatment. When searching their names, a "Topics they write about" section appears, but there are no "Reviewed Claims."

In fact, a review of mainstream outlets, as well as other outlets associated with liberal and conservative audiences, shows that only conservative sites feature the highly misleading, subjective analysis. Several conservative-leaning outlets like TheDC are "vetted," while equally partisan sites like Vox, ThinkProgress, Slate, The Huffington Post, Daily Kos, Salon, Vice and Mother Jones are spared.
Now we learn conclusively that Twitter does the same:
In a breaking story, the investigative media group found that Twitter has been 'manually' blocking and censoring Conservative thought and comments for a long time.  And true to Project Veritas' form, don't take their word for it, listen to it straight from the mouths very engineers and executives at Twitter:
So how did they 'manually' review nearly billions of posted content?
Several employees explain:
When asked to clarify if that process was automated (former Twitter Content Review Agent Mo) Norai confirmed that it was not:

"Yeah, if they said this is: 'Pro-Trump' I don't want it because it offends me, this, that. And I say I banned this whole thing, and it goes over here and they are like, 'Oh you know what? I don't like it too. You know what? Mo's right, let's go, let's carry on, what's next?'"

Norai also revealed that more left-leaning content would go through their selection process with less political scrutiny, "It would come through checked and then I would be like 'Oh you know what? This is okay. Let it go.'"

Norai explains that this selection process wasn't exactly Twitter policy, but rather they were following unwritten rules from the top:

"A lot of unwritten rules, and being that we're in San Francisco, we're in California, very liberal, a very blue state. You had to be… I mean as a company you can't really say it because it would make you look bad, but behind closed doors are lots of rules."

"There was, I would say… Twitter was probably about 90% Anti-Trump, maybe 99% Anti-Trump."

At a San Francisco bar on January 5th, Pranay Singh details how the shadow-banning algorithms targeting right-leaning are engineered:

"Yeah you look for Trump, or America, and you have like five thousand keywords to describe a redneck. Then you look and parse all the messages, all the pictures, and then you look for stuff that matches that stuff."

When asked if the majority of the algorithms are targeted against conservative or liberal users of Twitter, Singh said, "I would say majority of it are for Republicans."
"The individual depicted in this video was speaking in a personal capacity and does not represent or speak for Twitter. Twitter only responds to valid legal requests, and does not share any user information with law enforcement without such a request."

"We deplore the deceptive and underhanded tactics by which this footage was obtained and selectively edited to fit a pre-determined narrative," Twitter's spokesperson said. "Twitter is committed to enforcing our rules without bias and empowering every voice on our platform, in accordance with the Twitter Rules."
Since President Trump won the 2016 election and was sworn in a year ago, the mainstream media has been obsessed with near nonstop mantra of how Russia influenced the election cycle in favor of the Trump Campaign. But let's examine another potential culprit.
Regardless of the on the record comments from Senator Dianne Feinstein and former Obama National Security Advisor James Clapper to the contrary, that is because the biggest influence on the voters during the 2016 election came from none other than Facebook itself!
Entrepreneur Magazine explains:
Facebook has been known to influence user behaviors before. In a May 2016 report from Gizmodo, former Facebook news curators suggested that they routinely suppressed pieces of conservative news, as instructed by managers. Facebook has repeatedly denied this same accusation; instead, the platform says that it strives for neutrality on all issues, and has even adjusted its newsfeed algorithm in response to such claims, in an effort to demonstrate and further improve that neutrality.

We do know for a fact that Facebook intentionally manipulated the emotions of nearly 700,000 users back in 2014, in an effort to determine the effects that its newsfeed could have. In the study, Facebook artificially filled newsfeeds with negative or positive posts, then measured the subjective emotional impact of each introduction.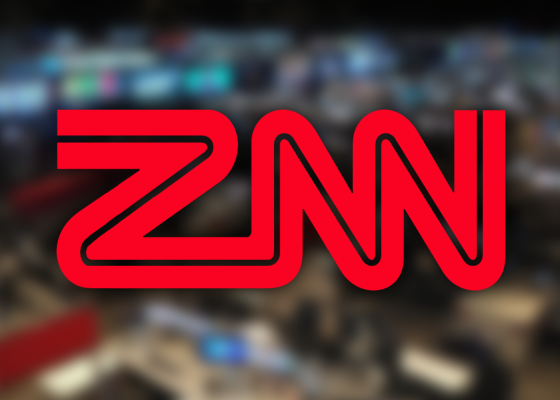 The Multi-Billion Dollar (Mad)Man
Former Bay Area hedge fund titan Tom Steyer has been waging a one-man crusade on his two pet causes.
First, he buys off politicians to get onboard the climate change bandwagon. Second, he wants President Trump impeached.
The man who made his fortune taking risks on Silicon Valley startups, has yet to clearly explain what the "high crime and misdemeanor" is that the President is guilty of committing. But don't let the facts stop you, when you're super wealthy and delusional.

NEWSFLASH to ABC/CBS/NBC/CNN/MSNBC/WashPost/NYTimes: you are no longer the gatekeepers of the news.
According to a Pew Research 62% of Americans are now getting their news from social media:
Two-thirds of Facebook users (66%) get news on the site, nearly six-in-ten Twitter users (59%) get news on Twitter, and seven-in-ten Reddit users get news on that platform. On Tumblr, the figure sits at 31%, while for the other five social networking sites it is true of only about one-fifth or less of their user bases.

It is also useful to see how, when combined with the sites' total reach, the proportion of users who gets news on each site translates to U.S. adults overall. Facebook is by far the largest social networking site, reaching 67% of U.S. adults. The two-thirds of Facebook users who get news there, then, amount to 44% of the general population. YouTube has the next greatest reach in terms of general usage, at 48% of U.S. adults. But only about a fifth of its users get news there, which amounts to 10% of the adult population. That puts it on par with Twitter, which has a smaller user base (16% of U.S. adults) but a larger portion getting news there.
Major outlets like Facebook or Twitter overtly conspire to suppress and/or skew the information we receive.
It ceases to be the truth and becomes biased propaganda. 
Look at the infected areas: Entertainment, Academia, Media, even Sports.
What does it take for Leftists to learn?
Low ratings, slumping sales, decreased attendance, and sagging revenues.  But yet the message is still not getting through.
We battle back offering Conservatives a place to go, where our speech is not limited. Check out Tea Party Community.