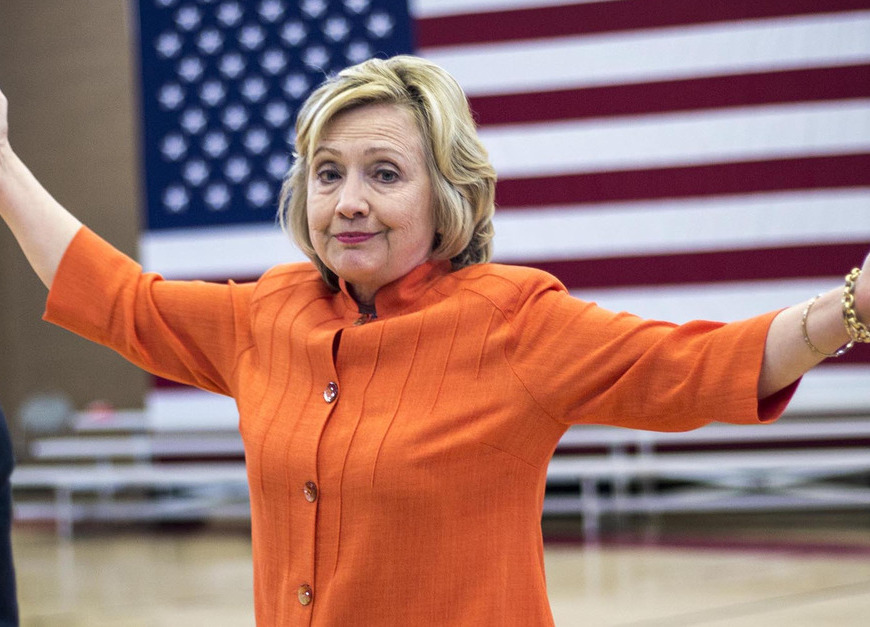 Hysterical DIGS at Hillary Clinton on #NotMyPresident Day
As Leftists all over America feel the pain of another year of Donald Trump as president, for the rest of America the day is a celebration that Barack Obama isn't.
And, we get the added bonus that Hillary Clinton is not president, nor will she ever be.
As The Daily Caller reported, WikiLeaks founder Julian Assange is a big reason America didn't get a straight-up Madame as president. Because you can bet, Clinton was more than prepared to pimp the country out.
Julian Assange took a totally unnecessary dig at Hillary Clinton on President's Day.

The WikiLeaks founder quoted a now-infamous tweet from the former Democratic presidential nominee, wishing a "future president" — herself — a happy birthday, but he added two words and a hashtag.
https://twitter.com/TrumpChess/status/965653264254558208
All I could say is "Thanks for the reminder!"
What a great feeling to see this meme. It almost makes me as happy as they shocked look on the faces of the millions of idiots who cried the night crooked Hillary Clinton got her ass handed to her by Donald Trump.
You're WELCOME!
But there were other amazing tweets, from other Americans who were as appreciative as Assange. I particularly love the international flair of this next one, as it encompasses so many levels of snark.
https://twitter.com/TrumpChess/status/965654081770582017
No, not even millions of illegals voting could slow down the Trump Train!
Other tweeps hit Hillary Clinton on #NotMyPresidentDay with nostalgia. My grandparents drank Folgers, and their jingle reminded one of them of the fact that Hillary Clinton awaits the executioner.
— Helm (@Helmandria) February 19, 2018
Ah, now that's some GOOD coffee!
So good in fact, that this next tweep needed a moment to reflect on just how funny it is that after all the shenanigans of Hillary Clinton, and the entire Obama administration, Hillary Clinton got beaten by Trump.
https://twitter.com/ethereumweekly/status/965652725731127297
As they say in the Mastercard commercials: PRICELESS!…that America celebrates #NotMyPresidentDay!
But undoubtedly my favorite tweet is this next one. Again, the layered meaning behind this meme is awesome in its duality. While Twitter's founder hates Donald Trump, but it was Hillary Clinton whom his technology blocked!
https://twitter.com/BlueAJ41/status/965653683949199360
As America celebrates its second President's Day under President Trump, I gloat.
Yes, add my name to the millions of thankful Americans that Obama is forever gone, and Hillary Clinton will never be president.
https://twitter.com/RedPillReport/status/965639725796155392
Moreover, God-willing, America gets six more years to celebrate "Trump Day", having emerged from The Dark Ages Part II.
Clearly, more people recognize how different the world looks under true leadership. Democrats abandon their crooked party in droves. And no matter what "rinse and repeat" strategies they try to sway the American people, Democrats fail.
Happy #NotMyPresident Day to Leftists who ironically slap Hillary Clinton in the face, as they attempt same with President Trump. The man leaves losers in his wake. As Trump proves at least weekly, he wins in the end.
That's not to say that President Trump didn't have his detractors. Soon we will laugh in the face of these fools.
#NotMyPresidentsDay #NotMyPresident
Every business should post this sign today pic.twitter.com/5FL4A63E5u

— Stop Trump ? (@StopTrump2020) February 19, 2018
Like this person, I too refuse to recognize Barack Obama as a president.
Amazingly, after all that has been revealed, Hillary Clinton has her "hangers on". 
I'd like to take #PresidentsDay2018 to honor the woman who won by 3 million votes despite Russian interference, widespread misogyny, and a massive voter suppression effort.

As for the illegitimate man in the White House? Well, he's still #NotMyPresident pic.twitter.com/6UfbXQ0vct

— Christie (@Christie_D22) February 19, 2018
But when the shackles are put on crooked Hillary Clinton and many others, some of these Lefties will eventually celebrate Donald Trump as their hero.
I can hardly wait to see the look on the faces of those who supported Obama and Hillary Clinton when justice finally arrives.