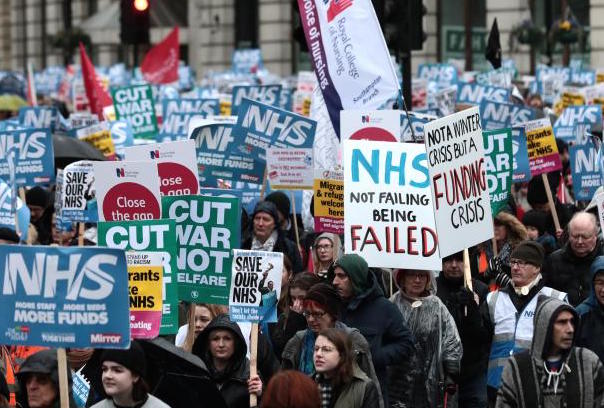 Piers Morgan Responds as Trump SLAMS British Healthcare System
When President Trump illuminates a problem, the Left hate him for it.
When Trump told us the bitter truth about our broken immigration system, Leftists tried to brand him a racist. Then, when he spoke about our anemic economy, Leftists called him a liar.
Recently, President Trump went abroad, taking a swipe at Obamacare. He tweeted about the protests happening in the U.K. due to the country's broken, Obamacare-like system.
The Democrats are pushing for Universal HealthCare while thousands of people are marching in the UK because their U system is going broke and not working. Dems want to greatly raise taxes for really bad and non-personal medical care. No thanks!
https://twitter.com/realDonaldTrump/status/960486144818450432
President Trump made an observation based on what is actually happening in the U.K. But leave it to Leftists to spin the protests saying it was in support in the U.K NHS:
Thousands of people did march in London on Saturday, and in other cities across Britain — but it was in support of the NHS, demanding more funding for it and blasting the Conservative government which has been accused for years of underfunding the service.
So we are clear, the argument about their well-run system is the system needs more money? Isn't money always the Left's answer for solving problems?
British commentator Piers Morgan took the opportunity to rip the U.S. healthcare system. On Monday Morgan responded to President Trump's claim that Britain's National Health Service was "going broke and not working."
Wrong, Mr President.
Our NHS is a wonderful, albeit imperfect, health system – and the envy of the world.
By comparison, the US healthcare system is a sick joke & the envy of no-one. https://t.co/Ew5GxclcMF

— Piers Morgan (@piersmorgan) February 5, 2018
"Wrong, Mr President. Our NHS is a wonderful, albeit imperfect, health system – and the envy of the world," Morgan tweeted.

"By comparison, the US healthcare system is a sick joke & the envy of no-one."
Envy of the world?
That must be why thousands of proud Brits protested the "under-funded" system Morgan called the "envy of the world".
Morgan is correct about America's blackened version of healthcare, known as Obamacare. It sucks.
As for U.K. universal healthcare, it should come with a disclaimer: until the money runs out.
According to Independent a U.K. news organization thousands of campaigners have marched on Downing Street to protest in age as finding the shortages as the health service surfers its worst ever went to a crisis.
Protesters carrying placards with the words "kick the Tories out", and "more staff, more beds, more funds", gathered in central London in large numbers in support of fixing what they say is a "crisis" in the NHS.

"Keep your hands off our NHS," they chanted as they marched towards Downing Street.

The NHS is experiencing its worst winter on record, on the service's 70th anniversary year.

It comes just days after it was revealed hospitals are at their fullest point this winter, as the health service struggled to perform under significant strain. 

 Bed occupancy pressures in the weeks after Christmas saw the heads of major A&E departments write to Theresa May warning that patients were "dying prematurely in corridors" because they could not be properly cared for.
Keep in mind this march is in response to the unseasonably cold winter. Britain was forced to cancel 50,000 operations. They implemented a pecking order that prioritized operations. TBS wrote:
For those who love Obamacare, here's your UK version of the disaster.

According to The Telegraph,

Every hospital in the country has been ordered to cancel all non-urgent surgery until at least February in an unprecedented step by NHS officials.

The instructions on Tuesday night – which will see result in around 50,000 operations being axed – followed claims by senior doctors that patients were being treated in "third world" conditions, as hospital chief executives warned of the worst winter crisis for three decades.

Hospitals are reporting growing chaos, with a spike in winter fluleaving frail patients facing 12-hour waits, and some units running out of corridor space.

Sir Bruce Keogh, NHS medical director, on Tuesday ordered NHS trusts to stop taking all but the most urgent cases, closing outpatients clinics for weeks as well as cancelling around 50,000 planned operations.

Socialized medicine sucks. It's really that simple. But the Left spin the narrative otherwise.
But the saga doesn't end there.
In researching this article I wanted to report on the performance of the British system, given they canceled 50,000 operations this year.

Here's what I found from Daniel Mitchell:

We'll start with a look at how the overall British system is performing, including the remarkable and depressing fact that more than 1 in 10 patients are victimized by "basic errors," leading to 5.2 percent of deaths.

The largest and most detailed survey into hospital deaths has revealed that almost 12,000 patients are needlessly dying every year as a result of poor patient care. The researchers from The London School of Hygiene and Tropical Medicine based the study on 1,000 deaths at 10 NHS trusts during 2009. The study revealed that basic errors were made in more than one in 10 cases, leading to 5.2% of deaths, which was the equivalent of nearly 12,000 preventable deaths in hospitals in England every year. The research published in the British Medical Journal's Quality and Safety publication found that errors occurred when hospital staff made an incorrect diagnosis, prescribed the wrong drugs, failed to monitor a patient's condition or react when a patient deteriorated. Errors in omission were more frequent than active mistakes. The majority of patients who died were elderly suffering with multiple health conditions, but the study found that some patients whose deaths were preventable were aged in their 30s and 40s.

Basic errors cause 5.2 percent of the death. 12,000 preventable deaths.

But it gets worse, and the UK-based Telegraph has the stomach-turning details.

Hundreds of hospital patients died needlessly. In the wards, people lay starving, thirsty and in soiled bedclothes, buzzers droning hopelessly as their cries for help went ignored. Some received the wrong medication; some, none at all.Over 139 days, the public inquiry into the Stafford hospital scandal has heard testimony from scores of witnesses about how an institution which was supposed to care for the most vulnerable instead became a place of danger. Decisions about which patients to treat were left to receptionists…and nurses switched off equipment because they did not know how to use it. …patients were left so dehydrated that some began drinking from flower vases. By the time the hospital's failings were exposed by regulators, in 2009, up to 1,200 patients had died needlessly between 2005 and 2008. …on the wards, patients – most of them elderly – were left in agony and screaming for pain relief, as their loved ones desperately begged for help. The human toll was dreadful. In the course of 18 months, one family lost four members, including a newborn baby girl, after a catalogue of failings by the hospital. …Patients were left without medication, food and drink, and left on commodes. Basic hygiene was neglected: a woman was left unwashed for the last four weeks of her life. Relatives tried to keep their loved ones clean, scrubbing down beds and furniture and even bringing in clean linen. One consultant described how amid the chaos, it seemed at though nurses became "immune to the sound of pain".

Keep in mind we're talking about the UK not Cuba.
This is the healthcare system Piers Morgan calls the "envy of the world". You can bet that Morgan didn't spend a minute in a hospital in America prior to Obamacare, before making his insane declaration.
Why would we expect him to do actual research. After all, he is a "journalist".