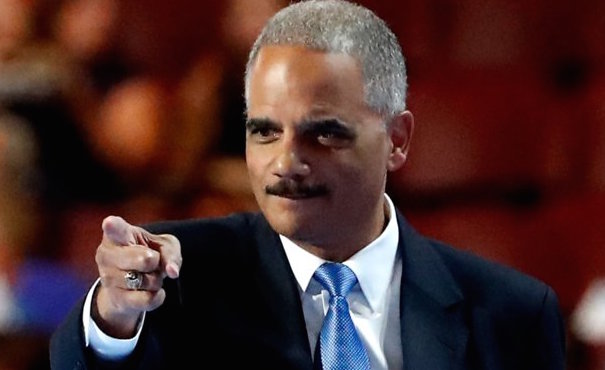 Former Obama AG Eric Holder THREATENS GOP to a fight
Eric Holder to GOP: 'You want to have a knife fight, we're gonna do it'
Leftists masquerade in society as a tolerant and loving bunch. But in truth, they are hooligans looking for fights.
They utter vitrolic hate-speech daily. And worse yet, the most violent threats emanate from their so-called leaders.
Case in point, former Obama Attorney General Eric Holder. Holder recently pulled a Joe Biden, as he used violent anti-GOP rhetoric in a campaign stop in Wisconsin challenging Republicans to a knife fight.
Holder was in Milwaukee as part of a two-day campaign swing though Wisconsin for Supreme Court candidate Milwaukee County Circuit Judge Rebecca Dallet.
Holder couched his violence in passive-aggressive voice when speaking about the fall elections. Holder suggested that Democrats need to be more disciplined and focused to match Republicans.
"We have to be ready to, you know, not do anything inappropriate, not do anything improper, certainly not do anything unlawful," he said. "But to the extent that they want to have a fight, let's do it. You want to rumble, let's rumble. You want to have a knife fight, we're gonna do it."
One could only imagine the outrage if a member of GOP ever spoke such language at a campaign rally against a Democratic opponent. But maybe Holder get's his violent rhetoric from his previous boss.
Recall back in 2008 Holder's boss Barack Obama said his first presidential campaign at a stop in Philadelphia:
"If they bring a knife to the fight, we bring a gun. Because from what I understand, folks in Philly like a good brawl. I've seen Eagles fans."
Sound familiar?
As referenced earlier, just recently we had Obama's VP Joe Biden saying not once but TWICE that he would of beaten the crap out of Trump in high school.
But, Biden called Trump out prior to the presidency.
Biden first expressed a desire for a fisticuffs with Trump at a rally for Hillary Clinton in October 2016, after Trump's hot-mic comments on "Access Hollywood" were made public.

"The press always ask me, 'Don't I wish I were debating him?' No, I wish we were in high school — I could take him behind the gym," Biden said. "That's what I wish."

Trump responded that he would "love that."

"Did you see where Biden wants to take me to the the back of the barn? Me. I'd love that," the then-Republican nominee said at a rally in Tallahassee, Fla. "Mr. Tough Guy. You know, he's Mr. Tough G
And again at an anti-sexual assault rally at the University of Miami earlier this week, Biden said that if he were in high school and heard Trump making lewd comments about women — like those captured on the infamous 2005 "Access Hollywood" tape — he would "take him behind the gym and beat the hell out of him."
Yeah right.
First, Biden would get brutalized by Trump. If I know anything about Leftists, they are all talk unless they have hooligans backing them up. Or as in the case of Scalise, the Leftist shot up a baseball game. Anybody think the gunman who shot Scalise would dare just confront him?
Second, and the real travesty is Joe Biden is one to talk about sexual innuendo. This man is a sexual harassment one-man wrecking crew.
Search Google Images for Biden sexual harassment and see what you get. If you take me up on this, you will clearly see that Biden is a pedophile, as well as a groper.
Biden tries to ignore his obsession of intimidating women. But the man has a problem. But Biden's bigger problem is Trump won't back down.
Trump responded to Biden on Twitter, escalating the war of words between the two septuagenarians.
"Crazy Joe Biden is trying to act like a tough guy," he wrote. "Actually, he is weak, both mentally and physically, and yet he threatens me, for the second time, with physical assault. He doesn't know me, but he would go down fast and hard, crying all the way. Don't threaten people Joe!"
I'm sure the RINO establishment cringed at Trump's response. I for one am happy Trump fights, and he does so publicly. This tactic keeps enemies at bay, as they must think twice about confronting him.