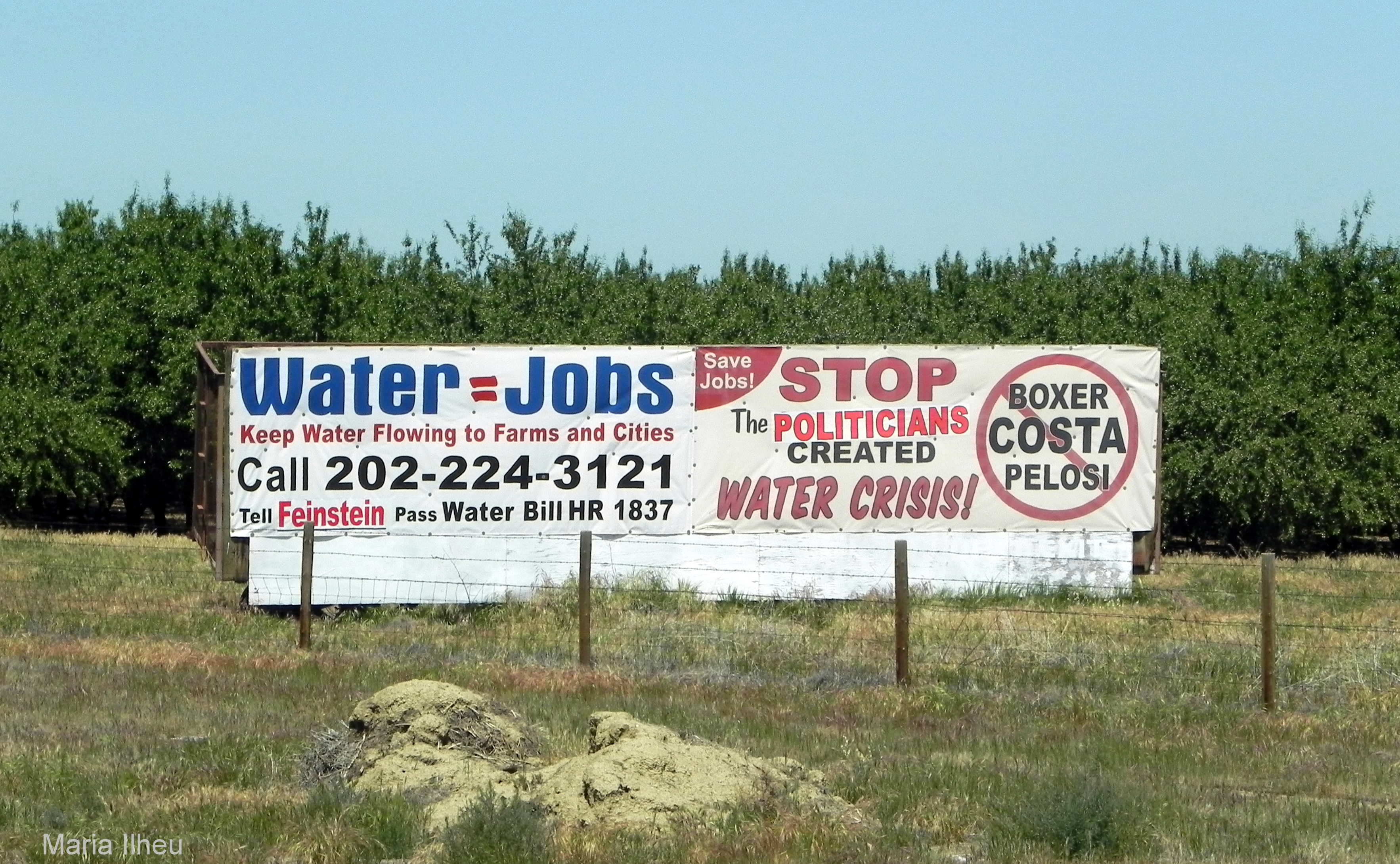 California Legislators Use Water for Political Power
Taking The 'Land Of Plenty' For Granted
Living in America, the "Land of Plenty", we take so much for granted. Turn on a switch the electricity comes on. Then, turn on a facet clean water flows forth.
Open a refrigerator and for the most part it is stocked with food for our families. Sadly, a majority of Americans are ignorant as to where their food originates.
Agriculture is California's second-largest industry. Amazingly, the industry is responsible for $82 billion of value added, as well as nearly 760,000 total jobs.
Based upon its direct value-added contribution, the food and beverage processing sector is the third largest manufacturing sector in California, comprising 9.2% of the state's manufacturing value added and trailing only electronic and computer equipment (34.5%) and chemical manufacturing (15.8%).

These, then, are the numbers that need to be considered when we debate instituting water restrictions on the state's agriculture economy.

It's not nearly as simple as losing the direct sales that comes from growing products. It's far more complex than that.
Prayers Were Answered. Lessons Not Learned.
After a nearly decade long drought and crippling water restrictions, the State Leaders foolishly squandered this precious resource with almost no care.  At the height of the Great Drought between 2011-2015, NASA confirmed that nearly 12 trillion gallons of water had been needlessly wasted by California.
California Congressman Devin Nunes described the drought's severity in a Wall Street Journal op-ed:
Tens of thousands of people have been tossed out of work—the town of Mendota alone has an unemployment rate of about 40%—and the lines for food donations stretch down streets. The reason? There isn't enough water to go around this year, and the Obama administration is drawing up new reasons to divert more of it from farms and people and into the San Francisco Bay. Today the San Joaquin Valley is being transformed into a dust bowl. Hundreds of thousands of acres are fallow, while almond and plum trees are being left to die in the scorching sun."
Yet, California was blessed in the winter of 2016-2017 with El Nino rains that quenched the thirsty state with 350 billion gallons of water filled dried State reservoirs. At its peak the Sierra Nevada snowfall was averaging 20-30 feet high which equated to 5.7 trillion gallons of water, enough to fill the Great Salt Lake (or fill 8 million Olympic-size swimming pools).
Governor Jerry Brown even declared the drought OVER!
A Fool And His Water Are Soon Parted!
Like a scene from a bad comedy…California does it again! 
At the height of the "blessed deluge" the California Water Control Board increased the amount of water to be dumped into the oceans. The New York Times observed the dismay of politicians from both parties:
The State Water Resources Control Board wants to raise the flow of the San Joaquin and the tributary Merced, Stanislaus and Tuolumne Rivers to 40 percent of their natural flow during the critical spring months.  Environmental groups say it's too low; farmers and leaders in the valley say it would cripple their economies.

"You are the grim reaper," (Democrat) Assemblyman Adam Gray, whose district includes Merced, told members of the board at one of a series of public hearings in the San Joaquin Valley this month.

"Water is life in this region, and you appear to have no other purpose than to take that life away."
No $Money$ For The Farmers!
The last major reservoir built in California was New Melones, on the Stanislaus River in 1979. At the time the population was 23 million. However, now the population approaches 40 million.
Despite the renewed calls for new water storage and the rebuilding of the state's crumbling infrastructure have gone unheeded. Thus, the hard lessons learned from the drought have fallen upon the deaf ears here in Sacramento as the once Golden State teeters on yet another several years of drought.
The California Water Commission scored a 'ZERO' for each of the requested $1 billion of state bond money to build Temperance Flat dam and Sites Reservoir, knowing it would kill their construction.  The Commission went on to nix all 11 water project applications from around the state under review, all of which are likely dead now. This not what the voters were promised when they approved the sale of $7.5 billion in general obligation bonds as part of Proposition 1 in 2014.
So, what happened?  The San Jose Mercury News details:
The measure provided money for new water treatment plants, water recycling projects, flood control projects and wetlands restoration. Some of that already has been spent by other agencies on those projects.

The measure also provided $2.7 billion for new water storage, which is defined as dams, reservoirs and groundwater storage.

But unlike with other water bonds in the past, Democrats in the Legislature who put it on the ballot insisted that none of the measure's money for dams could pay for increased water storage, only other benefits, particularly environmental ones.

The fine print of the ballot measure also says that the bond money can pay no more than half of any project's total cost, with local water agencies or the federal government paying the rest.

And most important, it requires that every storage project must be ranked by the California Water Commission with a scoring system that takes into account "public benefits."

Those benefits are defined not as how much water a reservoir can hold, but rather, how much it improves recreation, like boating or hiking, flood control and environmental conditions, such as helping endangered salmon populations come back by providing cold water to streams during dry periods.
'The Devil' Was In The Details
Sure, Los Vaqueros was approved for their expansion funding.  Governor Brown even agreed to a new reservoir at Pacheco Pass, in return for Bay Area special interests would support the ridiculous twin tunnels project.
Is it any wonder why wary farmers and local urban and rural leaders have lost all confidence in Sacramento's leadership?
The Sacramento Bee explained it this way:
If more of California's river water flows unimpeded to the ocean, that would likely leave less water for Sacramento Valley farmers, who enjoy some of the most powerful water rights in all of California, and for urban areas like Sacramento.

It could also mean less water flowing into the massive government-run pumping stations in the Sacramento-San Joaquin Delta, which deliver billions of gallons of water each year to Southern California, the Bay Area and the San Joaquin Valley.
In a NY Times article, the crux of the entire California water wars and the attacks on agriculture were narrowed down into a few short sentences:
Louie Bandoni, an almond farmer, was among them.  Speaking by phone outside the hearing, he said it felt as if state leaders were trying to put farmers out of business over a few fish.

"In California, we're being bombarded with regulations," Mr. Bandoni said.  He cited new minimum wage and overtime rules and caps on methane emissions from livestock.

"And now they're going after our water," he said. "We're just to the point as farmers — we're just fed up. We don't know which way to turn."
So, what is this Commission going to do with the $2.7 billion that it has been sitting on for the last four years? Siphoning them back to Governor Brown so he can continue to fund High Speed Rail the same way he has been absconding funds from the Gas Tax?
Food: A National Security Issue.
This was not just about just rural farmers versus urban environmentalists.  It was about all of us…it about safeguarding the American food supply.  Protecting and ensuring the vitality of our food and water source not only should be taken more seriously.
The Department of Homeland Security has warned:
"While we have not seen any specific, credible terrorist threats against Homeland food production and distribution infrastructure, we cannot rule out the possibility of inspired violent extremists or disgruntled insiders attempting to adulterate or poison food and beverages," DHS said.
With the recent e-coli outbreaks, avian flu, not to mention the threat of drought or other natural disasters should be considered an issue of National Security!  Years ago Americans were complaining about having to purchase foreign oil from countries that did not like us…just wait until we are buying 'foreign food' from those same countries.
Governor Brown mocks the farmers with yet ANOTHER water bond on the 2018 ballot!
Once again the SAME PEOPLE that advocated from Temperance Flat, Sites, and other Statewide water projects that were just rejected are ONCE AGAIN onboard to support this new initiative.
When you go to vote just remember Democrats and econuts put the priorities of salmon and smelt above securing the vitality and longevity of our food supply. Remember that when food prices start to spike in the next few years as well.
Watching this all of this happen (yet AGAIN) feels like being trapped in a time loop.