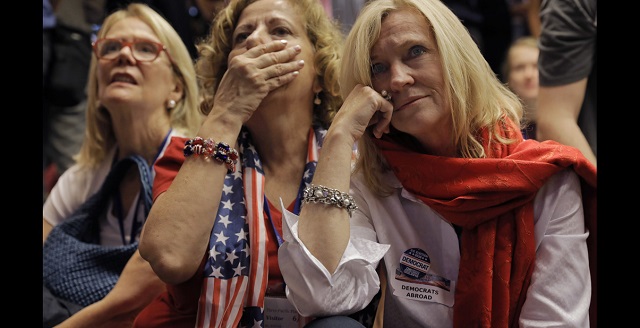 Democrat Desperation in Latest Presidential Tracking Poll
If this poll is any indicator, the 2020 election will be even better than the 2016.
Believe it or not, the Democrats have learned nothing. So their supporters have shifted even further left.
According to a Suffolk University poll of the first-in-the-nation primary, Warren is ahead of former Vice President Joe Biden and other leading Democrats, including Sen. Bernie Sanders, I-Vt., who won the 2016 New Hampshire primary. Consider the age of the Democrats' top three contenders. No wonder Democrats get dead voters. They need people to match their candidates.
Support for the possible Democratic candidate shapes up in New Hampshire like this, according to the poll:
• 26 percent chose Warren, who represents Massachusetts.
• 20 percent backed former Vice President Joe Biden.
• 13 percent favored Sen. Bernie Sanders, I-Vt.
• 8 percent supported Sen. Cory Booker, D-N.J.
• 4 percent chose Sen. Kamala Harris, D-Calif.
• 4 percent backed former Gov. Deval Patrick, D-Mass.
• 2 percent favored former Gov. Terry McAuliffe, D-Va.
• 2 percent supported Sen. Kirsten Gillibrand, D-N.Y.
• 18 percent were undecided.
Holy Mother of Mercy, look at this motley crew.
Outside of Sen. Cory "Do you like gay sex" Booker, D-N.J., none of the other Democrats won more than 5 percent support. And this was the group of youngsters.
Sen. Kamala Harris, D-Calif., former Massachusetts Gov. Deval Patrick, Sen. Kirsten Gillibrand, D-N.Y., and former Virginia Gov. Terry McAuliffe are like toddlers in comparison to the Triumvirate. Yet they get Al Sharptonesque numbers.
And here's the real embarrassment for the Democrats: at 18 percent, undecided ranks third, besting even Bernie.
"Elizabeth Warren overtakes the entire field in her neighboring state, if she decides to run," said David Paleologos, director of the Suffolk University Political Research Center in Boston.

"The biggest losers are Sanders, Patrick, and Harris, whose respective overlaps of political philosophy, geography, and gender rotate to Warren."
An overlap of ideology that's nuttier than squirrel turds.
Allow me to save you the suspense. Elizabeth Warren won't run for president. 
She had her shot when Hillary Clinton got dementia, then buckled on 9-11. That was the day she lost the presidency, and no Democrat had the balls to take her spot.
Warren's concern centered around her playing fake Indian for 5 decades. Her "get well plan" failed when she thought visiting a few Indian reservations would cause her problem to go away. Not the case for two reasons:
First, Democrats are sick of unknown pasts. Look at what the non-vetting of Obama got them. Sure, they held the presidency for two terms, but they lost over 1,000 seats elsewhere. Not the trade-off they expected.
Second, President Trump won't let up on Fauxcahontas. When opposition research finds out just how much Warren benefitted from playing Indian, they will be relentless. Better to stay a Senator that Leftists still sort of like.
There is one other small thing. Warren doesn't have the heart to be president.
If you think Hillary Clinton had no energy, wait until they get to know Warren. That quivery voice sounds like a woman with one foot on the grave and another on a banana peel.
On the Republican side, President Donald Trump easily trounced any potential 2020 challengers in the state.
When you consider the full-court press the Democrats made for Kirsten Gillibrand and Kamala Harris, you see the futility of the party. These are the youngest and most attractive of the bunch, and together they get 6 percent of the vote?
Here's what I wrote of Gillibrand not long ago:
The Left finally devised a plan, and it involves a Senator Kirsten Gillibrand from New York.

I call the strategy, Hillary Clinton 2.0: Only this time without the rapist husband.

Gillbrand has been credited with ousting Senator Al Franken. She's also said to have taken on men on colleges and universities, and has a few scalps on the wall herself.

So now the Left tout Gillibrand as the new "Champion of Women's Rights". They gladly hand her the baton now that the old champion, Hillary Clinton has been found to be anything but.

As the Left learned, it's difficult to sell Hillary Clinton as a champion of women's rights when she's married to a man who violates women regularly. And then there are those pesky accusations that Hillary Clinton may have held a couple of women down, as Bill Clinton had his way with them.
Simply put, the war on women has been played to death. So no #MeToo will save Gillibrand.
Kamala Harris bets on saving illegals over citizens, and her numbers are horrible as well.
So who will emerge? The closest candidate to Trump's policies is my bet.