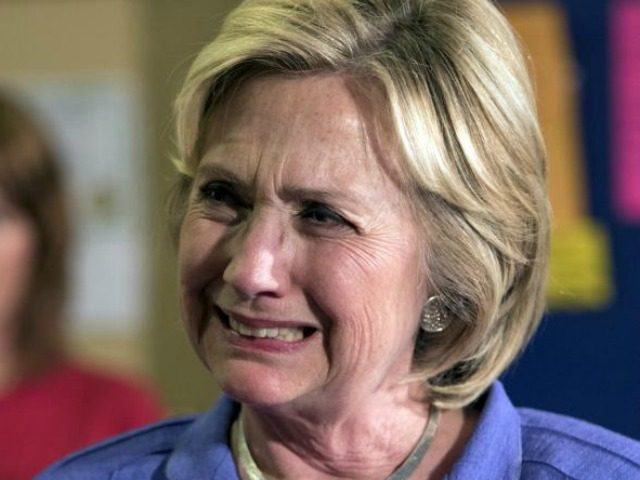 DNC Wants Hillary Clinton to Pay Back $1.65 Million
Democrats spent millions to gain access to Clinton's email list and donor information.
Democrats are desperate to make something happen in the midterm elections. So who do they turn to? The biggest loser, of course.
In fact, Democrats already paid more than $2 million to Hillary's PAC, Onward Together.
The Democratic National Committee is paying $1.65 million for access to the email list, voter data, and software produced by Hillary for America during the 2016 presidential campaign, Xochitl Hinojosa, a spokesperson for the DNC, told The Intercept. The Democratic Congressional Campaign Committee has paid more than $700,000 to rent the same email list.

Clinton is legally entitled to rent her list to the party, rather than hand it over as a gift, but in 2015, Barack Obama gave his email list, valued at $1,942,640, to the DNC as an in-kind contribution. In 2013 and 2014, OFA had similarly made in-kind contributions exceeding $3.4 million for uses of the list that cycle.

Obama's list was at one point considered to be the most valuable in politics and raised more than twice as much money for the 2012 Obama campaign as Clinton's did for hers in 2016.
So the list wasn't as good as Obama's. No surprise there.
But it was a good list.
However, the DNC thought they owned the list. After all, Hillary Clinton wouldn't really need it anymore.
In reference to the requested refund, Brazile explained:
The deal was the result of "tough negotiations between the Clinton campaign and the DNC. I wanted to bring back our assets. I wanted to get as much from them as they got from us," she said. "Under the terms I worked out, we had to pay quarterly for items that the DNC acquired. The final payment would have been in February of this year."
Let's face it. If Clinton had won, we aren't writing this story. But Hillary Clinton's butt-kicking required new action. No longer is Hillary Clinton to be king, ergo she must be treated like a commoner.
No win, no power. No power, no glory. No glory, no need to worry. So now the DNC wants Hillary Clinton to pay back $1.65 million of the payout she received.
"She should return the money for the 'love of the Democratic Party' to the DNC for its use," said Alabama Democratic Party chairwoman Nancy Worley, according to the Huffington Post.
Bleak Outlook
Don't worry about Hillary Clinton saying, "No man was asked to do this!" or other such nonsense. Other men didn't have to do this. In the case of Obama, he cheated his way to victory in 2012, and gladly did his part to stay in power by using his database as a carrot.
But Leftists were fully vested in Obama, lose or lose bigger. He is black, and they anted up. There is no turning back. But Hillary Clinton is a two-time loser, and a much safer bet to piss off these days.
That, and I'm sure many people figure she will be dead soon anyway. So get that money…FAST!
Wisconsin Democratic Party Chairwoman Martha Laning and Missouri Democratic National Committeeman Curtis Wylde agree with Worley, saying Clinton needs to ante up. Other Democrats suggest Hillary should donate the cash and resources to various state elections.
Other DNC officials wouldn't explicitly ask Clinton for the cash back, but they did indicate they would welcome an in-kind donation from her. Those individuals include at-large member Brian Wahby and Kansas Democratic National Committeeman Chris Reeves.

"It would be a Christian thing to do," Wahby said, according to the Huffington Post.
However, it's unlikely calling upon Clinton's "Christian side" will produce the desired results for the party. Hillary proved herself to be ruthless decades ago, and nothing has changed.
Let's compare:
As it stands, Republicans raised $171.5 million during this election cycle. In contrast, the DNC barely hit the halfway mark of the Republicans raising only $88 million. Further, despite their fundraising efforts, Democrats still carry nearly $7 million in debt.
Though the Democrats pretend to be optimistic for the mid-term elections, nothing is in the favor except history. Sure, the party in power usually loses the mid-term elections. But if Trump has proven anything, it's his ability to buck trends.
The Democrats are doomed for the next two election cycles. And the fact that they are begging Mama Clinton for buttermilk is just one more sign of the times.