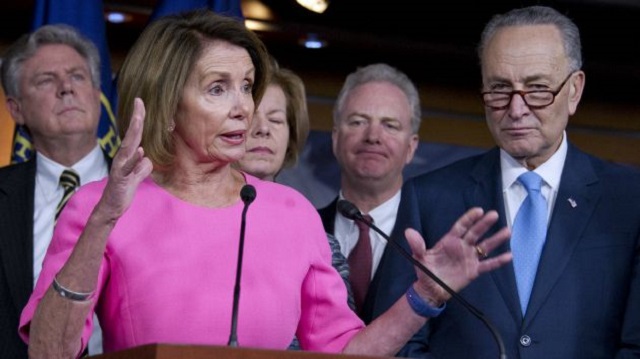 Former Secretary of State Hillary Clinton was never brought to justice. And we've had plenty of opportunities.
First, the illegal use of her own personal email server instead of the State Department's email server when she conducted official government business. 
The FBI exonerated Clinton's disregard of federal law. Of course Clinton claimed that her little mistake caused no problems.
Other people have gone to prison for a fraction of what Clinton did. Nevertheless, the FBI covered for her lax protection of classified information sent by email on a private server she kept in her bathroom basement closet.
Now we have yet another opportunity for real justice.
We learned that the FBI found hundreds of thousands of Clinton's emails on disgraced former Congressman Anthony Weiner's computer. And in typical Comey-controlled FBI, the bureau withheld their discovery about the emails for weeks. These crooks waited until after Congress concluded its investigation of the email scandal to release their bogus findings.
The conservative government watchdog group Judicial Watch obtained documents from the Justice Department revealing that the FBI found 340,000 emails on Weiner's computer, between Hillary Clinton and her top aide, Huma Abedin.
Judicial Watch announced that they received 45 pages of FBI documents with the emails as a result of a September 2018 Freedom of Information Act lawsuit.
Ignoring the government watchdog's two other FOIA request for Weiner laptop investigation documents, the Justice Department sat on Clinton's emails for months.
The FBI discovered the emails during the 2016 presidential race. In them, Weiner was found to engage in sexually explicit communications with a teenage girl.
The Southern District of New York received a search warrant for Weiner's computer for child pornography. In executing that warrant, they found the communications between Abedin and Clinton.
According to investigators, 2,800 government documents were sent to Weiner's computer by Abedin. This is peculiar activity, to say the least.
The new documents include uncovered by Judicial Watch include an October 3, 2016 email to a FBI official in New York. That message appears to be a CYA message. The agent informed the bureau about the emails between Abedin and Clinton showing up on Weiner's laptop:
Just putting this on the record because of the optics of this case.
During the course of my review of a computer seized from Anthony Weiner, a seizure and search of which was authorized by an SDNY Search Warrant, I encountered approximately/at least 340,000 emails stored on the computer. The large number of emails appears to be a result of a mail client program installed on that computer (such as Outlook) that pulled emails from servers belonging to both Anthony Weiner and Huma Abedin.
A significant number of these 340,000 emails appeared to be between Huma Abedin and Hillary Clinton (the latter who appears to have used a number of different email addresses). This is based simply a review of the header information. I did not review content of these emails, as the warrant only authorized me to view items that would give me probable cause to believe that CP [child pornography] evidence may reside therein.
SDNY is comfortable with me continuing my review as I have, which is to NOT read any emails to/from Anthony Weiner to which his wife, or a possible attorney is a party. Even if there is a third party on those emails, I will not review their content out of an abundance of caution. Obviously, I will not review any emails to which Anthony Weiner is not a party (such as emails between Ms. Abedin and Mrs. Clinton). I just wanted to formally bring this to your attention due to the pending election, the ongoing Congressional investigation into the FBI's own investigation into Ms. Clinton's email activities, etc.
It took a full month before the FBI went to Congress about the findings. Fired FBI official Peter Strzok created the initial draft letter then-FBI Director James Comey would send to Congress.
The problem was obvious.
The Weiner case agent reviewing the laptop started the process Sept. 26, 2016, and noticed "within hours" the mass of emails. However, the FBI did not notify Congress that Clinton's classified emails appeared on Weiner's laptop for weeks after the discovery.
In what presents an obvious indictment of the Mueller "investigation", an inspector general's report noted, [the delay] "may have been the result of anti-Trump bias by FBI official Peter Strzok and others."
"These new documents show the FBI knowingly sat on the Clinton emails for over a month before notifying Congress," said  Fitton said in a statement. "And even worse, we now know the FBI didn't even bother to look at the emails, and then again only partially, for weeks. The Clinton email scandal needs to be reviewed again and immediately by the Justice Department."
Clearly the FBI again showed obvious bias.
So when does the taxpayers get to see what is contained in those messages. I suspect Clinton and Abedin didn't discuss yoga and Chelsea's wedding.
I'm not sure what AG Jeff Sessions needs to open new investigations. But from this vantage point there certainly appears to be ample evidence of FBI collusion, ergo corruption.