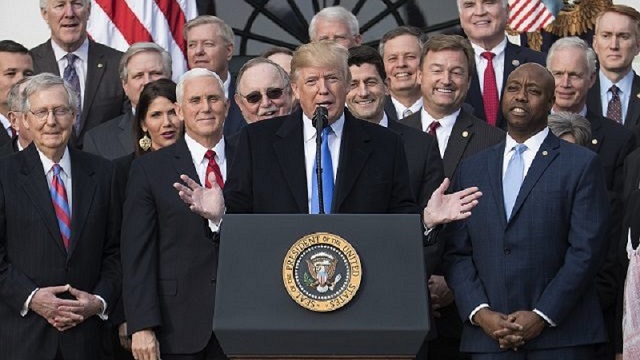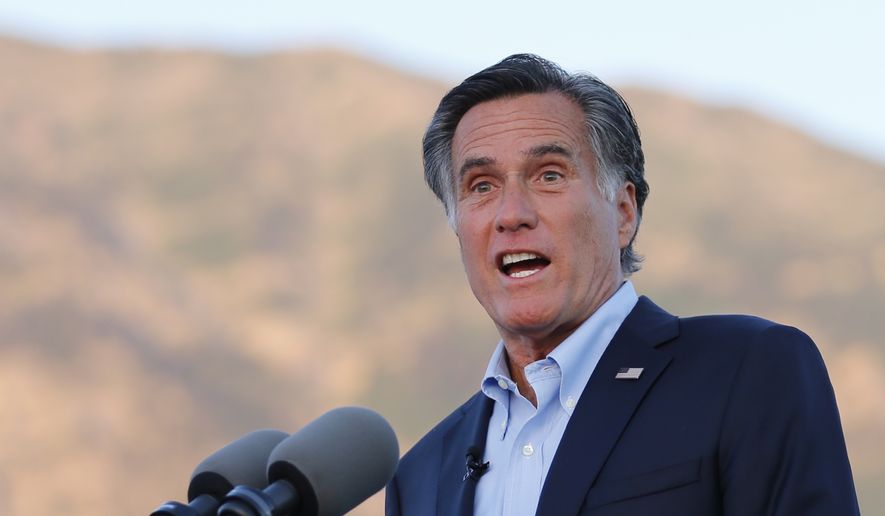 Willard 'Mitt' Romney finally won a general election for the first time in 16 years.
Almost immediately the Senator-elect began attacking his party's leader, President Donald Trump. Predictably, Romney chose to side with mainstream media.
On Thursday, (Romney) took issue with Trump's characterization of the media as an "enemy of the people," saying that a free press is essential to the "cause of freedom."

The President tweeted this week, "There is great anger in our Country caused in part by inaccurate, and even fraudulent, reporting of the news. The Fake News Media, the true Enemy of the People…" He was referring to "CNN and others in the Fake News business," not foreign provocateurs.

Surely every president has endured stories that he knew were inaccurate and has chaffed at one or more news publications. George Washington was routinely brutalized by a newspaper that had been anonymously funded and founded by his own Secretary of State, Thomas Jefferson. But no American president has ever before vilified the American press or one of its professional outlets as an "Enemy of the People."

Attacking the media or publications that lean in a different direction than the Republican Party is decidedly good politics. We conservatives have long suffered from the left-leaning attitudes and reporting of the media. But today, if we don't like one outlet, there are others from which we can—and do—choose. And, more importantly, denigrating the media diminishes an institution that is critical to democracy, both here and abroad. As a political tactic, it may be brilliant, but it comes with a large cost to the cause of freedom.
Remember how the late-Senator John McCain attacked then-candidate Trump.
Then in an ironic twist-of-fate, he needed Trump's coattails to get through reelection in 2016.
The 'honorable war veteran' repaid the favor by stabbing the President in the back, repeatedly.
It appears Romney seeks to assume the 'McCain Mantle' in the US Senate now that the Senator McCain is gone, Senator Lindsey Graham has regained a backbone, and 'Flakey' Jeff is going home to Arizona.

"He Won!"  Umm… 'Just once.'
First a little trip down memory lane.
Boston businessman, philanthropist, and a perpetual political candidate since he first ran and lost in his home state Massachusetts against Ted Kennedy during the 1994 Republican Revolution.
It's easy to see why Romney lost when viewing this debate October 1994 against the late-Senator of Chappaquiddick:
https://youtu.be/aNiIEKhAF1k
When Romney did win a major election–one-term as Massachusetts governor in 2002–he rejected then-President Bush and the 'Conservative' label. Romney called himself a "progressive candidate".
Perhaps that explains the poor leadership (remember Romneycare), sinking poll numbers, and the fact that he was spending more time on the Presidential trail than at Beacon Hill, Thus, Romney did not seek reelection.
Romney's forgettable run for President in 2008, laid the foundation for his second run for President in 2012. He managed to win the nomination that year.
Then he stuck his silver-foot in his mouth, deep:
Next Came The Debates…
He let moderator Candy Crowley erroneously slapped him down.  And in typical RINO fashion, Romney never tried to stand up for himself:
As the New York Post verified:
But the most blatant evidence of bias was her instant "fact checking" of Romney's quite correct insistence that Obama took weeks to call the Benghazi debacle a terrorist attack. She jumped to Obama's defense, saying "he did call it an act of terror."

But she was flat-out wrong.

Which is why a grinning Obama urged: "Can you say that a little louder, Candy?"

But Obama's reference was to generic "acts of terror" and framed in the context of the 9/11 attacks of 2001— and not the Sept. 11, 2012, Benghazi atrocity.

Not until 17 days later — after endless administration distortions — did Obama acknowledge that it was a planned attack.

Yesterday,Crowley belatedly acknowledged, "The president did not say it was . . . an act of terror."

But the damage was done.
And then came the 40-seconds that killed his presidential aspirations.
After the 2012 shellacking, Romney then returned to his third-home…in San Diego.
How many homes does he have?  I'm digressing…
When interviewed by the Boston Globe, he believes the GOP needs to change:
Romney implicitly criticized his own party, saying that certain caucuses and state conventions — which in some cases have led to the nomination of Tea Party supporters — should be replaced with primaries that attract a wider swath of voters. Romney is hoping to influence the direction of the party by creating what he called a "small" political action committee that would allow him to raise money for candidates in the 2014 midterm elections.
So…less people involved, more elites at the top making the decisions.  Romney clearly learned nothing.
Perhaps because no one wanted a Romney Round-3, Romney's bitter words about the Trump candidacy were vicious and harsh.
Thus, Romney threw in with the 'Never Trumpers':
Thus, Mitt carpetbagged himself into a 'winnable' open US Senate seat.
He passed on running in his new home California, nor did he run in his old home Massachusetts.  Romney did not even make an attempt to run in his birth state Michigan.  Instead he chose an obscure fourth-residence, in Utah.
Ironically, Fate once again stepped-in.  Romney needed Trump's support in conservative Utah, and Romney already had a reputation of flip-flopping like a Massachusetts politician.  Romney had to kiss up to Trump yet again!
As The Hill reminds:
Utah Senate candidate and former GOP presidential nominee Mitt Romney claimed Saturday that he wasn't a leader in the "never Trump" movement among conservatives, and said some of the president's policies have been "pretty effective."

"I don't think that was the case," Romney responded. "President Trump was not the person I wanted to become the nominee of our party, but he's president now. The policies he's promoted have been pretty effective, and I support a lot of those policies."

The 2012 GOP presidential nominee and Trump have since patched things up, with the president offering his endorsement as Romney seeks to replace retiring Sen. Orrin Hatch (R-Utah) in the Senate.
https://twitter.com/mkeneally/status/1050892223821180928
And just like McCain, Romney turned on Trump at the earliest opportunity.
On the campaign trail, the former governor of Massachusetts talked about the need for states to take control of their own programs such as health care and affordable housing. He criticized the president's tariffs and the GOP tax cuts for wealthy individuals.

In his victory speech too, Romney seemed to separate himself from Trump. He called his Tuesday victory an "affirmation that regardless of one's gender, or ethnicity, sexual orientation or race, or place of birth, that we are all equal not only in the eyes of God but also in the respect and dignity we are due from government and from our fellow Americans."
Romney continued by throwing the President under the bus by telling NBC News that Trump is "not a role model" for his grandkids:
He again showed his willingness to break ranks when Jeff Sessions was removed his position as Attorney General.
Democrats opposed Sessions, until he was fired. And Romney, true to his flip-flopping roots:
Along with that warning to Whitaker, the onetime Republican presidential candidate, who won a U.S. Senate seat in Utah on Tuesday, also thanked Jeff Sessions for his service in a tweet late Wednesday.

The ouster of Sessions, which also removes Deputy Attorney General Rod Rosenstein from overseeing Mueller's investigation into Russian interference in the 2016 election and potential collusion by the Trump campaign, caused alarm from many Democratic lawmakers, especially in the wake of an opinion column written by Whitaker last year, in which he called for limits to Mueller's probe.
I want to thank Jeff Sessions for his service to our country as Attorney General. Under Acting Attorney General Matthew Whitaker, it is imperative that the important work of the Justice Department continues, and that the Mueller investigation proceeds to its conclusion unimpeded.

— Mitt Romney (@MittRomney) November 7, 2018
Is it any wonder this political flunky has spent so much time in the 'Losers Box'?
His blundering streak has been passed on to others:
Dean Heller and Utah native (fellow never-Trumper) Mia Love both lost reelection. Further, Martha McSally now trails in her Arizona Senate race. All of these incumbents accepted support from Romney.
Perhaps Romney was looking to rebuild an anti-Trump GOP coalition in Congress. But like most of his other political endeavors, Romney failed at this too.
Now that Mitt has finally made it to Washington DC, he needs to wise up.  Going into a realm that only accepts zero-sum losses, a 2-6 record is not very impressive.
If Mitt doesn't reconsider who he's trying to battle, he'll wind up a one-term loser.
Yet Again!