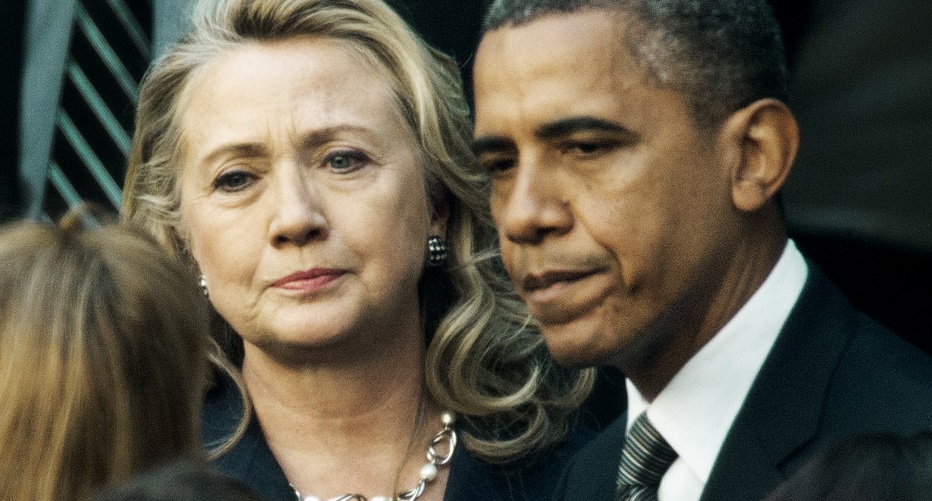 Obama claims to have run a "scandal-free" administration. But America will soon say, "That comment didn't age well."
Obama's administration was the most corrupt in American history. And each day we inch closer to the truth.
Truthfully, I can't wait for the dominoes of scandals to fall on the head of Barack Obama. But what I really want to relish is the "rub your crotch in face dance" to the Leftists who supported this corrupt clown.
I read an interesting article about 4 raids that happened around the same time. The writer, Jeff Carlson mentioned the one thing they have in common.
While most of us are aware of the raid recently on Dennis Nathan Cain that implicates Mueller. And I theorized that it goes all the way up to Obama:
In other words we now learn what we know to be true about Mueller. As I wrote recently, Mueller is the Democrats' top fixer.
But the conspiracy is far worse, and will ultimately end up on the desk of Obama.
The article continues,
"The bureau raided my client to seize what he legally gave Congress about the Clinton Foundation and Uranium One," the whistleblower's lawyer, Michael Socarras, told TheDCNF, noting that he considered the FBI's raid to be an "outrageous disregard" of whistleblower protections.
Sixteen agents arrived at the home of Dennis Nathan Cain, a former FBI contractor, on the morning of Nov. 19 and raided his Union Bridge, Maryland, home, Socarras told TheDCNF.
The raid was permitted by a court order signed on Nov. 15 by federal magistrate Stephanie A. Gallagher in the U.S. District Court for Baltimore and obtained by TheDCNF.
A special agent from the FBI's Baltimore division, who led the raid, charged that Cain possessed stolen federal property and demanded entry to his private residence, Socarras told TheDCNF.
"On Nov. 19, the FBI conducted court authorized law enforcement activity in the Union Bridge, Maryland area," bureau spokesman Dave Fitz told TheDCNF. "At this time, we have no further comment."
Only ten days later, another FBI raid occurred.
Carlson's article continues,
On Nov. 29, federal agents raided the offices of Alderman Edward Burke, a powerful Chicago politician who has held his position in Chicago politics for 50 years. Burke's office windows were covered and FBI agents remained on the premises for about seven hours, according to media reports.
Chicago Mayor Rahm Emanuel, who abruptly announced in September that he would not seek re-election, said his office had no advance warning of the raid, noting: "I know what I read in the paper. I'm out here. That's it. … You are asking hypotheticals and I am not going to do that with the FBI walking around his office."
Burke, who has been under federal scrutiny on several occasions, has never been convicted or indicted. His investigation is being handled by the public corruption squad from the local FBI office.
So Burke has been scandal-free. A money-man from Chicago under multiple investigations manages to remain scandal-free.
The luckiest man in the world could have friends in high places. But now that Obama provides no protection, according to the Chicago Tribune, the Burke investigation, "was being conducted in conjunction with the U.S. Attorney's Office in Chicago, not Mueller's office."
Additionally, the Sun-Times reported, "the raids were in response to new allegations, and not prompted by any past controversies that have swirled around Burke."
Now for the other two investigations. They take place overseas, but you may find a connection.
The article continues,
Several banks are currently under investigation for a massive money-laundering scandal that is likely to only grow larger.
Danske Bank is being investigated by the U.S. Department of Justice, and new charges were filed this week by Danish authorities. The bank's CEO and chairman both have been forced to resign and numerous current employees are under investigation. Danske Bank has admitted that approximately $230 billion has flowed through one of its units in Estonia, but the focus now appears to be shifting to other financial institutions:
"Howard Wilkinson, a former Danske Bank A/S manager who blew the whistle on its multibillion-dollar laundromat, told lawmakers in Brussels that when it comes to shell companies, or limited liability partnerships, the U.K. is 'worst of all.' He said he was legally prevented from naming the other banks involved, but urged lawmakers to treat the Danske scandal as a case that goes well beyond its core in Estonia," Bloomberg reported Nov. 21.
Also on Nov. 29, Deutsche Bank's headquarters was also raided by German officials. Transactions being examined by investigators relate to the bank's wealth-management division, which previously has come under scrutiny.
According to a spokeswoman for prosecutors, the investigation covers the five-year period from 2013 to 2018 and is related to disclosures made in the Panama Papers—11.5 million leaked documents from Panamanian law firm Mossack Fonseca, then the world's fourth-biggest provider of offshore services.
And what do Democrats do to cover their tracks? They react to fix the very crimes the likely committed.
Case in point, the Obama administrations' reaction.
On May 5, 2016, the Obama Administration announced sweeping measures designed "to combat money laundering, corruption, and tax evasion." The announcement came on the heels of the so-called "Panama Papers," which revealed connections between several world leaders and offshore shell companies and resulted in global investigations of possible schemes to evade taxes and shield proceeds of illicit activity. The reforms are part of a broader effort by the Obama Administration targeting shell companies, following reports that companies were often used to funnel illicit funds into the U.S. financial system, most recently through purchases of luxury real estate in New York and Miami.
My bet is it would take little effort to connect the dots on this scam. And you can bet The Clinton Foundation played a role.
Sadly for the Clintons, their fall from grace means a lot less money to the foundation. Apparently the big money New World Order fat cats don't like the heat. So the funds dried up.
Still one more international investigation that occurred recently.
It involves money-laundering done by the Obama administration.
Recall when Obama accomplished money-laundering for Iran. Even CNN called them out for this scandalous act.
The report focuses on $5.7 billion from Iranian oil sales that were frozen in Oman's Bank Muscat in that country's currency, the rial. Rials are pegged to the US dollar and are difficult to convert. But as part of the nuclear deal, Iran was promised access to overseas reserves of its own funds that had been frozen by sanctions.
To access the rials, Iran wanted to convert them briefly into dollars and then Euros.
But now we have another scheme that happened under the watchful eye of Obama:
Lastly, in a Nov. 29 DOJ press release, three executives including Abul Huda Farouki were charged "for their roles in a scheme to defraud U.S. military contracts in Afghanistan, engaging in illegal commerce in Iran, and laundering money internationally." Farouki was the CEO of Anham, a defense contractor based in the United Arab Emirates
This wasn't the first time Farouki or his company have been involved in allegations of misconduct. In a 2013 article by The Daily Caller, headlined "Clinton Donors Get a Pass on Shady Contracting," Farouki and his company were highlighted:
"In June 2011, the Defense Department's Office of the Special Inspector General for Iraq Reconstruction (SIGIR) released a scathing report on a defense contracting company called Anham. The title of the report and its conclusion were the same: 'Poor Government Oversight of Anham and Its Subcontracting Procedures Allowed Questionable Costs to Go Undetected.'"
The article then asked a simple question: Given prior violations, how was Anham able to secure an $8 billion contract in Afghanistan that "allowed it to illegally ship supplies through two Iranian border crossings and a seaport controlled by the Iranian Revolutionary Guard?"
How was Anham able to get that contract?
As it turns out, he's both an Obama and a Clinton donor.
Do you think these dots connect by accident? Do you believe this crook got an $8 billion deal legitimately?