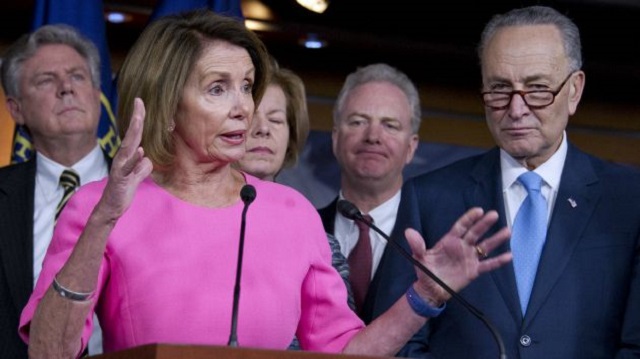 This year, like in previous years of the Trump administration the president won't need seasonal jobs to fake a good economic report.
Nor will President Trump need to rely on quantitative easing, aka counterfeiting. Obama depended on $8 trillion of funny money to keep the economy moving–over $1 trillion a year.
To put this in perspective, ask yourself what would Donald Trump do to the economy if he could inject $2 trillion into it, free of charge. Then to know that you can add over $1 trillion a year without anybody saying a word.
No such need for Affirmative Action, when Trump can actually bring real jobs back to America and not rely on Americans to quit looking for work to achieve record unemployment.
And the news only gets worse for Leftists, as according to The Daily Caller:
The U.S. economy added 155,000 jobs in the month of November and the unemployment rate held steady at 3.7 percent, according to Department of Labor (DOL) data released Friday.
But what President Trump accomplished that vexes the Left involves wage growth. President Trump broke another decade-old stagnation.
The article continues,
Wages hit 3.1 percent growth over a year in November, the first time in nearly a decade that wages have broken the 3 percent benchmark. Wage growth held steady at 3.1 percent through November from a year before.
The 3 percent benchmark has not been hit in year-over-year wage growth since April 2009. The increase in wages is an effect of the historically tight labor market as employers offer better pay to attract workers, The Wall Street Journal reported.
The Bureau of Labor Statistics jobs report data fell for jobs added under experts' predictions of 198,000 jobs added, according to WSJ. Jobs data from October were revised downward from 250,000 to 237,000.
I seem to recall doom and gloom from Leftists, if Trump was elected? Here's Hillary Clinton's predictions:

Mark Cuban predicted this about the stock market, should Trump get elected:
Cuban says, "I have my Trump hedge on. In the event Donald wins, I have no doubt in my mind the market tanks."
How'd that work out for you Cuban? I'm betting Cuban was safe regardless of who won. Because that what filthy rich Leftists do. Hedge their bets no matter what.
Next, get another expert. And he has even loftier credentials than Cuban, if not his wealth.
If Obama winning the Nobel Prize didn't tell you enough about how watered down that award has become, check out Nobel Prize-winning economist Paul Krugman.
In this clip from August of 2016, Krugman comments on productivity and the U.S. presidential election. He speaks during an interview with Bloomberg's Scarlet Fu, Joe Weisenthal and Oliver Renick on "What'd You Miss?"

Carl Icahn got it right. But the Nobel economist missed the broad side of the barn shooting at it with a shotgun.
Note that Mark Cuban disagreed with Icahn in the earlier clip, when he too missed the mark.
So how did the stock market perform post-election and with Trump's victory?
Yes, the market ROARED. Thus the beginning of Leftists being wrong about almost everything they predicted about Trump.
When I consider how many people got the economy wrong, I'm reminded of all the "scientists" who agree on global climate farce. Just like Leftists foretold doom and gloom with the election of Trump, they fearmongered on climate. Moreover, they tried to overwhelm us with experts who knew more than we knew.
Back to the Present.
America has become use to great jobs reports. Also, we know the economic news will be good, if not downright great.
Unlike Obama predicted, the new norm for GDP flies well above his predicted 2 percent. And we now have more jobs than people looking.
The only fear Americans need have is fear of too much winning. Trump predicted it, when he declared we might get sick of winning.
Well, I may not be sick of winning. But I am sick of fake news media not reporting our winning.