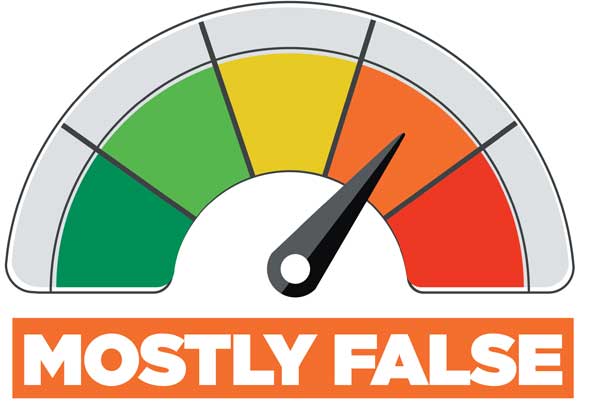 Leftist Internet Corporations Fund Fact-Check Bias To Promote Liberal Slant.
As previously reported, it is no secret that the political leanings of the titans of Silicon Valley fall to the left.  Despite evidence from candidate donor lists and the exposés of Project Veritas, the reality of the influential power that these corporations wield tends to fall upon deaf ears of most conservatives.  Even the testimonies of these CEO's before Congress-whether it is Google's Sundar Pichai, Jack Dorsey of Twitter, or 'Lord' Zuckerberg himself; those hearings proved to be nothing more than daft absurdity.
As the Boston Globe admits:
The CEO also insisted that Google's search engine is not biased against any political viewpoint.

President Donald Trump has accused Google of rigging search results to suppress conservative viewpoints and highlight coverage from media that he says distribute "fake news." The company has denied any such bias, and while the question has dogged tech companies for years, there's no evidence of an anti-conservative or any other political tilt.

Trump and some lawmakers have raised the possibility of asking regulators to investigate whether Google —which handles nearly two of every three online searches in the U.S.— has abused its clout as a major gateway to the internet to stifle competition.

Responding to a question about Google's search dominance, Pichai pointed to Amazon's dominance in online shopping.
Even Pichai has admitted Google is still, "Trying to figure it out."…or "have they"?
Or in other words, who will watch the watchmen? Because in the era of "fake news", internet corporations systematically turned the policing of the world-wide-web to various online fact-checkers.  But the question that is not being asked is this:  "what is the level of integrity of these fact-checkers? Can we be sure their work is both accurate and unbiased?"
According to Investor's Business Daily, their performance has been mediocre at best:
The problem is that fact checkers themselves can be unreliable sources for what's true or not. Fact checkers make their own mistakes. They sometimes change ratings based on new information. Or they make determinations based on arbitrary standards that can change from one review to the next.

Fact checkers also often "check" opinions, rather than factual claims, even though two people can form diametrically opposed opinions based on the same facts.

Worse, many media "fact checks" use other media sources to check facts, apparently forgetting that journalists get their facts wrong almost as often as politicians. (Take a look at the list of corrections on any given day in The New York Times.)

On top of this are legitimate complaints of political bias among fact checkers, who often seem to spend most of their time trying to debunk claims made by conservatives rather than liberals.
However most of these 'cyber-cops' are on the take, behaving more like The Godfather's corrupt police captain Mark McCluskey and less like Dragnet's gruffly candid sergeant Joe Friday.
Maybe you're too young to appreciate that comparison, but as the

UK Daily Mail

uncovered:
One of the websites Facebook is to use to arbitrate on 'fake news' is involved in a bitter legal dispute between its co-founders, with its CEO accused of using company money for prostitutes.

Image via Snopes.com

Snopes.com will be part of a panel used by Facebook to decide whether stories which users complain about as potentially 'fake' should be considered 'disputed'.

But the website's own troubles and the intriguing choice of who carries out its 'fact checks' are revealed by DailyMail.com, as one of its main contributors is disclosed to be a former sex-blogger who called herself 'Vice Vixen'.

Snopes.com will benefit from Facebook's decision to allow users to report items in their newsfeed which they believe to be 'fake'.

It is asking a number of organizations to arbitrate on items which are reported or which Facebook staff think may not be genuine, and decide whether they should be marked as 'disputed'.
Embezzlement.  Lawsuits.  Prostitution.
Definitely sounds like leftism to me.  Yet Snopes is considered the #3 fact-checking website on the Internet.  And that's just the tip of the iceberg. Former Snopes editors and Facebook employees are turning into whistleblowers regarding the quid-pro-quo relationships the fact-checkers have with 'Big Internet'.

Current and former Facebook factcheckers told the Guardian that the tech platform's collaboration with outside reporters has produced minimal results and that they've lost trust in Facebook, which has repeatedly refused to release meaningful data about the impacts of their work. Some said Facebook's hiring of a PR firm that used an antisemitic narrative to discredit critics – fueling the same kind of propaganda fact-checkers regularly debunk – should be a deal-breaker.

"They've essentially used us for crisis PR," said Brooke Binkowski, former managing editor of Snopes, a fact-checking site that has partnered with Facebook for two years. "They're not taking anything seriously. They are more interested in making themselves look good and passing the buck … They clearly don't care."

Binkowski, who left Snopes earlier this year and now runs her own fact-checking site, which does not partner with Facebook, said the Facebook-Snopes partnership quickly became counterproductive. During early conversations with Facebook, Binkowski said she tried to raise concerns about misuse of the platform abroad, such as the explosion of hate speech and misinformation during the Rohingya crisis in Myanmar and other violent propaganda.

Kim LaCapria recently left Snopes as a content manager and factchecker partly due to her frustrations with the Facebook arrangement. She said it quickly seemed clear that Facebook wanted the "appearance of trying to prevent damage without actually doing anything" and that she was particularly upset to learn that Facebook was paying Snopes: "That felt really gross … Facebook has one mission and factchecking websites should have a completely different mission."

"Why should we trust Facebook when it's pushing the same rumors that its own factcheckers are calling fake news?" said a current Facebook factchecker who was not authorized to speak publicly about their news outlet's partnership. "It's worth asking how do they treat stories about George Soros on the platform knowing they specifically pay people to try to link political enemies to him?"

"Working with Facebook makes us look bad," added the journalist, who has advocated for an end to the partnership.
Hey Facebook, DC politicians have a word for that:  "Collusion".
Speaking of 'collusion', the once-conservative website Weekly Standard has been exposed collaborating in the peddling of 'fake news' to mainstream news sources, mostly notably CNN, to stir anti-Trump sentiments.
The "conservative" anti-Trump publication The Weekly Standard published a "fact check" on a viral photo of CNN's Anderson Cooper that conflated a tweet from Donald Trump Jr. mocking Cooper, with false information being spread by trolls in a misleading manner.

The Weekly Standard's "fact checking" is now being used by Facebook, so the publication's decision to push misleading information into such a piece raises questions about whether it can be trusted to be a fair arbiter of truth when it comes to one of the most powerful platforms on the Internet—and highlights just how difficult it is for companies like Facebook to police content.

The tweet never claims that the image of Cooper came from Hurricane Florence. However, when TWS did their "fact check" they failed to distinguish the fact that some people on social media were making false claims about it from Trump Jr.'s tweet, which never claims the photo came from Florence.

Many people spread the photo around the Internet over the weekend, and some falsely claimed that the photo was from Hurricane Florence.
Any wonder this once great newsmagazine is now bankrupt?
Who Does One Trust?  The Answer Is Simple.
In the nonstop 24/7 world of mass media, being 'first' is not always 'best'.
Accuracy, backed up by facts from legitimate 'red meat' sources will demonstrate competent professionalism, and a respect for the audience.  The public needs to return to the pre-Internet days of old-school gumshoe diligence with research to differentiate facts-from fiction.
Or simply, as 'The Gipper' himself once so eloquently said: