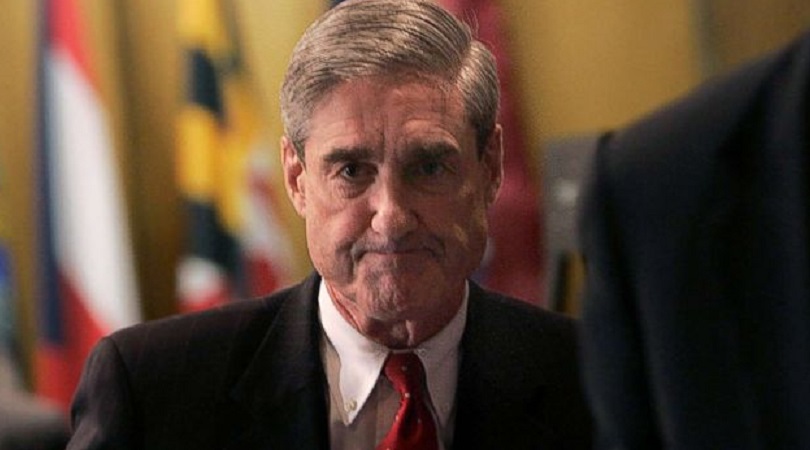 I called this over a month ago, as I knew Special Counsel Robert Mueller ran out of runway for this single-seat prop plane.
Mueller's investigation is a sham. There really is no other way to look at it.
It's become comical to say that nothing related to Trump has come from it. Thus, the only outcome was to watch it spin back on the Democrats.
Here's what I wrote about it not that long ago:
And so we have the beginning of the end for Democrats.
Mueller has run out of real-estate, so to speak. He's reached the end of the road, and there were no Trump-conspiring Russians of note the Democrats' highway to Hell.
But there is a bit of Hillary Clinton roadkill, as CNN reports,
Special counsel Robert Mueller has referred a collection of cases to New York federal prosecutors concerning whether several high-profile American lobbyists and operatives failed to register their work as foreign agents, according to people familiar with the matter.
(…)
Mueller is truly between a rock and a hard place. If he indicts any Democrats, he doomed. If he indicts nobody, he confirms his status as a swamp rat, and he's still doomed.
In the latest developments reported by Fox News, we revisit those referrals:
An investigation referred to Justice Department prosecutors by Special Counsel Robert Mueller earlier this year into possible criminal activity by Clinton-linked Washington insider Tony Podesta and former Obama White House Counsel Greg Craig is heating up, according to a new report that underscores federal authorities' increasing enforcement of laws governing foreign business relationships.
The inquiries center not only on Craig and Podesta — a Democratic lobbyist and co-founder of the onetime lobbying powerhouse known as the Podesta Group — but also on Vin Weber, a former GOP congressman from Minnesota.
The probes had been quiet for months since Mueller referred them to authorities in New York City because they fell outside his mandate of determining whether the Trump campaign coordinated with Russia.
But in a flurry of new activity, Justice Department prosecutors in the last several weeks have begun interviewing witnesses and contacting lawyers to schedule additional questioning related to the Podesta Group and Mercury Public Affairs, people familiar with the inquiry anonymously told the Associated Press.
The apparent ramp-up comes as multiple reports and indications suggest that the Mueller probe into possible collusion in 2016 between the Russian government and President Trump's campaign is winding down.
So what's really happening?
While these not-so-new developments point the finger completely away from Trump, Mueller does attempt to pave a bit more runway. 
Democrats like Adam Schiff and Jerry Nadler will still kick around the "Russian collusion" nonsense, until that's finally put to bed. Meanwhile, Mueller hopes to bring Trump back in by six degrees of separation.
But what's really happening is Mueller needs heads on the wall. And if he can't get Trump's, then he must settle for others in order to justify his existence. Put simply: Mueller needs to gain some credibility back.
The article agrees in part with my conclusion:
The New York work highlights the broad effects of Mueller's investigation, extending well beyond that collusion question. Mueller has made clear he will not turn away if he discovers alleged crimes outside the scope of his inquiry; instead, he refers them out in investigations that may linger on even after the special counsel's work concludes. Other Justice Department referrals from Mueller have ended in guilty pleas, including the hush money payment case of Trump's former lawyer Michael Cohen.
Note the subtle reference to Cohen. Frankly, he's as disgraced as Christine Blasey Ford, Julie Swetnick, and Michael Avenatti. Cohen was a toy gun in the "smoking gun" that was supposed to bring down President Trump.
But the part of most interest is "outside the scope", as Mueller investigated nothing "inside the scope".
His investigation of Trump was a ruse, is a ruse and will always be a ruse. He illegally expanded the scope in hopes of bringing down Trump and many others. Do we really need to look at the "carnage"?
General Michael Flynn might as well never have been investigated, as Mueller all but said in his sentencing recommendation. And how about that glaring omission of any involvement with Trump?
Here's what I wrote recently of the Flynn matter:
So now Mueller finds himself the target of an investigation, and President Trump performs his publicly. And America gets full transparency as Trump puts Mueller under the microscope.
So what you witness now from Mueller is his attempt to clean up his and the Democrats' messes.
As Fox News' Gregg Jarrett wrote,
A sentencing memo that Special Counsel Robert Mueller filed in U.S. District Court in Washington Tuesday recommending little or no prison time for President Trump's former National Security Adviser Michael Flynn doesn't implicate the president in any wrongdoing.
The memo isn't a "smoking gun" showing President Trump colluded with Russians to win the 2016 presidential election or did anything else illegal. In fact, the memo isn't even a squirt gun…it amounts to nothing of any significance.
Remember when the fake news media reported that Flynn flipped on Mueller?
The reports were that Trump told Flynn to contact the Russians regarding ISIS in Syria. Here's how ABC reported it:
Retired Lt. Gen Michael Flynn has promised "full cooperation" in the special counsel's Russia investigation and, according to a confidant, is prepared to testify that Donald Trump directed him to make contact with the Russians, initially as a way to work together to fight ISIS in Syria.
Honestly, would strategizing with the Russians to defeat ISIS have been so bad? Given Trump's campaign promise to eliminate ISIS from the face of the Earth, I say it's sound policy to potential work with potential partners, world diplomacy notwithstanding.
But the larger question is, What would the Russians helping with intel against ISIS have to do with electioneering?"
Absolutely nothing. But that doesn't matter with Democrats.
They were on a mission to destroy Trump, so who cares about his pro-America promises or intentions.
But Mueller failed. And his failure presents dire consequences for Democrats.
As I wrote of Mueller's role,
…the Left expected Mueller to do his job and indict Donald Trump.
Little did they know the trap Hillary Clinton set for Trump has now ensnared many Democrats.
Watch how Leftists use the news cycle to keep the hottest stories involving Democrats corruption out of the mainstream. That will be another yet another sign of the execution to come.