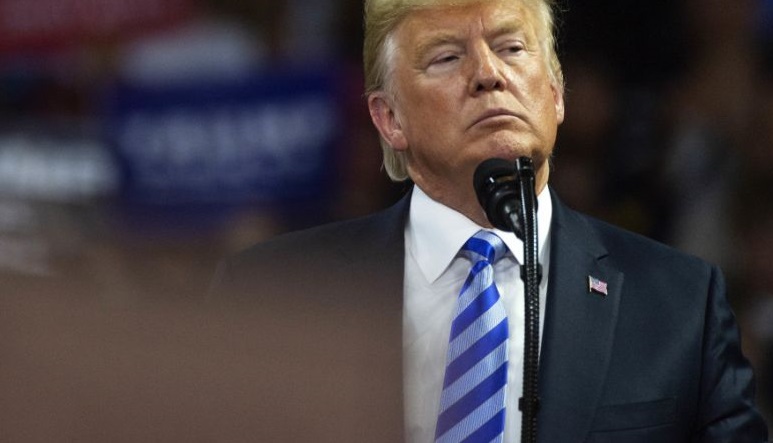 Van Jones agrees with President Trump. And the subject of his agreement should have been the top news story for the week. But it wasn't.
How could it be, when there are so many fake news narratives to spread, as well as looming witch hunts.
Van Jones lauded President Donald J. Trump on passage of criminal justice reform. As The Blaze reported:
The First Step Act, a criminal justice reform bill that the Senate passed Tuesday night, unified some unlikely allies who wanted to fight mass incarceration.
"I'm gonna say something." Jones began tentatively. "It's gonna piss off all my liberal friends. You know what made a difference? Donald J. Trump finally said 'enough is enough.'"
.@VanJones68: "I'm going to say something. It's going piss off all my liberal friends. You know what made a difference? Donald J. Trump finally said enough is enough." #Axios260 pic.twitter.com/mwLg4HXkuA

— CSPAN (@cspan) December 19, 2018
Did you hear what Jones described as the process for getting this act passed?
For those crying, "Donald Trump is a RACIST!", I suggest they listen to what Jones said. 
Jones, during an interview at an Axios event aired on C-SPAN, told the story of the First Step Act's ups and downs in the past year, and the obstacles it overcame to get through the Senate after winning support in the House.
"And then, [Senate Majority Leader Mitch] McConnell says 'screw you guys, I don't care how hard you've worked, we're not going to give you a vote until the lame duck, and in the lame duck you've got to have 60 votes,'" Jones said. "So we get 70 votes, and we go tell McConnell, and he says 'I'm still not going to give you a vote.'"
That's when Jones said the pressure from Trump on McConnell was essential to the bill's passage.
"Donald J. Trump made it very clear that the next set of tweets was going to be for Mitch McConnell," Jones said. "And that, among other things, helped Mitch McConnell see the light. … At the end of the day, Mitch McConnell had to vote for our bill."
For those who wonder about Trump's tweets, please re-read that last paragraph. Trump's tweets work. And they work better than any other political mechanism in the modern day.
The Era of Obama:
Shouldn't criminal justice reform have passed during the Era of Obama?
The subject has been a critical issue for blacks for decades. Thus, the election of a black Democrat President was supposed to solve this, right?
Consider all that Jones commented on that led to President Trump finally getting something done? The litany of obstacles, and Jones himself believing this would never happen. But it did.
Again, I ask why this wasn't accomplished under Obama? My bet is Van Jones and many other blacks are asking themselves that same question. After all, Democrats claim Trump is a racist.
Obama's contribution to blacks involved making the penalties for crack and cocaine the same, thus punishing white people for the "better coke".
Meanwhile many blacks languished in prison for a multitude of relatively minor offenses. The criminal industrial complex continued ruining the lives of blacks, as Obama golfed and freed thousands of illegals. Why should Obama bother freeing blacks, when the Latinos were the new voting bloc needed. Then along comes a white Republican president.
Donald Trump addressed this issue earlier with Kim Kardashian. President Trump pardoned Alice Johnson.
Johnson, 63, was serving a life sentence without the possibility of parole after being convicted of a first-time nonviolent drug offense. However, her case hit the president's radar during a meeting in the Oval Office last week with Kardashian West. She was originally slated to meet with Trump's son-in-law and senior adviser Jared Kushner to discuss prison reform. However, the president showed interest in criminal justice reform and took the meeting himself.
The rest is history.
"Today, President Donald J. Trump granted a commutation to Alice Marie Johnson, a 63-year-old great-grandmother who has served almost 22 years in Federal prison for a first-time criminal offense," White House Press Secretary Sarah Sanders said in a statement Wednesday. "Ms. Johnson has accepted responsibility for her past behavior and has been a model prisoner over the past two decades."
Sanders added: "While this Administration will always be very tough on crime, it believes that those who have paid their debt to society and worked hard to better themselves while in prison deserve a second chance."
The video below shows Johnson's reaction to this very racist act by President Trump.
Outside of a few pardons at the end of his presidency, Obama did little for blacks in criminal justice. And he certainly never accomplished anything close to what President Trump has done in only two short years.
A Blow to the Democrats
In case you're wondering why there is no media hoopla over what President Trump did, then you're an idiot. Even a fools knows why Democrats and the media won't tout this historic bipartisan achievement. 
Trump scared the Democrats sh*tless. They didn't want to be the party who didn't support a black issue. They hate that Obama stupidly overlooked his what could have been part of his legacy. Instead, a rich white Republican gets credit.
You know Democrats are looking for ways to steal this victory. If the president were Romney for example, Democrats would have no worries. But with Trump, he won't let them take credit.
But how will blacks handle the news. Trust me, we will let you know shortly. Because we will blast this news out to many black stations with our project launching the first week of January.