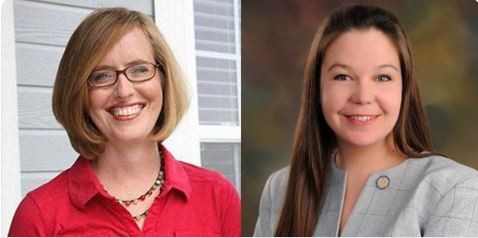 Soon after the races were certified, they switched parties to become 'Democrats' in the State Legislature.
Sen. Dinah Sykes and Rep. Stephanie Clayton, both moderate Johnson County Republicans, said Wednesday they are becoming Democrats. They join Sen. Barbara Bollier, who left the Republican Party earlier in December.

In a statement explaining her switch, Sykes, of Lenexa, said she feels she can either "fight to change the Republican party or fight for the state I love and the people I serve," adding she thinks she can better the state and her constituents as a Democrat.

Kansas Democrats did not gain any legislative seats in the November election, holding steady at 40 seats in the House and nine in the Senate (senators were not up election). Still, Democrats will now hold 41 seats in the House and 11 in the Senate when the legislative session begins in January.

The new Democrats may help boost (Democrat Governor-Elect Laura) Kelly, who will need votes not only for her agenda but also to potentially uphold vetoes of Republican-driven legislation.

"Party affiliation is often like a religion and it's very, very difficult to go through that process to decide, 'OK, it's time to make a change,'" Kelly said during an on-stage interview with the Kansas News Service in Topeka.

All of the switching lawmakers come from Johnson County, the state's most populous. Traditionally a Republican stronghold, Democrats made significant inroads in November, powered in part by voters supporting Kelly for governor and Democrat Sharice Davids for Congress.
Kansas Republican activists are not happy about being duped:
More evidence of how democrats in most places cannot win elections if they are honest…here two women who ran as republicans defect to become democrats… because they would have lost if they ran as democrats…https://t.co/e6ioEmNzd2

— Tony Shaffer (@T_S_P_O_O_K_Y) December 25, 2018
Kansas Republican Leaders were a little more temperate in their responses.
According to the Topeka Capital-Journal:
Senate President Susan Wagle, R-Wichita, said Sykes' transition would place her in the "party of higher taxes and big government," but would enable the newly minted Democrat to better represent her district.

The announcement by Sykes followed by less than one week the decision by Mission Hills Sen. Barbara Bollier to join the Democratic caucus.

Earlier in 2018, Sen. John Doll, of Garden City, altered his registration from Republican to independent to run for lieutenant governor on a ticket with Greg Orman.

These changes left the Senate with 28 Republicans, 11 Democrats and one independent ahead of the legislative session opening in January. It's unlikely the outcome of major votes would be altered because Bollier, Sykes and Clayton have an established voting record as moderates.

The defection by Clayton, of Overland Park, would leave the partisan gap in the House at 84 Republicans and 41 Democrats.

Clayton said she was stepping away from the Republican Party after hearing leaders talk of abandoning a plan to boost public school funding capable of ending lengthy litigation. She has been a lifelong Republican who first ran for office in 2010 over concerns of inadequate funding as her daughter entered first grade.

House Speaker Ron Ryckman, an Olathe Republican, said Clayton's flip of party affiliation came less than two months after she was re-elected as a Republican.

"While this certainly raises questions about a lack of transparency, this is a decision ultimately between Representative Clayton and her constituents," he said.

The Johnson County Republican Party took to Twitter to express appreciation that Sykes and Clayton displayed "honesty to their constituents."
The JCRP applauds @dinah_sykes and @SSCJoCoKs for their honesty to their constituents and we wish them the best. #ksleg https://t.co/j2zLkgtWVJ

— Johnson County Republicans (@jcrpks) December 19, 2018
This further demonstrates the lack of 'Honor' with most 21st century Democrats.  They were too afraid to reveal their 'true' nature. Thus they lied to family, friends, neighbors, communities, and 'themselves' for personal gain. But their masks are off. And now voters will remember this treachery.