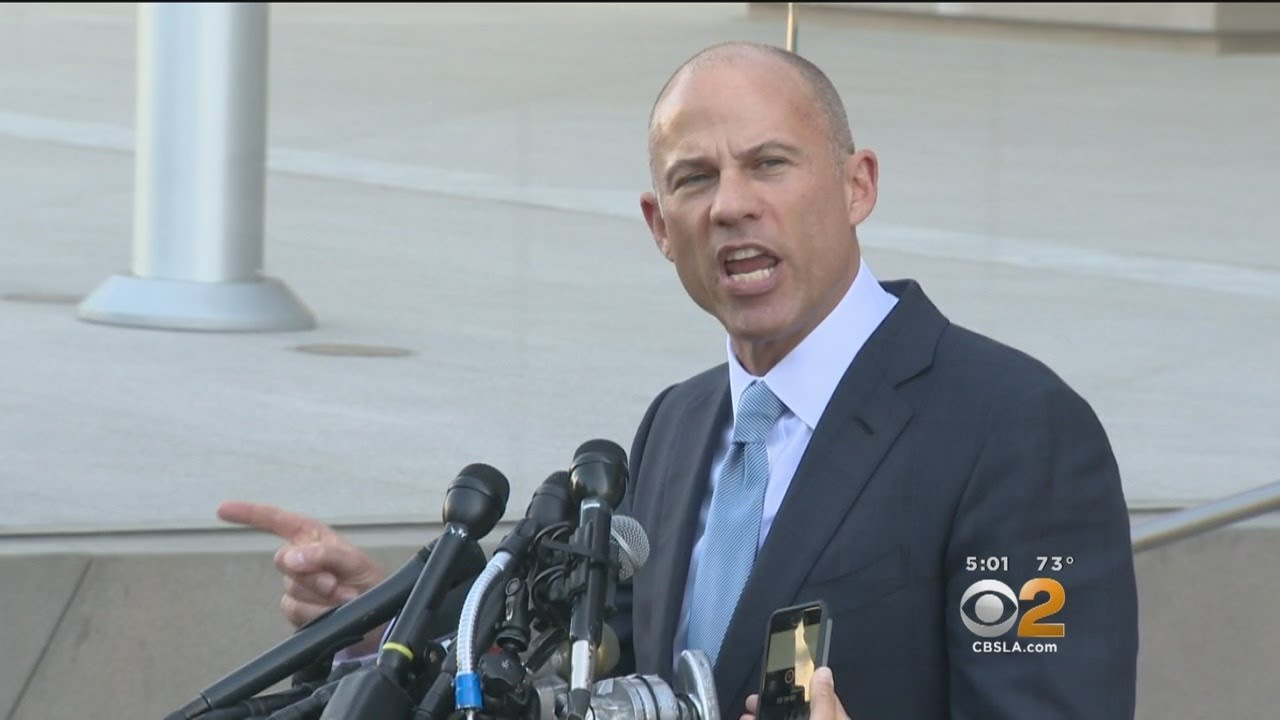 Apparently Michael Avenatti has had enough. It seems a couple of ass-kickings by Donald Trump jarred loose a few brain cells.
Thus, Avenatti seems to have boarded the Trump train.
In an odd request, Avenatti asked a federal judge in California to dismiss Stormy Daniels' defamation lawsuit against President Trump and Michael Cohen. Further, the lawsuit was dismissed with prejudice. Thus, the case is closed, permanently.
White House correspondent for the New York Times, Maggie Haberman posted the document on Twitter:
A California judge yesterday dismissed the Stormy Daniels defamation suit against @MichaelCohen212 and @realDonaldTrump with prejudice
A California judge yesterday dismissed the Stormy Daniels defamation suit against @MichaelCohen212 and @realDonaldTrump with prejudice pic.twitter.com/d9ThL6u2ak

— Maggie Haberman (@maggieNYT) February 5, 2019
When you consider that Daniels owes President Trump a considerable amount of money, one has to wonder if this duo is trying to make amends?
Hard to say, given what Avenatti tweet shortly thereafter.
The ramifications resulting from the courage and actions of @StormyDaniels will be far-reaching and will reverberate for years on end. She deserves significant respect and appreciation for what she put in motion.

— Michael Avenatti (@MichaelAvenatti) February 5, 2019
No condemnation of Trump in this praise of Daniels. But Avenatti weighed in on Cohen's potential new legal problems.
Michael Cohen will likely face new charges. Which is why he did not fully cooperate with SDNY previously – he is still hiding info and crimes. This ties into the Cohen financial info we released last year. https://t.co/K074zar40g

— Michael Avenatti (@MichaelAvenatti) February 5, 2019
Perhaps Avenatti now turns over a new leaf. Could he be making a fresh start?
Understand that Avenatti was recently exonerated from his charges of domestic violence.
Michael Avenatti, who rose to fame as the outspoken lawyer for the pornographic film actress Stormy Daniels in her lawsuits against President Trump, will not face criminal charges over an alleged episode of domestic violence involving a former girlfriend, law enforcement officials said Friday.
(…)
"The City Attorney's Office has reviewed all of the reports in this matter and considered all of the evidence," Mr. Mateljan said in a statement. "The suspect will be informed that although we decline to file charges at this time, this matter remains open and we may file charges at any time prior to the expiration of the statute of limitations."
Mr. Mateljan said there were two possible criminal counts that Mr. Avenatti could have faced: injury to a spouse or cohabitant, which has a three-year statute of limitations, and battery, which has a one-year statute of limitations.
Looking back only as far as December, Avenatti's life spun out of control.
Here's how Politico called it:
Michael Avenatti's cable TV bookings have dwindled. He was uninvited from one prominent Democratic event and skipped out on another. He has even publicly clashed with his highest profile client.
In just a matter of weeks, Avenatti's fortunes have taken a nosedive, rapidly downshifting him from 2020 presidential prospect to political pariah.
Boy does Avenatti need a reputation overhaul!
The Daily Beast took a historical look at only a couple of weeks in the life of Avenatti, after he picked a fight with Donald Trump.
It's been a wild few weeks for Michael Avenatti. The man who's billed himself as a "street fighter" who can defeat President Trump, both as a candidate in 2020 and in court on behalf of Stormy Daniels, is mired in legal troubles that could shatter his political ambitions.
In November alone, Avenatti was up against domestic violence accusations, which he called "completely bogus"; a $4.85-million judgment in favor of a former colleague, who alleges Avenatti funneled money to different entities to avoid paying his debts; and a public rift with Daniels, who told The Daily Beast that he launched a fundraising site in her name without her permission and filed a defamation suit against Trump against her wishes. (On Sunday night, the pair appeared to have reconciled, tweeting their mutual support.)
These setbacks come on the heels of a potential criminal probe into Avenatti and his client Julie Swetnick, who claimed she witnessed then-Supreme Court nominee Brett Kavanaugh spike girls' drinks at high-school parties so they could be "gang-raped" by groups of boys. After interviewing Swetnick, NBC News found inconsistencies in her statements.
Avenatti's rise and fall happened faster than an installment of The Fast & The Furious. And I venture to guess there's no real love lost between Avenatti and Donald Trump. But the fact that he's now willing to permanently walk away from his dream pay-out tells us one thing for certain. Avenatti is tired of Trump and his constant #winning.