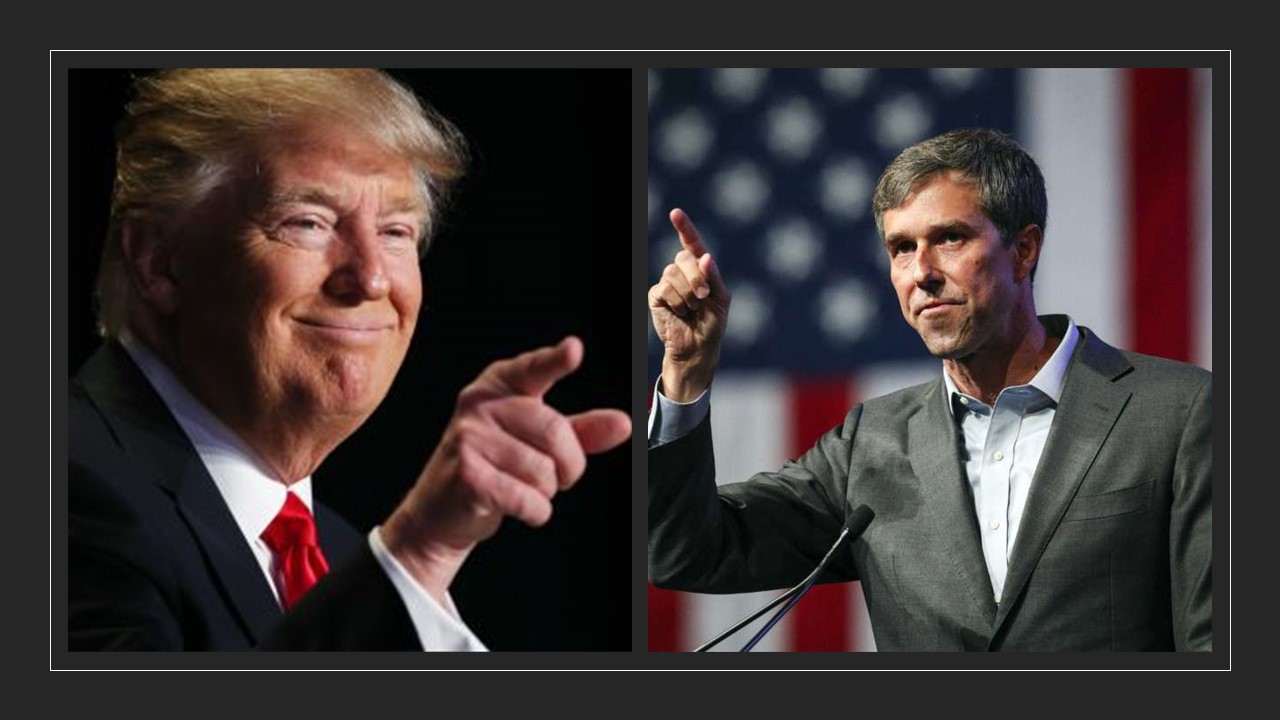 Make no mistake, there will be no Beto in the White House. But he's willing to give it the old college try anyway.
Oddly enough, Beto made his announcement in the wee hours of morning.
I'm not sure why he wanted to jump in while most people were sleeping. Yet, I'm confident there was a method behind the madness. Perhaps he was trying to avoid too much press. Or maybe he wanted to give himself a little time to get used to his candidacy before Trump pounced him. Either way, Beto will end up in the Hillary club when it comes to Presidential hopes.
New Yorker, Kathleen Rice, was quick to throw O'Rourke a bone.
I'm proud to endorse my friend @BetoORourke for President!

He's honest, authentic and has the courage of his convictions and a bold vision for our future. Most importantly, he'll build a movement that will rise above the toxic division in our politics and unite this country.

— Kathleen Rice (@KathleenRice) March 14, 2019

And Twitter was quick to respond.
Follow in his footsteps and retire from the House

— we're going to pass AVR ???????? (@SeanMcElwee) March 14, 2019
where can I find 10 years of his and his wife's tax returns ? Name three legsislative accomplishments of his ?
where is his policy platform?
since you're his friend maybe you will know no one else seems able to answer

— gay waiter Paul if beto can run so can I (@PaulSorrentino3) March 14, 2019
He has no ideas at all. He just says things like we can do better. Is that a solution? He turns me off more than Obama and Hillary put together.

— John (@JohnJwgourley) March 14, 2019
The only movement I see so far involves his bowels.

— Carl Blauvelt (@carlblauvelt) March 14, 2019
And my personal favorite:
— Doug Whitmore ~ #BERNIE2020 (@MoreWhit) March 14, 2019

The Pros of Beto
When judging a candidate, it's important to truly evaluate the pros and cons of each side. Forget Republican vs. Democrat. If we're going to move forward we need to judge policy, agenda, and past accomplishments.
So, when looking for the pros of Beto, this is what I found.
He looks like Robert Kennedy.
O'Rourke has a nice smile.
He wants to be President.
Forgive me, that's all I've got.
The Cons
Even if O'Rourke is the break-out candidate the Dems are desperately seeking, he still doesn't stand a chance. Remember, Trump already mopped the floor with O'Rourke.
When the President stepped in to rally for Ted Cruz, the Texas Senator pulled out yet another win- despite the liberal claims assuring O'Rourke's victory. Therefore, it's a proven fact Trump can easily defeat O'Rourke.
In addition to being a proven loser, there are other cons to choosing Beto.
He voted against tax relief for small businesses.
O'Rourke believes in late term abortions.
Beto's Irish. Which isn't bad in and of itself, but when you bill yourself as Mexican, well, that's an Elizabeth Warren move right there. Fraud alert: he even sat on the Congressional Hispanic Caucus.
O'Rourke violated House Ethics several times.

Rep. Beto O'Rourke, D-Texas, reported in periodic transaction reports that he and his spouse took part in numerous IPOs often buying and selling on the same day as the public offering.

His father used his power to get drug charges against Beto dropped.
He's willing to put the lives of Texans in danger, insisting that he'd tear down existing border walls.
Honestly, I could go on, but you get the point. The list of cons far outweighs the pros, and here I tried to be fair and unbiased.
Showdown on the Border
I'm not shocked by Beto's drug use, or benign criminal record. But I am shocked by his stand on border security. He's a Texan, as am I. Therefore, he should truly grasp the dangers at play.
Recently, O'Rourke went head-to-head against Trump with opposing rallies on the Texas border.
Here's what we wrote at the time:
Democrats targeted Texas a few years back, attempting to turn the state blue. Then they spent mega-millions trying to obtain an upset victory with Beto on their ballot. But after Trump's rally in Houston, Texas, liberals were knocked down a few notches.
Throughout the midterms, Trump experienced standing room only. Meanwhile, Obama relied on camera tricks just to create crowds while hundreds of seats were unfilled. It was a source of embarrassment for the left.
Tonight's rally will be no different. Conservatives will pack the house to show their unwavering support for a border wall. And why do conservatives back the wall? Is it just because Trump said so? NO! Conservatives back the wall because obviously it's something voters are serious about.
In fact, one veteran raised more than $20M in just over a month. People are willing to put their own money behind President Trump. As far back as I can tell, this has never happened on this scale before.
And while conservatives are digging in their pockets, Beto is pretending Texans don't need border security.
Imminent Danger
Recently, we reported the story of the famed gang member known as El Tory. Military intelligence considers this man one of the most dangerous and powerful members of the Los Zetas Cartel. Furthermore, people say he has more than 45 murders to his credit, and at least 14 of those are decapitations.
After murdering one man, El Tory stole his dead body from a funeral home and put his decapitated head in an ice chest. El Tory dedicated himself to killing off anyone who annoys him. And the brutality of his crimes is hard to outdo.
Yet, bribery and crooked officials managed to free El Tory from prison, where he was serving time for an attack against the American Consulate in Monterrey. So not only is he dangerous, but he's also 'connected' to important people. Now, this guy is standing across our border in Neuvo Laredo glaring at us. I can't say what his plans are, but he's living large and in-charge with a past that indicates his plans will be gruesome, at the very least.
Therefore, the idea that Beto would tear down the walls that keep El Tory away scares me to death. And if you're smart, it scares you, too.