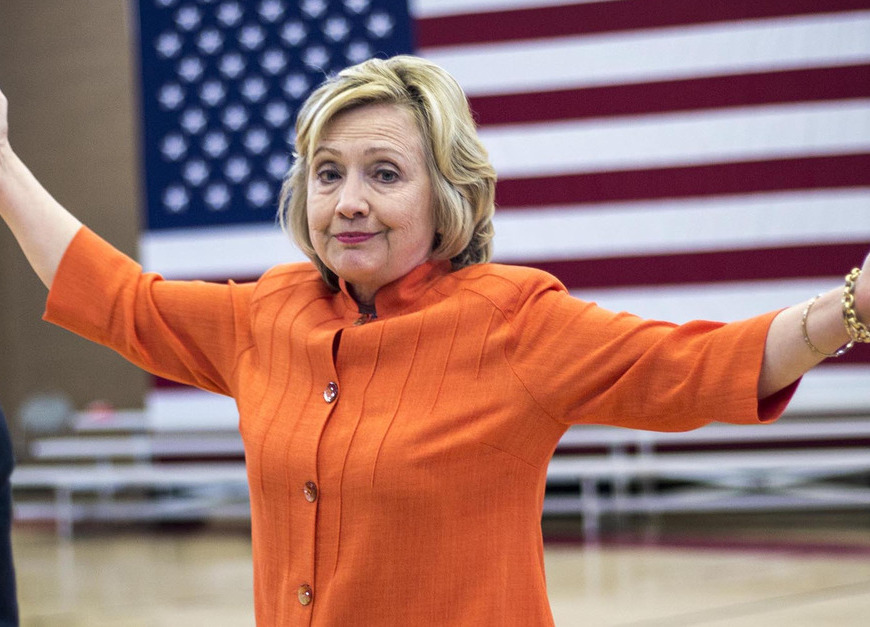 The walls of justice close in on the Clintons. And it's the subtle hints that matter.
I will touch on a more recent indication of impending Clinton doom in a moment. But first let's look again at the Clinton tour. 
The last time the Clintons appeared on tour was out of the United States. They happily and abruptly canceled their Sugarland, TX tour. The event was graciously described as "postponed … in order to attend funeral services for former President George H.W. Bush."
But as a friend of mine called BS, saying
This claim doesn't withstand minimal scrutiny.  The state funeral honoring the forty-first president is taking place today, and it takes less than three hours to fly from Houston to Washington, D.C.  I strongly suspect that the Clintons' contract with Live Nation, the sponsor of the tour, does not have them flying commercial airlines, so a post-presentation departure from the very nice executive terminal at Sugarland Airport (I've been there – it's a busy hub for corporate jets) into Reagan National Airport could have gotten them a full night's sleep before attending the state funeral today.
I opined at the time that the Clintons' tour has been a pretty big disappointed, that's if you like the Clintons.
The kickoff presentation in Las Vegas was canceled without explanation. And after the debacles in Canada, I predicted the tour would die an unceremonious death, and be described as a mercy-killing.
As you can see from the list below, the Clintons are due to re-open in New York at the Beacon Theater.
Here is the original list of planned dates:
Nov. 18 – Las Vegas – Park Theater
Nov. 27 – Toronto – Scotiabank Arena
Nov. 28 – Montreal – Bell Centre
Dec. 4 – Sugar Land, Texas – Smart Financial Center
April 11, 2019 – New York – Beacon Theatre
April 12, 2019 – Detroit – Fox Theatre
April 13, 2019 – Philadelphia – The Met
April 26, 2019 – Wallingford, Conn. – Toyota Oakdale Theatre
April 27, 2019 – Washington, D.C. – DAR Constitutional Hall
April 30, 2019 – Boston – Opera House
May 2, 2019 – Vancouver, B.C. – Pepsi Live at Rogers Arena
May 3, 2019 – Seattle – WaMu Theater
May 4, 2019 – Los Angeles – The Forum 
With 9 venues left, I predict the Clintons won't have over 40,000 total patrons or about the size of the audience at one Trump rally. We don't have long to wait on this.
But as I indicated earlier, the Clintons have bigger problems.
Senate Judiciary Committee Chairman Lindsey Graham (R-SC) revealed during an interview on Fox News Sunday that Attorney General William Barr is "pretty upset" over the way the criminal investigation into Hillary Clinton was handled.
Appearing on Fox News' "Sunday Morning Futures," Graham told Maria Bartiromo that there needs to be an investigation into the other side regarding the 2016 election. He said this investigation should include the "Clinton campaign, the FISA warrant abuse [and] the counterintelligence investigation."
"Nobody in the Clinton e-mail investigation went to jail for lying about the process, because there was no process," Graham said. "And I know Bill Barr pretty well, and he's pretty upset about the way all this was handled. I don't know if he's going to have a special prosecutor to look at the probability of criminal misbehavior. I'm going to look at what happened from an oversight role, but I hope there's a special counsel appointed to look at DOJ corruption and political bias, because Mueller did his job against Trump. Nobody's really looked at the Clinton campaign, the FISA warrant abuse or the counterintelligence investigation, criminality yet — and somebody should."
"I'm not so much worried about retrying her, but I want to make sure that the public understands that she got away with something they wouldn't get away with. I think it's important to understand that political bias probably drove the Clinton outcome, not the facts," Graham continued. "And I really don't believe that Comey just took over the investigation from Lynch based on a tarmac meeting. I just want the American public to know that the standard used against Clinton is an outlier. It's not the way business is done. And why did they choose that path? I think they had a political bias. They wanted Clinton to win, Trump to lose. And here's the point. How could she win if the Department of Justice indicted her? I think that's what drove the decision not to indict. They wanted her to win."
While this is no longer "news" per se, it represents the first shot against the Clintons, post-Mueller Report. And there are others now chiming in.
DC is a very different place in just two short years. Aside from the fact that Trump achieves rock star status weekly, he also won't let this situation go.
While Trump behaved magnanimously after his victory over Clinton in 2016, he's no longer that same man.
Having gone through two years of which he commented, [pp] "No president should have to go through this," Trump won't let this freak show ride. And his calls for the investigation of the Clintons won't be ignored, in my opinion. But don't worry, Clinton won't be alone. She has her dear friend James Comey to join her under the magnifying glass.