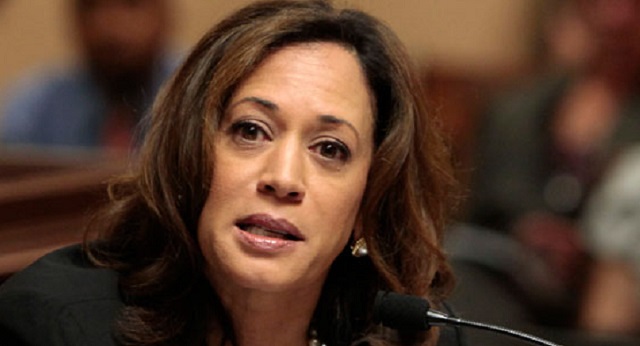 Democrat Tulsi Gabbard has something to say about her party's behavior going into the 2020 election. And she's not very proud of the antics she's observed thus far.
Gabbard's criticism of her party is spot on, but she definitely has ulterior motives for speaking up. She's one of the many candidates vying for a spot on the 2020 ballot.
She barely qualified for the next round of debates. So, if she doesn't drum up a little publicity, Gabbard could find herself dead in the water. And what better way to draw attention than to launch an offensive attack against her enemies?
Therefore, Gabbard stepped up to say Kamala Harris isn't qualified to be President.
According to MSN:
"Kamala Harris is not qualified to serve as commander in chief and I can say this from a personal perspective as a soldier," Gabbard said during an interview on Fox Sports Radio posted online Tuesday. "She's got no background or experience in foreign policy and she lacks the temperament that is necessary for commander in chief."
Harris experienced a bump in polling following the first 2020 Democratic primary debate after her powerful exchange with frontrunner Joe Biden. Harris called out the former vice president for opposing federally mandated busing to integrate schools while he was in Congress.
Gabbard, however, has since criticized Harris for engaging in that exchange with Biden, because it was, in Gabbard's view, "underhanded."
"Personal attacks just for the sake of trying to push yourself forward in the campaign I think are underhanded," she said during an interview with "The View" on Monday.
It sounds all warm and fuzzy to hear Gabbard denounce the ugliness. But I guarantee you she's willing to get down and dirty to take Kamala's share of the votes.
Gabbard shoulders her share of criticism.
Gabbard repeatedly plays on her experience in the military. However, she still averages only 1% of the vote according to polls. Thus, her role as Major in the National Guard isn't getting her the attention Gabbard hoped for. And Harris definitely wants to poke the bruise if she can.
MSN continues:
In a tweet Monday, the Harris campaign's communications director responded to Gabbard's comments about Harris not being qualified to serve as commander in chief.
"Definite hard pass on taking national security advice from Assad's cheerleader," Lily Adams wrote. Gabbard met with Syrian dictator Bashar al-Assad in 2017 and earlier this year said Assad "is not an enemy of the United States because Syria does not pose a direct threat to the United States."
Definite hard pass on taking national security advice from Assad's cheerleader. https://t.co/X7aCVW9Jxi
— Lily Adams (@adamslily) July 23, 2019
Still Gabbard holds tight to the military angle.
Gabbard said in the Fox Sports Radio interview that Harris' lack of military experience would cause her to "fall under the influence of the foreign policy establishments and military-industrial complex."
"I've seen the cost of war firsthand and experienced the consequences of what happens when we have presidents, as we've had from both political parties, in the White House who lack experience and lack that foreign policy understanding," she said.
"This is what is so dangerous. This is what we've seen occurring over time," she continued.
Gabbard pointed to her experience as a soldier for over 16 years and her seats on the House Foreign Affairs and the House Homeland Security committees to support her assertion that she is the best fit to sit in the Oval Office.
"I'll be prepared on Day One to walk into the Oval Office and fulfill that most important responsibility the president has, which is to serve as commander in chief," she said in the radio interview.
Of course beating Harris is a long shot. But if by some miracle Gabbard pulls it off, she still won't stand a chance against Donald Trump. Especially when the military loves the current Commander in Chief.