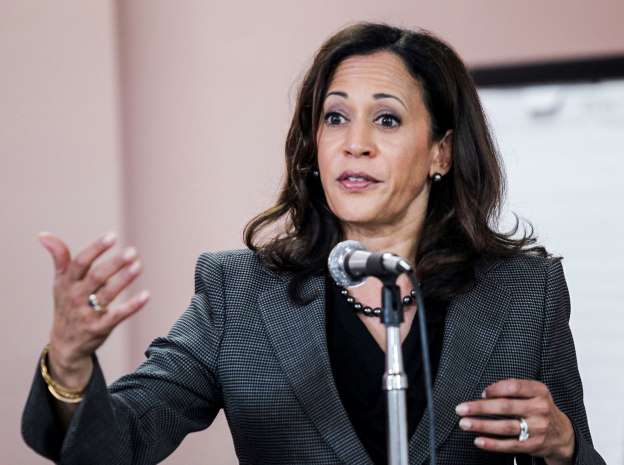 Kamala Harris cried racism and toppled the Democrats' Great White Hope.
In one fell swoop Harris dethroned Joe Biden, sending his campaign into its inevitable death spiral.
Joe "I'm not racist, but I do play poker with a few" Biden was too stupid to see that coming? I guess Biden was so preoccupied with encouraging civility from Republicans that he took his eye off the ball.
Thus, the wannabe emperor lost his head.
According to The Hill, Harris seized on her moment used it for fundraising.
Sen. Kamala Harris (D-Calif.) announced Saturday that her presidential campaign had raised more than $2 million in donations in the 24 hours following her first presidential debate.
Harris tweeted that her campaign raked in $2 million from 63,277 people, nearly 60 percent of whom were first-time donors.
"We asked you to support our campaign #ForThePeople and you delivered," she wrote. "I am so motivated and inspired by all of you. Now let's go win this fight."
We asked you to support our campaign #ForThePeople and you delivered. In the 24 hours after the #DemDebate, we raised more than $2 million from 63,277 people. I am so motivated and inspired by all of you. Now let's go win this fight.

— Kamala Harris (@KamalaHarris) June 29, 2019
Harris added in an email to supporters that the average campaign contribution was $30 and that 36,861 donors had given to the campaign for the first time. The haul marked her biggest fundraising day of the campaign, surpassing her previous record of $1.5 million after launching.
Skewing the Numbers.
Sure, when you consider Harris' numbers independent of other candidates, they might seem impressive. Especially when she brags of a $2M haul. However, three months ago Kamala should've realized she doesn't have Trump's power of persuasion.
At that moment, Kamala had banked $13M for her campaign. Meanwhile, her colleagues all believed they, too, were posting stellar numbers. Bernie, for example, raised $20.7 million with 74 percent coming from individual donors giving less than $200. And Elizabeth Warren was sitting on $16M.
Sadly, democrats will waste millions upon millions of dollars ripping each other apart in search of a true front runner, but these numbers prove how truly desperate liberals really are, because no amount of cash will get them a win, especially against Trump.
Of course, this data lags the current numbers, but considering Donald Trump already had an unprecedented $106M, there's no way Harris will even come close the matching the President. Even Obama only raked in $48M for his re-election campaign.
Small Victory
Harris emerged from the debates in a victorious euphoria, especially after mainstream media declared her the champion.
The Hill continues:
Harris was widely considered to be the winner of Thursday night's debate after delivering an impassioned criticism to front-runner Joe Biden over his past policy on school busing and his comments about his ability to work with segregationist senators.
"I do not believe you are a racist, and I agree with you when you commit yourself to the importance of finding common ground," Harris told Biden on Thursday night. "But I also believe, and it's personal, and I was actually very — it was hurtful to hear you talk about the reputations of two United States senators who built their reputations and career on segregation of race in this country."
Clearly, this is the nail in Biden's coffin. Even though Kamala's tear-jerking "that little girl was me" performance was a lie, it was good enough to stop Biden in his tracks. In fact, Kamala's command of the debates puts her on top of the democrat pile, for now.
But before Kamala lets the victory go to her head, she might want to step-back and re-evaluate. Because even if Harris has $20M, which she doesn't, Donald Trump has more than fives times as much. It looks like the voters are willing to put their money where their mouths are, and that leaves democrats with another epic loss on their hands.