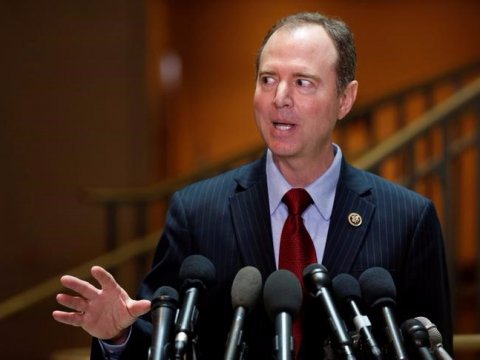 Less than a week into impeachment hearings, and most of the Senate already wants out.
In fact, they're so bored, Adam Schiff offered to jail anyone caught dozing off or not paying attention.
By the end of Tuesday's late night marathon debates, Senators reported being in "agony" and "bored out of their minds." In fact, some Senators were caught napping, wondering the hallways, passing notes like sixth graders, and sharing candy. I'm pretty sure someone hit a new record on Candy Crush, but that's just a guess. However, Senator Dianne Feinstein up and left, later claiming she felt ill.
Schiff is desperate to keep this thing alive. Thus, he threw out an offer to imprison anyone tuned out.
The Gateway Pundit quotes:
Schiff: "But I also want to again take this opportunity to thank the senators for their long and considerable attention over the course of the last two days. I'm not sure the Chief justice is fully aware of just how rare it is, how extraordinary it is for the House members to be able to command the attention of senators sitting silently for hours–or even for minutes for that matter. Um, of course it doesn't hurt that the morning starts out every day with the Sergeant at Arms warning you that if you don't, you will be imprisoned. Um, it's our hope that when the trial concludes and you've heard us and you've heard the President's counsel over a series of long days that you don't choose imprisonment instead of anything further."
And that little jab didn't go unnoticed.
NY Daily News reporter Michael McAuliff took the remarks as Schiff taking a shot Republican senators, "Schiff opens with sly jab at restless Rs. Tell Roberts he may not be aware how extraordinary it is for senators to sit silently for the House. "It doesn't hurt that the morning starts out every day with the sergeant at arms warning you that if you don't you will be imprisoned."
Funny, Not Funny
Some seem to think Schiff was just kidding, referring to his remarks as a joke. However, it wasn't that funny.
Adam Schiff starting off today with a joke about imprisoning Senators came off like a joke written by Jerry Seinfeld but delivered by George Costanza

— Mark Meadows (@RepMarkMeadows) January 23, 2020
Of course, it's also not funny to waste millions of dollars on phony investigations when legislators on both sides concede this is a vast waste of time and effort. Not to mention unconstitutional.
Many senators _ of both parties _ have walked out at different times during the proceedings…and taken their time returning to the chamber https://t.co/LFAgpqERHC

— Eric Tucker (@etuckerAP) January 23, 2020
 The GP continues:
Courthouse News reported on the opening of Wednesday's session with this headline:
Sleepy, Hungry, Bored: Senators Pay for Late Night at Impeachment Trial Open
…Senator Rand Paul glued his eyes on a crossword puzzle hidden under his desk during opening arguments from Schiff, the House Intelligence chairman from California. Senator Bernie Sanders could be seen nodding off, slouched deep in his wooden desk with his chin bobbing on his chest.

…Clocking in at more than two and a half hours, Schiff's opening argument left dozens of empty chairs on the Senate floor as Republicans – and a few sleepy Democrats – left the room to converse in the halls or grab a snack.

When the California Democrat said, "Now let me turn to the second article of impeachment," McConnell crumpled in his chair.

"The end is in sight," Schiff assured, as exasperation boiled on the Republican side of the chamber and more senators trickled out.

Even Democrats strongly backing impeachment drifted to the back of the room to stretch their legs as Schiff's opening drew to a close. Booker, towering at 6 feet 2 inches, leaned up against a marble pillar at the back end of the room, still focused on Schiff's remarks.

Absent from the room for more than 30 minutes, Sanders and Senator Amy Klobuchar — both pulled from the 2020 campaign trail to judge the impeachment case — cruised back in together to take their seats as Schiff concluded by urging senators to preserve the republic with a fair trial.
It's time to put this snoozefest to sleep. Because it's clearly going nowhere.