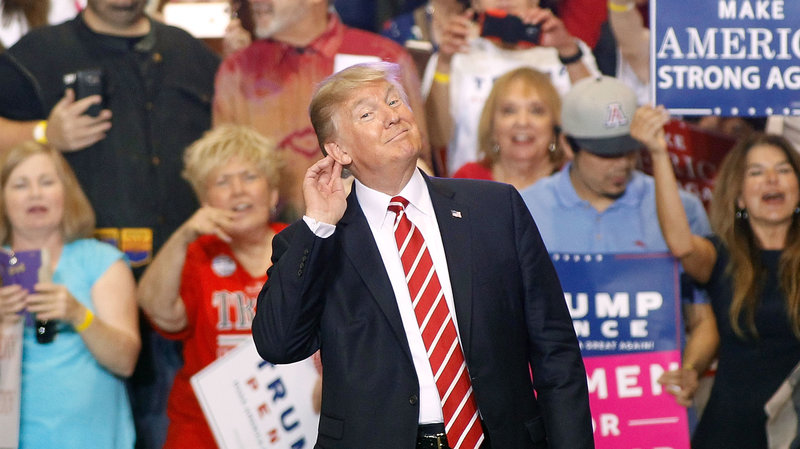 Make no mistake about it. Donald Trump holds rock star status in America. And yes, even around the world.
I love this video where CNN is forced to acknowledge Trump's popularity. Note that Macho Man plays in the background.
https://twitter.com/DGPurser/status/1231941533101850624
Trump fills stadiums all over the country, with overflow areas almost as large as the venues themselves. While tens of thousands attend his events, hundreds of thousands request tickets.
Leftist long for 2008, when Barack Obama commanded the same attention.
Prior to Obama's election, he could muster tens of thousands with equal ease as Donald Trump. Then Obama took office. And by the end of his second term, Obama spoke to audiences of dozens, and few cared what he had to say.
I can't find the video of Obama speaking in Europe at a conference, but I remember that nobody was listening. When Obama wrapped up, he stands at the podium for a few seconds waiting for applause, like a punch-drunk politician. Finally, one lone audience member looked up and clapped out of pity.
As Obama scuttled off the stage, I know he felt the pain of again being a nobody. And there was no resurrecting the passion people felt for him in 2008.
Obama knew his star had tarnished in 2014.
I wrote this when Obama spoke in Allegheny County Pennsylvania in 2014, where 300 people showed up:
Remember when a visit from Obama meant standing room only? Not anymore, as people around the country now realize just how bad his policies suck! Obama spoke at the Community College of Allegheny County, in Oakdale, Pa., on Wednesday, and it might as well had been an audience of crickets.
The White House's transcript of Obama's speech includes the laugh lines that few of the almost 300 attendees laughed at.
No surprise that Leftists who control social media are so embarrassed by the event you can't find the actual video.
As I mentioned earlier, Obama's star didn't just fade in America. Obama became a nobody all over the world.
When Obama spoke in India in 2015, where are the media reports about throngs of people clamoring to see him? They don't exist, because nobody cared what Obama had to say.
Obama had his chance at rock stardom, and he blew it. The world found out that he played air guitar and only lip-synced 1950s Soviet songs.
Contrast Obama's post-election appeal with that of President Trump. Trump's recent trip to India shows how the world feels about him four years into his presidency. In this video, Indians don't seem to care much about impeachment. Watch as they run to get in line to see the leader of the free world.
https://twitter.com/ernie_plumley/status/1231866505089843200
Next, White House Press Secretary Stephanie Grisham documents the scene in Motera Stadium where the president would eventually speak.
"The First Lady and I have just traveled 8,000 miles around the globe to deliver a message to every citizen across this nation: America loves India — America respects India — and Americans will always be true and loyal friends to the Indian people." @realDonaldTrump https://t.co/FXJ4JwAESQ

— Kayleigh McEnany 45 Archived (@PressSec45) February 24, 2020
The event in India reminds me of, well, ALL OTHER TRUMP RALLIES!
I'm sure Leftists like Joy Behar of The View will claim that President Trump paid these Indians to attend his speech.
India expects over 100,000 people to attend the "Namaste Trump" event, where they will christen the new soccer stadium.
One thing is certain, and that is by Year Four of the Barack Obama presidency, he couldn't fill a phone booth.
For the record, name ONE world leader who could fill a stadium of this size in India or anywhere else?
Would thousands of people come out to see China's Xi? Russia's Putin? France's Macron? Germany's Merkel? Anybody think Barack Obama could fill a stadium anywhere, and you could throw in Michelle Obama for good measure?
You know the answer. However, in every one of those countries, President Trump could fill stadiums.