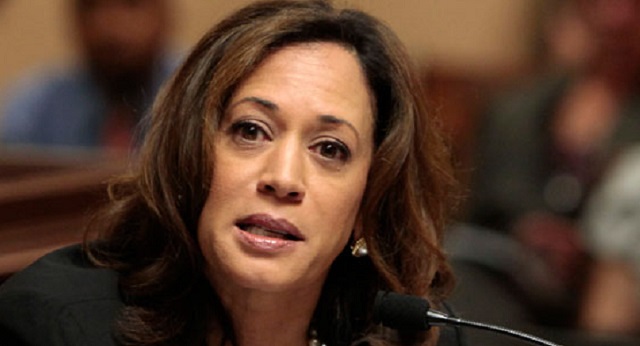 Kamala Harris announced her endorsement of Joe Biden. It's not a very interesting story, until you add all the other dropouts jumping aboard the USS Biden.
Recall a few months ago, Kamala Harris pegged Biden as the racist whose opposition to busing affected her personally.
In fact, Harris tried to manufacture an emotional moment during the debate.
"There was a little girl in California who was a part of the second class to integrate her public schools and she was bused to school every day," she said. "And that little girl was me."
Yet, this racist who didn't help Kamala Harris integrate into the American school system is now worthy of Kamala's endorsement. Am I the only one scratching her head in disbelief?
How did Biden pull this off? Did he promise Kamala a seat on the board at Burisma? Because it seems pretty shady that Kamala added her name to the #TeamBiden list.
In fact, Kamala's endorsement leads one to believe the Democrats are doing whatever it takes to give the nomination to Biden. Because Bernie is #winning on the left, and that's just not an outcome Democrats can live with.
The Endorsers
Kamala now says she'll do everything in her power to help Creepy Joe. And she isn't the only one who suddenly went from preaching Joe's incompetence to singing his praises.
Last week, Mike Bloomberg suspended his campaign. One headline dubbed it the "$500M Faceplant." In fact, Bloomberg stated that he is "clear-eyed about our overriding objective, and that is victory in November."
As Politico explains:
The former mayor urged his supporters to get on board with Biden's campaign, saying taking down Trump would require "uniting behind the candidate with the best shot to do it, and after yesterday's vote, it is clear that candidate is my friend and a great American, Joe Biden."
Still, Bloomberg took a moment to speculate about what might have been. "There is no doubt in my mind we would have beaten Donald Trump in November," he said. "And you know who else knows that? Donald Trump. He's scared stiff of us, and for good reason, because every time he hit us, we hit back twice as hard."
Of course, Donald Trump isn't scared of a Democrat. No matter who it is. And ironically, Biden was just telling the world that Bloomberg can't "buy his way in." So what's with the sudden love fest? Furthermore, Bloomberg isn't the only one to suddenly have a change of heart.
Sen. Amy Klobuchar and former South Bend, Ind., Mayor Pete Buttigieg — ended their bids and backed the former vice president in a show of centrist unity.
How do we explain the sudden rally around Biden?
Especially, considering the lack of excitement around Biden. But Kevin Jackson has a theory about the pro-Biden movement.
Former Vice President, Creepy Joe Biden was to have no competition. As I've written many times, 2020 was to be HIS turn. Yet Biden did everything he could to blow his campaign. And from the start Biden slipped in the polls, so much so that many felt his campaign was doomed.
As Biden slipped in the polls, Comrade Bernie Sanders rose. Democrats overlooked Sanders, hoping one of the other more "reasonable" candidates would overtake the old coot. However, one by one these people lost momentum. Sanders hung on like a hair on a biscuit.
Sanders needed to be stopped.
Former Democrat strategist James Carville lost it in one interview, calling for the head of the DNC to be fired over his inability to crush Sanders. Other Democrats shared Carville's angst.
They begged for new candidates, having given up on Biden. So imagine their surprise after Super Tuesday. Biden pulled a Lazarus and trounced Bernie Sanders. Suddenly, Biden was back in the game and Sanders had lost momentum for the first time in the 2020 race.
Now the problem for Democrats.
What should be a celebration for Biden and Democrats is more like relief they don't have Sanders.
As The Daily Wire reported:
"After Joe Biden's big night on Super Tuesday ― and Sen. Bernie Sanders' less-than-expected performance in the multiple Democratic presidential primaries ― some House Democrats were high-fiving each other Wednesday. Literally," the outlet reported Thursday, after speaking to a number of Democrats who watched the results together.
People were very happy," Rep Juan Vargas (D-CA) said. "There was a huge sigh of relief."
The party, Vargas added, had "come to our senses, you know? We're not going to implode. We were all high-fiving. We're all happy. Everyone's excited today. It was a good night last night,"
"Thank God it's not Bernie," Vargas went on. "We just dodged a bullet ― a Bernie bullet."
"Thank God it's not Bernie"?! That's going to be their campaign slogan?
In other words, ANYBODY but Bernie!
That's not exactly a ringing endorsement of Joe Biden, now is it.
"We dodged a bullet – a Bernie bullet." Seriously.
So Biden is the lesser of two evils. But that doesn't exactly scream "future President." Thus, Democrats might rethink their new take on Joe Biden.