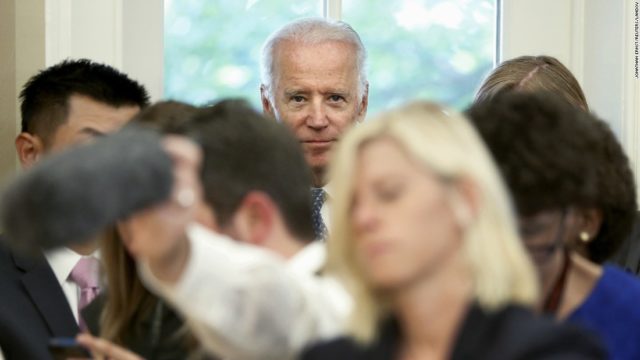 Case closed against Joe Biden. It's pretty clear he assaulted Tara Reade, if the #MeToo Movement has any credibility.
Let's check with all the #MeToo witches who believed the Kavanaugh skanks? Apply their logic to the very real case brought by Tara Reade against Joe Biden, and you get my point.
Imagine a man having to go back 30+ years to remember a casual meeting of a girl at a party. And in the case of Kavanaugh, something that NEVER HAPPENED IN THE FIRST PLACE!
But with Joe Biden, the past is not that long ago. And his accuser documented her assault relatively quickly; certainly in comparison to the lying skanks who accused then-Judge Kavanaugh.
Regardless of the time passed, Biden has an excuse. Dementia. The guy doesn't know what he had for lunch yesterday, much less who he molested a couple of years ago. A convenient alibi for a serial sexual abuser.
I'm beginning to see why Biden publicly assaults women, even young girls. He has no recollection.
Tara Reade remains a thorn in his side; a fly in the wannabe-president's ointment. And according to The Daily Caller, Reade is not backing down.
The Washington DC police are investigating a sexual assault accusation against presumptive Democratic nominee for President Joe Biden:
"This is an active, ongoing investigation that is part of our regular review process, " Christine Metzger, Metropolitan Police Department public affairs officer, told the Daily Caller on Wednesday.
These allegations were made in the early '90s, so why bring this up now? Ah, good question.
But there are other good questions. Like, why is a Democrat going after Joe Biden? Reade is no Republican operative ideologically bent on destroying Biden. Those tricks are for kids…and Democrats.
Instead, Reade is a Democrat who worked with Democrats on Biden's campaign. So a clear connection exists. She has no reason to destroy Biden, other than she wants the truth revealed.
Also, how is the media allowing this story to run? If Biden were a stronger candidate, Leftists would continue to suppress the story. But they let this cat out of the bag.
And now DC police are involved. Aren't they supposed to lock down stories like this? Perhaps check with the fake news media first? The notion that DC police are even considering an investigation that leaked to the public should concern Democrats in general, and Joey Fingers in particular.
I don't expect much to come from this "investigation". But I do see it as a warning to Joe Biden that he must keep his dementia under wraps. A veiled threat that he's being watched.