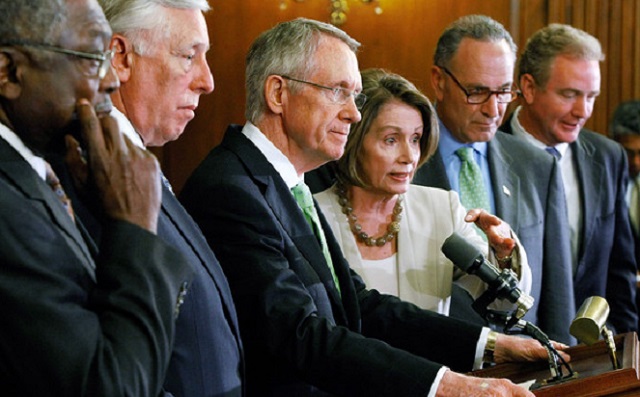 The latest nonsense from the left says they're confident the odds are in their favor.
It doesn't get much more delusional than that.
Trump's a fighter. Moreover, he's a winner. Trump doesn't shy away from any challenge. Nor does he accept defeat. One would think Democrats would have that figured out by now. Especially considering the many victories Trump adds to his list on a daily basis, starting with the Russian conspiracy hoax and stretching all the way to the Chinese Wuhan virus.
Yet, despite Trump's rising approval rates, Democrats still think the election could turn in their favor. In fact, they're already claiming a Senate victory.
This article from Fox News attempts to explain, although it oozes with leftism:
Republicans enjoy a 53-47 majority in the U.S. Senate, but the party's defending 23 of the 35 seats up for grabs in the chamber this November. And while at least a half-dozen GOP seats are considered battlegrounds, Democrats are defending just a handful of vulnerable incumbents.
…
"I do think it's 50/50 right now. I think that Democrats' odds have improved over the past month," predicted Jessica Taylor, who closely tracks the Senate races for the Cook Report, a leading non-partisan political handicapper.
Scott Fairchild, executive director of the Democratic Senatorial Campaign Committee – which is the political arm of Senate Democrats – touted recently that "Democrats have built strong operations in core battlegrounds, brought more states online, and expanded the overall map to widen the path to the majority."
Of course, Democrats might put forth a great deal of effort, but it won't be reflected in election results. That much I can promise.
The presidential race will directly impact the battle for control of the Senate, with GOP fortunes closely tied to President Trump. The president's approval rating has edged down and his disapproval rating's edged up the past month as Americans judge Trump's handling of the federal response to the coronavirus pandemic.
Leftists are forgetting just how many things Trump did to equip us for this pandemic!
From closing borders to bringing manufacturing back to the US, Trump was always preparing for a pandemic to strike.
But Democrats are exactly right about one thing. The Presidential race will be a huge factor in the Senate race. And let's clarify something. Trump's approval ratings aren't truly falling. The more plausible truth is that after several polls reported Trump's climbing approval ratings, leftists went back to the drawing board and retaught their minions "how to skew polls to the left."
Senate Democrats, meanwhile, enjoyed a bump thanks to former Vice President Joe Biden locking up their party's presidential nomination. Biden's victory over populist firebrand Sen. Bernie Sanders of Vermont – who suspended his bid and backed Biden this month – was a big sigh of relief for some Senate Democrats worried that a liberal standard-bearer like Sanders would have put moderate states out of reach.
A leading indicator of the Democrats' momentum – campaign cash.
Democratic challengers in six states where GOP senators are facing challenging re-elections – Arizona, Colorado, Maine, North Carolina, Georgia and Montana – outraised the incumbents during the January-March quarter of campaign fundraising.
"I think that this first quarter should be a wakeup call to Republicans that Democrats are enthused. They are sending their money because they see that there is a real possibility of flipping the Senate," Taylor said.
Once again, Democrats use the very words that bury them.
Biden Needs Cash!
While Democrats think Biden's latest gain proves he's fit to face off against Trump, nothing could be further from the truth.
As Kevin Jackson recently noted, Creepy Joe is cash deficient.
Biden must put up a good fight. And political fights from lightweights need lots of money. That's why Hillary Clinton outspent Donald Trump almost 2-to-1, only to lose. Despite having the entirety of the Obama administration behind her, specifically the Department of Treason Justice, Clinton lost.
So, Hillary needed over a $1 billion back then just to keep up. Biden needs at least twice that much just to save face.
Let the begging begin.
Biden tweeted:
In March alone, this campaign raised $46.7 million, with 70% from online donations. This virus has changed our campaign. But it hasn't changed the unwavering support we've gotten from all of you. Together, we're going to defeat Trump. Help keep us going: https://joe.link/2KnCBpX
In March alone, this campaign raised $46.7 million, with 70% from online donations. This virus has changed our campaign. But it hasn't changed the unwavering support we've gotten from all of you. Together, we're going to defeat Trump. Help keep us going: https://t.co/GIzEQS0nNj

— Joe Biden (@JoeBiden) April 21, 2020
Congratulations to Team Biden for fundraising for a useless cause. But plugs will be just a bit short.
If Biden's team raises $50 million each month from now until the election, he will raise about $350 million. But what will Trump raise during this same period?
Therein lies Biden's other problem. Trump is a fundraising juggernaut.
CNN must have hated reporting this:
President Donald Trump's reelection campaign and the Republican National Committee raised more than $212 million in the first quarter of 2020. While the numbers are still strong, the campaign did see a dip in how much it raised in March as the coronavirus outbreak swept across the nation.
The campaign brought in $63 million in March compared to the $86 million raised in February.
The Trump campaign took a dip and still outraised Biden $63 million to $47 million. And what about the Feb numbers? No wonder Democrats decided to hype up a fake pandemic!
At the end of Feb, Trump had raised $178 million and had over $98 million in the bank, while Biden reported having $26 million. Worse for Biden is the spend.
Trump has spent $98 million and Biden $108 million.
Let's just break that down. According to democrats, people are sending their money to show who they want the winner to be. So, by their own standard, it's Trump, by a landslide. Still, the DSCC believes they've got the momentum.
Sunday, the DSCC tweeted: "Momentum is on our side, but we can't let up if we're going to flip these seats in November." I guess they're headed for a shock, just like the one Hillary got four years ago.