Biden Exposes Democrats 2020 Racism Problems
Joe Biden has stirred controversy throughout his 50-year political career.
In addition to the problems with his 'wandering hands', he has also made past crude remarks, such as:
The former-Vice President has suffered from chronic 'foot-in-mouth' disease on many occasions.
Senator Kamala Harris, who has plenty of her own personal baggage, took Biden to task during a past presidential debate.
CNN reported:
Sen. Kamala Harris confronted him about his position, and how it impacted a little girl in California.p

"That little girl was me," Harris said. "So I will tell you that on this subject, it cannot be an intellectual debate among Democrats. We have to take it seriously. We have to act swiftly."

When pushed by Harris on whether he was wrong to oppose busing, Biden shot back, "I did not oppose busing in America. What I opposed is busing ordered by the Department of Education, that's what I opposed."
Biden of course, lied.  (But then again, so did Kamala Harris.) Yet, it was not enough to keep Senator Harris from endorsing Biden.
Endorse Me:  'Or Else!'
It seems the former-VP might have bitten off too much this time.
New York Times detailed:
Former Vice President Joseph R. Biden Jr., the presumptive Democratic presidential nominee, apologized Friday afternoon for telling a radio host that black voters torn between voting for him and President Trump "ain't black," remarks that ignited a firestorm online.

Mr. Biden's remarks came hours after a testy exchange with Charlamagne Tha God, a host on "The Breakfast Club," a nationally syndicated morning show popular with black millennials. In the interview, during which the former vice president sidestepped a question about marijuana legalization and his running mate selection, Mr. Biden also made clear that he felt there was no reason black Americans would consider voting for Mr. Trump.

The remark sparked immediate pushback on social media, with liberal activists and conservatives alike jumping on Mr. Biden, 77, for acting as the arbiter of blackness.
Trump's Response
Trump's team wasted no time in setting up a website called "You Ain't Black." As Kevin Jackson commented:
President Trump will go down in history as the coolest president ever. His ability to take advantage of a "crisis" makes Democrats look like preschoolers. And boy do the Democrats have a crisis.

Joe Biden opened up a can of worms, by exposing the racism of Democrats. Biden revealed to blacks that they can't be black unless they vote for him. Yes, Biden exposed the Democrats dirty not-so-secret of taking advantage of the black vote. Promise everything, deliver nothing.
But multitudes of other conservatives weighed in as well.
Senator Tim Scott immediately responded to Biden's offensive comments with Fox Business' Stuart Varney:
Sen. Tim Scott told "Varney & Co." on Friday that presumptive Democratic presidential nominee Joe Biden made the "most condescending and arrogant comments toward the black community he has ever heard."

Scott, R-S.C., said such comments are not surprising co"And President Trump comes along, and through his criminal justice reform, corrects the absolute mistakes made by Joe Biden; 1.3 million African-Americans voted for Trump. He's saying to 1.3 million African-Americans that you are not black? Who in the heck does he think he is? That is the most arrogant, outrageous comment that I've heard in a very long time and I take offense to that."

Considering Biden's record in "sponsoring a crime bill in the 1990s that jailed more African-American males than any other legislation."
Trump Campaign Spokesperson Katrina Pierson (who BTW is not white), threw a simultaneous one-two punch on both Biden and Biden2020 Campaign Manager Symone Sanders' pitiful damage control excuse:
Really? lol

I remember how the media reacted just 6 days ago when @DonaldJTrumpJr said that his Biden meme was just him joking around…

Biden wasn't joking, his entitled elitist white privilege was on full display. AGAIN! #YouAintBlack https://t.co/WAQo8mjyuc

— Katrina Pierson (@KatrinaPierson) May 22, 2020
Other African-American Conservatives also weighed in with their thoughts:
I've been Black for over 30 years.

I was Black when I served my country in Iraq as an Army soldier.

And I'll be Black when I vote for @realDonaldTrump in November.

Shame on you #JoeBiden pic.twitter.com/P1OXQJ94Lt

— Rob Smith ?? (@robsmithonline) May 22, 2020
Vice President @JoeBiden 's latest quote is both pathetic & hurtful. Challenging millions on their blackness is condescending. The GOP was started to oppose slavery. I have the right to think and vote for myself along with all other Americans, including black Americans. pic.twitter.com/RRURX1eMbY

— John James (@JohnJamesMI) May 22, 2020
Wow. I just watched former Vice President @JoeBiden… Does he not understand that black and brown skinned people can think for themselves. You don't determine who we vote for. @DonaldJTrumpJr @FoxNews @espn @CNN @POTUS @realDonaldTrump #YouAintBlack

— Herschel Walker (@HerschelWalker) May 22, 2020
But the most poignant response came from Fox News anchor Harris Faulkner:
Not Biden's First Rodeo.
During a speech in the 2012 then-Vice President Biden alluded that if then-Republican nominee Mitt Romney were to win the presidency, that Republicans would put African-Americans "back in chains!"
CBS News recalls:
Biden told more than 800 ticketed supporters that Romney wants to repeal the financial regulations enacted after the Wall Street crash of 2008. "He's going to let the big banks once again write their own rules – unchain Wall Street!" Biden said. Then he added, "They're going to put you all back in chains" with their economic and regulatory policies.
However, Biden's assumption that the Black vote is firmly entrenched in his column is not without merit.  It was African-American voters that revived his campaign in March's South Carolina primary.
More Leftist Hypocrisy
Also, the blatant hypocrisy of the #MeToo Movement has turned a blind eye to past allegations of sexual misconduct committed by Biden.
ABC News recently commented:
The carefully stage-managed Biden campaign event included an announcement of support from Hillary Clinton and pre-screened questions from female supporters. It enabled Biden to reach out to women with no risk of broaching an increasingly tough subject — the sexual assault allegation leveled by a former aide that circulated for weeks on social media and into the mainstream press, with a forceful push from President Trump's supporters and aides.

Slowly, over the ensuing weeks, the allegation lingered, and with help from conservative pundits, is fast becoming a test for Biden. How he handles it holds the potential to affect the 2020 race — the first presidential contest of the #MeToo era.
Oh…

#ThemToo

?
What is not getting a lot of media coverage is Biden's "Hispanic Problem".
A recent Latino Decisions poll reveals a clear enthusiasm gap among Latinos for both Biden and the 2020 election itself, with only 49% of registered voters currently committed to choosing Biden over Trump, and just six out of 10 planning to go to the polls in November.

Compare that with black voters, who seem deeply committed to Biden's candidacy:  In another recent poll, 65% said they would support Biden. While a mere 23% of Hispanic voters seem to be leaning toward Trump.
But Biden's Hispanic problem goes much further.
As Politico learned:
In interviews, more than 20 Latino political operatives, lawmakers, and activists said they don't see a game plan from Biden to marshal Hispanic voters effectively in the fall. They said there's little evidence the campaign is devoting the resources or hiring the staff that task will require — all the more crucial during a pandemic, when reaching and mobilizing Latino voters through in-person canvassing is nearly impossible.

Biden had a tense relationship with many Latino groups during the primary, stemming largely from his connection to the Obama administration's aggressive deportation policy.

But the campaign's disconnect with Latinos appears to be based more on lack of execution than on policy. Cash-strapped coming out of the primary and hemmed in by the coronavirus, its efforts to reach Latino voters have been lackluster.
My friend Ruben Naverette Jr. reveals the importance of the Hispanic vote matters in 2020:
Three reasons:  they're a young population that is adding new voters at a staggering rate; They're well-represented in so-called battleground states such as Colorado, Nevada, and Florida; and close to two-thirds of Latinos are Mexicans or Mexican-Americans, who tend to be swing voters.

Latinos are now poised to be the largest racial or ethnic minority group to be eligible to vote in a presidential election, according to the Pew Research Center. By 2020, an estimated 32 million Latinos will be eligible to vote, which is just slightly more than the 30 million voters who are African-Americans. According to Pew, Latinos are expected to be about 13.3% of the electorate in 2020.

Here's what you need to know about the Latino vote: there is no such thing. That is, Latinos aren't monolithic and we don't vote as a bloc.

Yet, Trump is likely to do better than expected with Latino voters.
The Democrats cavalier behavior has not gone unnoticed.  It has been liberal policies, especially out in the West, that have been hurting the American food supply.  It is Hispanic farmworkers that have been at the forefront of the agricultural assembly line that gets the produce from the fields to the grocery stores, and to our dinner tables.  But most Americans are ignorant of this.
Generation

#NEXT

Voting Their Wallets
American and Hispanic blue-collar workers, enjoyed their greatest success under President Trump, and have been the ones who have suffered the most from the Covid-19 shutdowns. The Biden Campaign's solution has decided to 'ignore' the Hispanic plight, while Team Trump pounces at an opportunity.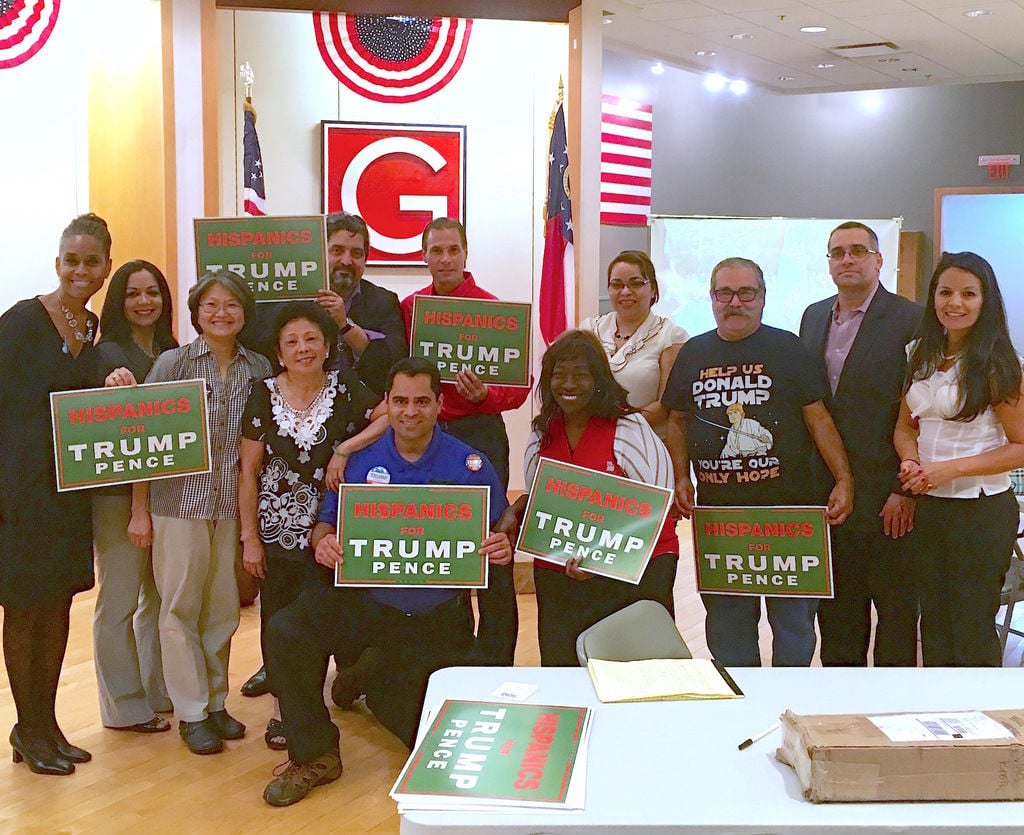 McClatchy wrote:
Male African American and Latino voters — particularly those under the age of 35 — are showing a surprising openness to President Donald Trump's re-election bid, according to interviews with leading Democratic and Republican strategists and a review of polling data.

Driven by a once-strong economy and a greater acceptance of the president's behavior, their interest is significant enough to alarm Democrats that the overwhelming support they traditionally count on from this group could be diminished in November, with potentially serious consequences in a tight election.

Even Republicans who are optimistic about making inroads with these voters caution that a willingness to support Trump in the spring doesn't necessarily mean they'll vote for him in the fall, not after a long campaign in which a well-funded Democratic operation could persuade them to rejoin the partY.

But even small gains can have big consequences in battleground states like Michigan, Pennsylvania and Wisconsin, each of which has a sizable black electorate.
If things continue this way, the DNC might not let Biden out of his basement until after November 3rd.