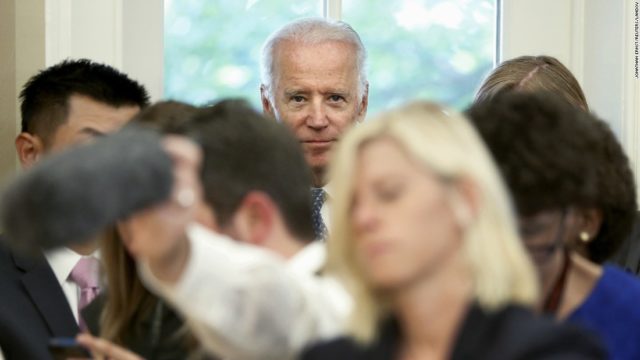 Joey "Fingers" Biden's lechery is no secret. Biden molests women publicly but usually gets a pass because he's "Uncle Joe".
We all know an "Uncle Joe", who parents know to NEVER let babysit the kids. That's creepy Joe Biden.
He uses many tactics, like the sneak attack.
In this technique, Biden creeps up behind a woman, grabs her by the shoulders and pulls her in. He then thrusts his pelvis against her buttocks. And in his final move Biden leans in to sniff her hair and whispers, "Do you feel something?!".
That's Biden's public sexual abuse of which there is plenty of documentation. And for those who claim Biden innocently engages, I ask what you think the public would say if Trump engaged accordingly.
Exactly!
Next, Biden has his private sexual abuse side. He used his clout as a Senator to cop a few feels along the way. Staffers pulled a "Weinstein", and just looked the other way when Joey Fingers acted out in public. But his greatest adventures were behind the scenes, as we now learn from Tara Reade.
In Tara Reade's very believable and highly likely allegations against Biden, she said that somebody told Biden that she liked him. The implication in her statement is that Biden had a point man. Somebody who would spot over-eager young ladies willing to make the ultimate sacrifice. All Biden need do is nod his head, and the handlers sent the young lasses to the wolf.
I suspect there are more Tara Reade's in Biden's past. If he were a Republican we would already know about dozens more.
In this case, there is a new accuser.
PJ Media introduces us to Eva Murry. Murry, now 26 years old claimed that in 2008, then Senator Joe Biden complimented her on the size of her breasts at the First State Gridiron Dinner & Show. Murry was just 14 years old at the time.
"One friend and her sister said that Murry told her details of the alleged incident more or less immediately after it happened," reports Law&Crime. "Four other friends of Murry's said they were told about the incident, with the same details, between two and three years after it originally occurred."
Any surprise here? Captain Demento saying something inappropriate to a woman?
It does validate my beliefs about what Biden whispers to women when he behind them. And in the case of Murry, I can hear Biden saying, "Those are big f'g deal!".
According to the article, Murry, the niece of Christine O'Donnell who ran for the U.S. Senate in Delaware 2010 in a longshot bid for Biden's vacated U.S. Senate seat explained why she attended the event. In providing further detail around the incident, Murry recalled that she occasionally got school credit for attending political events.
"I remember walking into the lobby and being in awe of all the people in such fancy clothes. Our two parties of people gravitated towards each other and everyone started saying their hellos. When it was Biden and my aunt's turn to say hello he quickly turned to me and asked how old I was. I replied with my age and he replied with the comment 'Fourteen? You're very well endowed for 14!' I was confused but it was definitely weird, he looked me up and down and hovered his eyes on my chest so I had some clue [about] the notion of his comment but didn't fully understand at the time. We quickly separated from his area after the encounter."
"It wasn't Biden's words alone that made me so uncomfortable. It was the look, the tone, the whole general vibe was off."
We all know what this look looks like. And we all know that Biden often has this look when greeting women or girls.
Again I ask you if Trump displayed this history, how would the media treat him? How would you treat it?
For me, the same as I am treating Joey Fingers!
Interestingly, nobody attacking Biden is doing so maliciously. They merely want to go on record about his creepiness at best and his hidden secrets at worst. These women are not Republican shills needed to bring Biden down. As far as Trump is concerned, Biden is easily beatable. In the case of Murry, she explains why she came forward:
Murry acknowledges that the timing of her allegation would likely spark accusations of political motivation. She says she was motivated to speak out in early April when Bernie Sanders dropped out and her friends started talking about voting for Biden, and she started to explain to them what he said to her. "It got overwhelming repeating myself on everyone's post," she said. "So I made a master thread with the intentions of informing my friends and family who I care very much about, just what kind of man Biden is."
Sadly, the democrat cover-up is already in the works, as the event organizer denies Biden's attendance. I'm betting photos soon emerge to knock down that claim.
We all know what kind of man Biden is. He's the kind of man who wants to keep his past a secret. And for good reason.