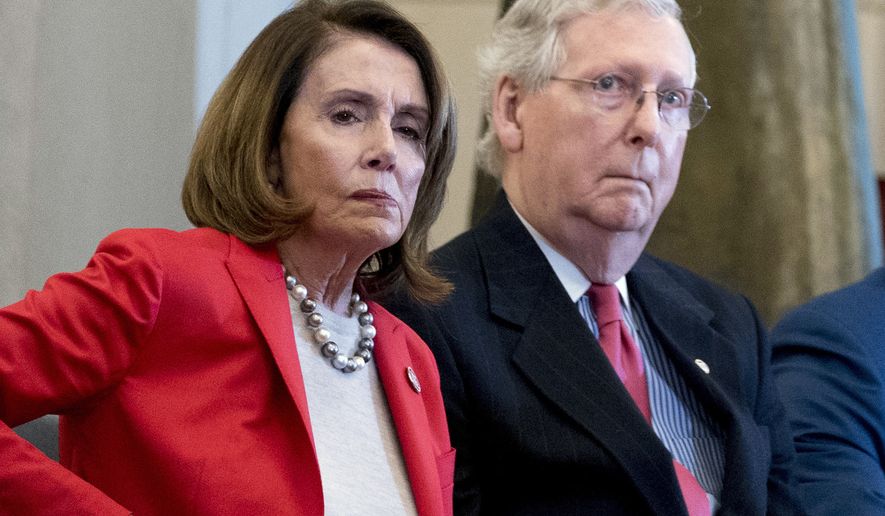 As with Obamacare, Congress says to America on Chinese Wuhan Virus testing, "We'll pass!".
That's right, Comrades. Congress declines to get tested for the Chinese Wuhan Virus, though some want it mandated for their bosses. US!
According to Politico,
Senate Majority Leader Mitch McConnell and House Speaker Nancy Pelosi on Saturday rejected an offer from the Trump administration to provide Congress with rapid results testing, citing the need to direct resources where they are most needed.
"Congress is grateful for the Administration's generous offer to deploy rapid COVID-19 testing capabilities to Capitol Hill, but we respectfully decline the offer at this time," McConnell (R-Ky.) and Pelosi (D-Calif.) said in a joint statement. "Our country's testing capacities are continuing to scale up nationwide and Congress wants to keep directing resources to the front-line facilities where they can do the most good the most quickly."
Instead, the two leaders said Congress will rely on the testing procedures outlined by the Office of the Attending Physician until "these speedier technologies become more widely available."
I'm thinking, if Congress doesn't want the test, then neither do I. I suggest to Congress that as our representatives, they should be the first to get tested.
What a novel idea; laws passed for the masses must first be adopted by our representatives!
And what a move by the two leaders of Congress who both support this. They claim to want testing to go where it's most needed. McConnell and Pelosi pretend to sacrifice for Americans.
Sure, like Congress sacrificed by getting paid for not working during this fake pandemic? Then gave themselves a raise?
And like Congress insider trades with immunity? And what about how Congress conveniently opted out of Obama's landmark healthcare legislation?
Supposedly members of Congress have been anxious about returning. And who could blame those mostly old farts for not wanting to die in chambers? With the average age of our so-called representatives being what, 90? Obviously, if what they say about the Chinese Wuhan Virus is true, then House and Senate chambers could be a place of mass execution.
Frankly, America might be better off, if the virus cleaned house, pun intended. Then the virus might go next door and take a peek at the senate.
After Congress complained that the White House received better testing than Congress, they refused the testing. Upon hearing this, the president responded. So, Health and Human Services Secretary Alex Azar announced late last week that the Senate would receive three rapid-results testing machines and 1,000 tests.
Further, the next morning President Donald Trump said "there is tremendous Coronavirus testing capacity in Washington for the Senators returning to Capital Hill" and that "the 5 minute Abbott Test will be used."
Later that evening after the president got word of the joint statement by McConnell and Pelosi he tweeted: "No reason to turn it down, except politics."
The president is right. The Chinese Wuhan Virus Hoax of 2020 showcases yet again the two-tier system of government. Elites versus the common man. But soon the common man will show government who's really in charge.