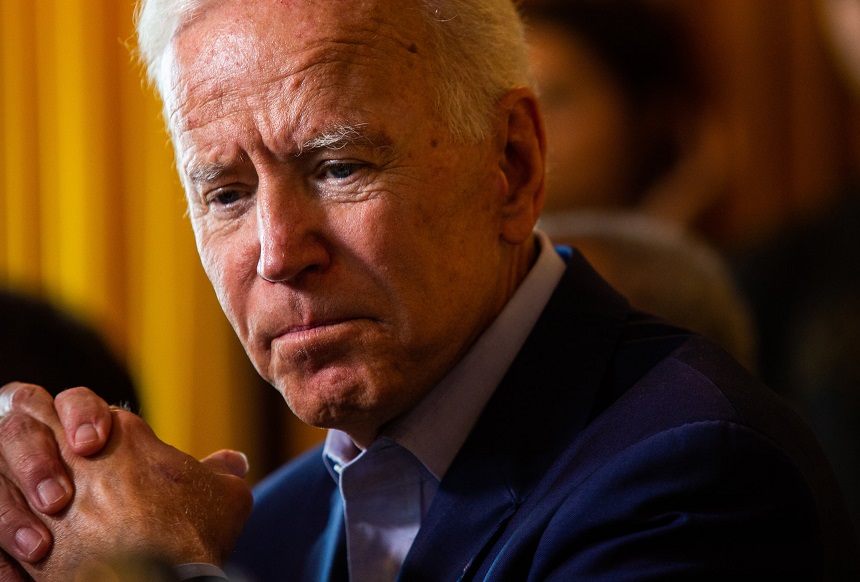 Joe Biden is demented. And while that is a major problem for a candidate running for president, what Biden did recently really blew his chances.
Recently, Joe Biden told reporters on he has taken a cognitive test. These test are administered to detect mental issues. Biden's campaign why Biden admitted to taking a cognitive test, though we all know what it means.
The fact that Biden was tested proves what we already know. Thus, I repeat: Biden is demented. Biden took the test to see just how far his dementia goes.
But that's still not the bad news for Biden, the campaign, or Democrats in general. The news gets worse.
As it turns out, the campaign will not reveal the results of the test. Again, we know the obvious reason for their reluctance to give us results, and that is because Biden is demented. And Democrats don't want to actually confirm this fact.
Clearly, this has been a bad strategy up to this point. Recap.
Biden admitted to taking cognitive tests. Yet, the campaign won't release the results. Consider a Trump campaign commercial.
Joe Biden took a cognitive test. But won't share the results. Does he really need to?
I'm Donald Trump and I approve this message!
But if you think those first two factors are bad for Biden, it gets worse.
Biden added to his comment about cognitive decline at his first press conference in three months:
"I've been tested and I'm constantly tested."
Constantly tested? Who constantly test for cognitive decline? Those in cognitive decline.
Clock ticking. Biden has a limited shelf life, thus the minimal appearances and short duration.
People want to know what Biden meant by "constantly tested". Actually, a better way to put this is people want to confirm why Biden is constantly tested.
Understand that President Trump aced his cognitive test. And he released the results, not that he needed to.
Trump says what he means and means what he says. For over three years, the president has performed brilliantly in almost all sectors of his job. The proof is in the pudding. And the same is true for Biden.
Face it America. We will never see Biden's test. Because it shows decline. The Biden campaign will skate around the issue for a while; at least until Trump pressures them. Meanwhile, Biden will continue to deteriorate. He will also continue to expose himself.
According to Breitbart,
Biden did release a medical assessment conducted by his physician last year in December concluding he was "healthy" and "vigorous" as well as "fit to successfully execute the duties of the Presidency."
The three-page assessment, conducted by Dr. Kevin O'Connor of the GW Medical Faculty Associates, does not include any mention of a cognitive test that Biden may or may not have taken at the time. It also makes no judgment or recommendation when it comes to Biden's cognitive abilities, only speaking to his physical health.
O'Connor, who served as a Navy doctor, was Biden's doctor during his time as Vice President. He left the military for his current role, where he has continued as Biden's doctor, after the Barack Obama presidency concluded, according to the three-page assessment.
In 2018, President Trump took the Montreal Cognitive Assessment. It was administered by then-White House Physician Dr. Ronny Jackson, according to the New York Times:
Dr. Jackson said that despite expressions of concern, a cognitive test was not indicated for Mr. Trump and he had not planned to conduct one at the Walter Reed National Military Medical Center in Bethesda, Md., where the president underwent his annual physical on Friday.
Dr. Jackson said that Mr. Trump received a score of 30 out of 30 on the Montreal Cognitive Assessment, a well-known test regularly used at Walter Reed and other hospitals.
I wonder what Vegas would give for over/under odds for Biden's score?
Biden has no shot of beating President Trump. But this latest development didn't help at all. Last week Biden admitted to having a list of "approved" media for questions.

I commented on my radio show that Biden is too demented to know he wasn't supposed to let people know about the list. I can only imagine his campaign's reaction, as they watched Biden on stage, fumbling over reporters.
Democrats suffer Biden's dementia as well. They've demonstrated their delusion, as they plot endlessly to remove President Trump from office. Soon they will recognize their futility; perhaps even dispense with fake news polls and stop lying to themselves.
For now, no such sanity within the Party of Slavery. For their quest however, they picked the right warrior: Captain Demento.